FOUR SEASONS RESORT MAUI AT WAILEA TAKES PERSONALIZED RESERVATIONS TO A NEW LEVEL, INTRODUCING ON-SITE TEAM ON NEW PAGE OF RESORT'S WEBSITE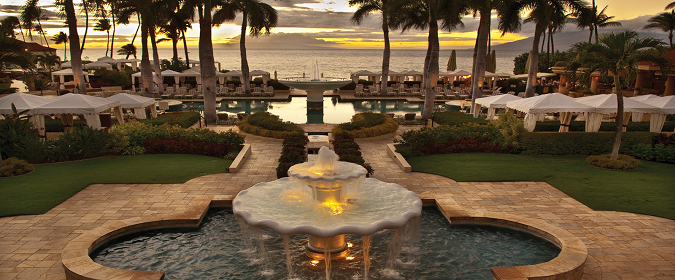 Four Seasons Resort Maui at Wailea has yet again taken personalized guest service to a new level – starting with the click of the mouse on the Resort's website. There, visitors can view a group of special pages to introduce theon-site reservations team members via pictures and personal comments.
"Personalizing every guest experience is our top priority at Four Seasons Resort Maui.  By creating these new pages, we give guests who call or email us the opportunity to be introduced to and see and learn more about the agent with whom they are speaking," says Mark Simon, director of marketing.  In turn, the on-site agent learns more about the guest's needs and can assist by walking through the Resort's very comprehensive website, pointing out visuals, descriptions, and commenting along the way.
Simon believes there is a symbiotic relationship between the website and the reservations agent, and that guests can benefit from this synergy.   He adds that the onsite agents can answer lots of little questions that are not typically addressed on the website – questions such as "Is there a ferry to the Big Island?" or "Can you go snorkeling right off the beach?" The Resort's goal is to personalize each and every reservation, tailoring the selection of accommodations, arranging amenities, and pointing out special "not-to-be-missed" opportunities.
On the reservations web pages, each team member offers a range of pre-arrival advice for guests, everything from suggesting a Spa treatment upon arrival (to help ease jet lag) to packing warm clothes to explore one of the world's top destinations, the volcano Haleakala – and lots more in between.
The 16 knowledgeable agents – many longtime residents and most with more than 10 years of experience at this tropical paradise property – take pride in customizing each guest's stay. "Getting it right for our guests from the start is our top priority," says Simon.
These days, guests have many excellent ways to secure their reservations. The Resort is dedicated to creating a seamless booking experience for guests, and calling the Resort directly to make reservations offers many benefits including the personal connection with a reservations staff member.
"Our agents are available by telephone and e-mail 24 hours a day, every day of the year and, once a guest makes contact, the agent 'owns' the reservation until arrival day.  Best of all, our guests never have to navigate an automated voice messaging system," adds Simon.
Another benefit is being able to speak with agents who have first-hand knowledge of the Resort and experience travelling in the islands.  "We pride ourselves on having a well-trained team, eager and ready to provide personal attention and insights.  You can ask them anything and, if they don't have the answer, they will get it from our otherFour Seasons teammates, including our group of 22 concierges."
To speak with the reservation team at Four Seasons Resort Maui and to make reservations, call toll free (USA and Canada) 800 334 MAUI (6284) or e-mail reservations.mau@fourseasons.com.