Aria Resort & Casino Features State-of-The-Art Meeting and Convention Facility for Groups of All Sizes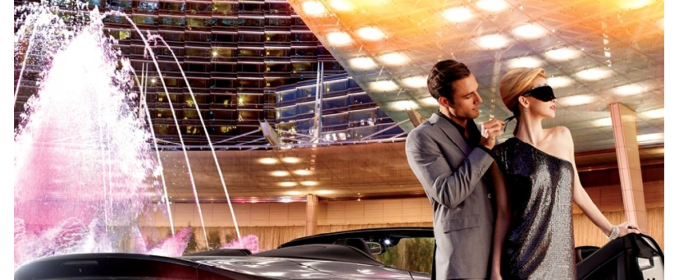 LAS VEGAS – ARIA Resort & Casino at CityCenter provides a premium meeting experience with a unique blend of stunning architecture, distinctive décor and 300,000 square feet of technologically advanced meeting and convention space, transforming the everyday meeting into an unforgettable one. Designed by internationally acclaimed architects Pelli Clarke Pelli, the spectacular 61-story, 4,004-room resort sets a new global standard in hospitality.
The north façade of the event space features a beautiful glass wall that overlooks ARIA's pool deck providing a dramatic desert-landscaped backdrop. The sloped garden on the wall's exterior continues indoors; the 20-foot-long green wall is the largest of its kind in Nevada, featuring more than 14,000 plants, adding to the natural splendor of the space.
A highly skilled team of convention services managers, catering managers, banquet staff and convention concierge ensure every program is executed flawlessly. All technical needs, from audio/visual to full-scale event production, are coordinated by ARIA's in-house Convention Technical Services department. For the ultimate gathering, MGM Resorts International Events can transform the function space into a destination brought to life by meeting planners' imaginations.
RIA's CoAnvention Facility
The facility encompasses three levels and delivers a total of four ballrooms and 38 meeting rooms, including two board rooms, allowing for maximum flexibility based on the needs and wants of each group. The ballrooms, three of which feature fully functioning theatrical stages, offer the flexibility to accommodate gatherings of all sizes from 10 to 5,000 attendees. The largest ballroom measures 51,000 square feet with a 25-foot ceiling, and can be divided into 10 separate meeting rooms. Two ballrooms each offer 38,000 square feet of space, feature 25-foot ceilings and divide into eight separate meeting rooms. The fourth ballroom features 20,000 square feet of space with a 20-foot ceiling and is divisible into two or three independent meeting rooms. All meeting rooms range from 800 to 2,000 square feet on each level and feature built-in audio visual systems with high-definition video projectors.
For technical ease, the facility boasts floor and ceiling electrical power distribution as well as flexible, full-production rigging in ballrooms. Patchable fiber, Ethernet cable, broadband and wireless Internet connections are available throughout the convention center. The facility also offers truck docks with commercial dock plates, allowing easy drive-in vehicle access, including non-commercial vehicles.
Convention Services
Knowledgeable convention services managers are available to assist with every detail for meeting and convention planning. From help with set-up to group room bookings and Viva ELVIS™ reservations, convention services managers always are on hand to anticipate and coordinate a group's every wish. Convention concierge staff also are available to ensure meeting rooms are re-stocked and refreshed and to assist with all on-site needs.
For guest convenience, six registration desks are located throughout the convention area. The business services center, suitably located at the entrance to the convention facility, provides guests with Internet access, office services and supplies, communication rentals, shipping and receiving, and rental of private mini-suites. Hotel sales, marketing, convention services, catering and banquet departments are easily accessed via offices on the second level.
Sustainability Initiatives
CityCenter is one of the largest sustainable developments in existence, bringing a new level of environmental consciousness to the world-famous Strip. The U.S. Green Building Council has awarded LEED® Gold certification to ARIA, Vdara Hotel & Spa, Crystals, Mandarin Oriental, Las Vegas and Veer Towers, marking the highest LEED achievement by any hotel, retail district or residential development in Las Vegas.
Making a debut at ARIA is the world's first fleet of stretch limos powered by clean-burning compressed natural gas (CNG) and innovative slot machine bases that serve as floor air-conditioning displacement ventilation units, efficiently cooling public spaces from the ground up rather than wasting energy cooling empty space from the ceiling down.
ARIA has been designed to achieve more than 30 percent improvement in energy efficiency and will save an estimated 31 million gallons of water each year. This equates to a 40 percent savings within the building and 60 percent in outdoor landscaping over existing building codes.
For meetings, conventions and events, ARIA has incorporated environmentally responsible practices and services. In addition, all convention sales kits are made from recycled paper materials with the exception of the outside wrap, and uniforms for meeting and convention staff are woven from recycled polyester. For recycling, ARIA utilizes two docks for collection and separation of glass, paper, cardboard, metals, plastic, food waste and grease.
Booking Information
For information about booking meetings at ARIA, contact Convention Sales at 866-718-2489. Nightly room rates range from $149 to $799; suites range from $425 to $7,500. Reservations can be made via www.arialasvegas.com or 866-359-7757.
About CityCenter
CityCenter is an unprecedented urban metropolis on 67 acres between Bellagio and Monte Carlo resorts on the Las Vegas Strip. CityCenter is a joint venture between MGM Resorts International (NYSE: MGM) and Infinity World Development Corp, a subsidiary of Dubai World. CityCenter features ARIA, a 61-story, 4,004-room gaming resort; luxury non-gaming hotels including Las Vegas' first Mandarin Oriental and Vdara Hotel & Spa; Veer Towers, the development's only strictly residential buildings; and Crystals, a 500,000-square-foot retail and entertainment district. Vdara, Mandarin Oriental, Las Vegas and Veer Towers include approximately 2,400 residences total. CityCenter also features a resident Cirque du Soleil production celebrating the timeless musical legacy of Elvis Presley; and an unparalleled Fine Art Collection with works by acclaimed artists including Maya Lin, Jenny Holzer, Nancy Rubins, Claes Oldenburg and Coosje van Bruggen, among others. CityCenter is a design collaboration between MGM Resorts International and eight internationally acclaimed architectural firms including Pelli Clarke Pelli, Kohn Pedersen Fox, Helmut Jahn, RV Architecture LLC led by Rafael Viñoly, Foster + Partners*, Studio Daniel Libeskind*, David Rockwell and Rockwell Group, and Gensler. At the forefront of sustainability, CityCenter is the world's largest private green development. ARIA, Vdara, Crystals, Mandarin Oriental, Las Vegas and Veer Towers all have received LEED® Gold certification by the U.S. Green Building Council. This marks the highest LEED achievement for any hotel, retail district or residential development in Las Vegas. The Harmon Hotel has been postponed until such time as CityCenter determines to proceed with its completion. For more information about City Center .