FBS Wins Best Client Support in Latin America at Global Brands Magazine Awards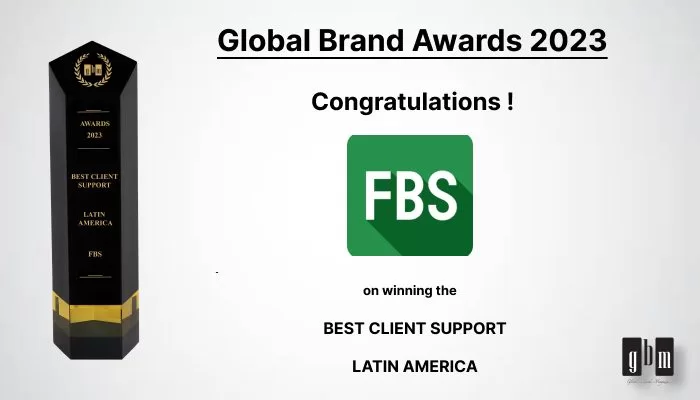 FBS was honoured to take home the "Best Client Support, Latin America" for 2023 at the prestigious Global Brand Awards.
The Prestigious Global Brand Awards, an annual ceremony by Global Brands Magazine (GBM) based in England, strives to honour worldwide brands that distinguish themselves across diverse industries while ensuring that readers are up-to-date on pivotal trends in the realm of branding. Global Brands Magazine conducted an extensive evaluation encompassing various criteria, such as customer satisfaction, response time, accessibility, problem resolution and innovation in support services, among others. FBS stands out prominently due to its excellent client support.  Therefore, FBS well deserves Global Brands Magazine's recognition.
Commenting on winning the award, Jay Reddy, Director of Global Brands Magazine, said, "I am thrilled to congratulate FBS on receiving the prestigious Best Client Support in Latin America award from Global Brands Magazine. This achievement is a testament to FBS's unwavering commitment to excellence in customer service. At Global Brands Magazine, we recognize and celebrate organizations that prioritize and excel in providing exceptional support to their clients. FBS's dedication to delivering unparalleled service sets a benchmark for the industry in Latin America. We applaud the brand for this well-deserved recognition and their continuous efforts to elevate the standards of client support in the financial industry."
Commenting on winning the award, João Goulart, Business Development Manager for FBS in Latin America, said, "Winning the Best Client Support – Latin America 2023 award from Global Brands Magazine is a testament to the FBS's ongoing commitment to providing our clients with exceptional financial services. With our client support available 24/7 in global and local languages, we make sure that FBS's trading services are accessible and convenient for our users. We strive to be in touch with our clients on the channels that suit them best. This recognition from Global Brands Magazine motivates us to continue following our mission of making financial markets accessible for everyone."
ABOUT FBS
FBS is a leading global broker that has been offering its financial services since 2009 in over 150 countries. Today, FBS provides access to the global financial markets to more than 27,000,000 CFD-traders through transparent and trusted financial services. The annual trading volume of FBS clients exceeds $8.9 trillion
For the best customer experience FBS organizes seminars and special events, providing its clients with training materials, cutting-edge technologies and the latest CFD-trading strategies for over 550+ instruments.
FBS has an exceptional client support service. The support team comes to help 24/7 in less than a minute (average response time). FBS support is available on catbox at fbs.com and on popular messengers, including Facebook messenger, Line, Telegram, What's App, and Viber.
FBS holds more than 90 international awards from the most prominent financial organizations that acknowledge its contribution to the global finance and investment industry.
FBS is also the Official Partner of Leicester City Football Club.
ABOUT GLOBAL BRANDS MAGAZINE (ENGLAND)
Global Brands Magazine (GBM) has been at the forefront, bringing news, views and opinions on brands shaping the future of their industry. The UK-based magazine provides its readers with the latest news and information on 'best-in-class brands across the globe. Each year, GBM develops awards for companies that stand out, have a unique vision, exceptional service, innovative solutions and consumer-centric products among their industry leaders. The Magazine has over 9.5 million visitors and 14 million page views per month, making it one of the best online magazines. The Magazine also maintains a strong presence on social media, with over 20k+ Facebook likes, 10k+ Instagram followers, 25k+ Twitter followers, and 3k+ LinkedIn followers.
ABOUT THE GLOBAL BRAND AWARDS
Global Brand Awards honours brands for their excellence in performance and rewards companies across different sectors for the quality of their services. The Brand Awards highlight the accomplishments of organisations that have performed remarkably well in finance, education, hospitality, automotive, lifestyle, education, real estate, technology, and others. Global Brand Awards recognise vital players who progress towards excellence by providing a platform to acknowledge their efforts. In addition, GBM strives to create awareness concerning the significance of such organisations and rewards them for their notable efforts with the ultimate global recognition. We are excited to announce the highly anticipated awards ceremony, which will take place at The Athenee Hotel in the heart of Bangkok, Thailand, in May 2024. To learn more about the awards, please visit the Brand Awards Winners section on the GBM website.
To nominate your company or business leader for the Global Brand Awards 2023, please click on the following link: