Everything to Know About Outdoor Rugs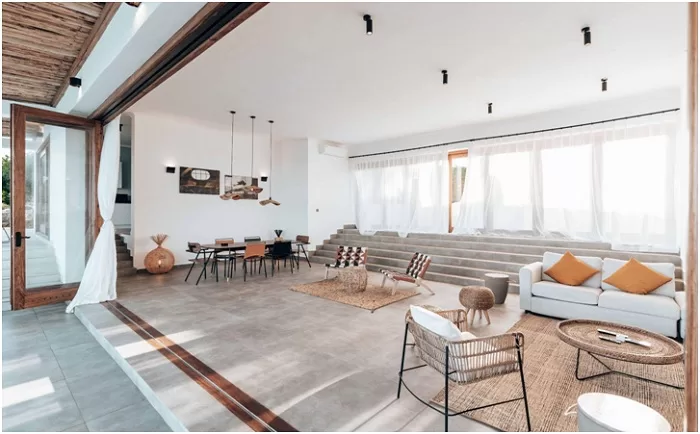 Outdoor rugs can add a touch of sophistication to any outdoor space. Whether you're looking for something to spruce up your porch, patio, or backyard, an outdoor rug is sure to bring a splash of style and comfort to the area. But what should you look for in an outdoor rug? How do you pick one that will last and complement your existing décor?
In this blog post, we'll provide all the answers and guidance you need to make the best choice for your outdoor space. Read on to learn everything there is to know about outdoor rugs!
Types of Outdoor Rugs
Outdoor rugs are available in a wide variety of colors, patterns, and materials to suit any style. Here are a few of the most popular types of outdoor rugs:
Polypropylene Rugs: These rugs are made from a synthetic fiber that is resistant to mildew, stains, and fading. Polypropylene rugs are a great choice for high traffic areas or areas that are exposed to the elements.
Olefin Rugs: Olefin is another synthetic fiber that is often used in outdoor rugs. It is resistant to moisture and mildew, making it a good choice for poolside or patio areas. Olefin rugs may fade in direct sunlight, so they are best used in shady areas.
Natural Fiber Rugs: Natural fiber rugs, such as jute or sisal, add a touch of warmth and organic beauty to any space. They are not as durable as synthetic fibers, but can be treated with rug pads or sealants for extra protection. Natural fiber rugs are best used in covered areas or indoors.
Indoor/Outdoor Rugs: These versatile rugs can be used both inside and out! They are usually made from polypropylene or olefin fibers for durability, but come in a wide range of colors and styles to suit any space.
Materials
When it comes to outdoor rugs, there are a few different materials to choose from. The most popular option is polypropylene, which is a synthetic fiber that is resistant to moisture, mildew, and staining. Polypropylene rugs are also very durable and easy to clean, making them ideal for high-traffic areas. Another popular option is wool, which is a natural fiber that is also resistant to moisture and staining. Wool rugs are less durable than polypropylene rugs but they offer a softer feel underfoot.
Finally, you can also find outdoor rugs made from natural fibers like jute or sisal. These rugs are more delicate than synthetic options but they can add a beautiful organic touch to your space.
Sizes
When it comes to outdoor rugs, size matters. But don't worry, we're here to help you choose the right size rug for your space.
First, you'll need to measure the area where you want to place your rug. To find the perfect fit, add 2-4 feet all around the perimeter of your furniture. This will ensure that your rug is big enough to anchor the space and create a defined seating area.
If you're placing your rug on a patio or deck, make sure to leave enough room for doors to swing open and traffic to flow freely. A good rule of thumb is to allow 18 inches of clearance around doorways and walkways.
Now that you know how to measure for your outdoor rug, it's time to choose the right size. Here are some general guidelines:
Small spaces (up to 50 sq. ft.): 5′ x 8′ or smaller
Medium spaces (50-150 sq. ft.): 8′ x 10′ or smaller
Large spaces (150+ sq. ft.): 9′ x 12′ or larger
How to Clean Outdoor Rugs
Outdoor rugs can be a beautiful and practical addition to your patio, deck, or other outdoor living space. But they can also be a pain to keep clean. Here are some tips for how to clean outdoor rugs:
Shake it out. Start by giving your rug a good shake to remove any loose dirt or debris.
Vacuum it. Use a vacuum with a brush attachment to hoover up any remaining dirt, dust, or pollen.
Spot-clean as needed. If there are any stubborn stains, spot-clean them with a mild detergent and a soft brush.
Rinse it off. To remove any soap residue, rinse the rug with clean water from a garden hose or power washer.
Hang it up to dry. Finally, hung your rug up on a clothesline or other drying rack and let it air dry completely before putting it back in place
Conclusion
Outdoor rugs are a great way to spruce up any outdoor space. They come in all shapes, sizes, and colors to fit any style or budget. When choosing an outdoor rug, be sure to consider the size of the space you're decorating as well as the type of material best suited for your needs. Whether you're seeking something casual and stylish for your patio or a more durable option that can withstand high traffic areas, there is an outdoor rug perfect for you!