Eid al-Fitr – Significance, Celebration & Facts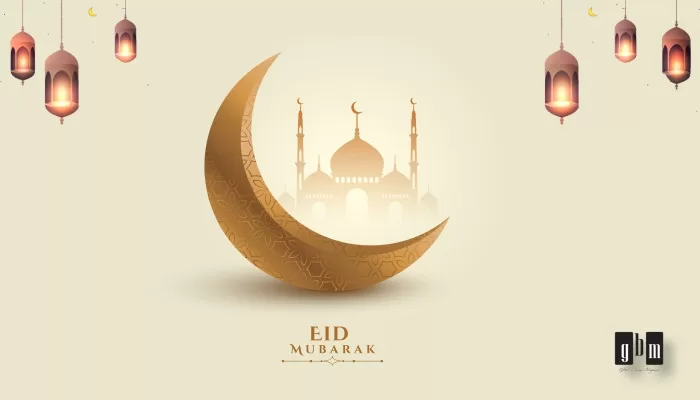 Eid al-Fitr, also called Id al-Fitr, is the first of two canonical festivals of Islam. This holiday marks the end of Ramadan , the Muslim holy month of fasting, and is celebrated during the first three days of Shawwal, the 10th month of the Islamic calendar (though since Muslims use a lunar calendar, it can occur in any season of the year). Eid al-Adha, Islam's other holy festival, is distinguished by the performance of communal prayer at daybreak on the first day. A time of official receptions and private visits, Eid al-Fitr is a time for friends to greet one another, for presents to be given, for new clothes to be worn, and for relatives to visit their graves
The Quran is believed to have been revealed to Prophet Muhammad during the holy month of Ramadan. In Ramadan, Eid-Ul-Fitr marked the end of fasting from dawn to dusk and the beginning of Shawwal. It is also a way to pay respect to Allah for a successful month of fasting, praying and refraining from all negative acts, thoughts and words.
Around the world, Eid is celebrated differently. In most cases, the day begins with prayer, and a big meal is the main event, but there are many different ways and traditions through which people mark this special occasion.
Observing the process of ghusl, morning prayers, zakat al-Fitr, and visiting are common practices for Muslims worldwide. Apart from these practices, Muslim communities around the world have their own traditions and customs.
For example, in Turkey During Eid, or Seker Bayrami as it's known locally, Turkish sweets such as Baklava and Turkish delight are given as gifts to friends, family and neighbors.
Several African countries, including Morocco, Egypt, Tunisia, Somalia, South Africa, Nigeria, and others, also celebrate Eid with morning prayers at mosques before grand family gatherings where local food items are predominant. In Morocco, traditional costumes are worn by men and women, and Moroccan pancakes are a staple breakfast item, along with mint tea, while in Somalia, Halvo is the dessert of choice
Every year, most Malaysians travel to their hometowns to be with their families during Eid. In South East Asian countries, people decorate their homes with oil lamps known as Pelita and cook traditional dishes like Ketupat, or rice dumplings, and Rendang, a popular meat dish to honour guests. Locally known as Hari Raya Aidilfitri, it is the celebration of Eid-ul-Fitr, a day when traditional dresses are worn by all. In Malaysia, Eid-ul-Fitr celebrations have always been an open house, with everyone being welcomed into every home and a festive atmosphere that welcomes everyone to enjoy the meals and have a good time without any differentiation between them based on their social or economic status. Families often take turns opening their homes for the day to guests.
Regardless of the country, Eid is a time when families get together and celebrate and spread love. This means that for brands to gain new customers and they need to advertise keeping similar sentiments in mind. Brands have to be extremely cautious while pitching new marketing ideas. It is of utmost importance that the theme of Eid is captured without hurting any religious sentiments.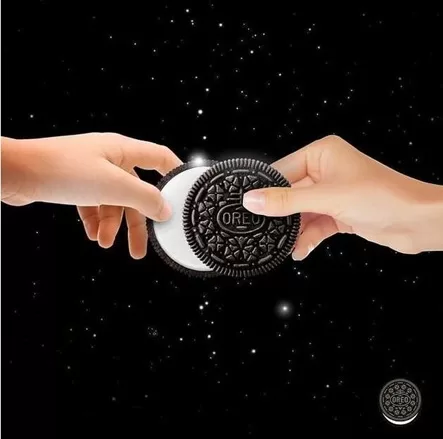 This ad by Oreo perfectly captures the crescent moon, which has a lot of symbolic significance in Islam. Launched during Eid, Oreo celebrates its customers without being political or hurting their sentiments.
Another sure-fire way to reach out to the target audience and increase brand awareness is by releasing a new addition to the product line. During Eid, customers usually buy new clothes or buy gifts for others. Releasing something new will definitely help increase sales. Furthermore offering discounts will also help drive sales. The terms Sale, special discounts, and limited-time discounts all are great ways to grab the attention of customers.
Taking to social media and sharing creatives that are simple and effective is also a great way to help increase customer attention towards your brand. Since the mosque is a place of worship for Muslims around the globe, the advert below shows how you can include elements of it while also promoting your brand.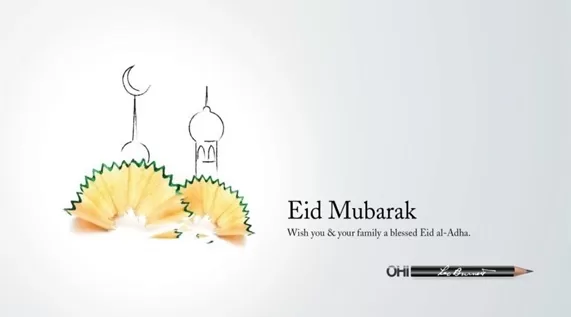 Eid is a great time to boost your company's social media status and focus on branding. Using specific themes on the company's social media platform and homepage, especially if it is a more publicly recognised brand which has a lot of traffic, consider changing the landing page or adding some elements on the homepage to match with the themes of the festival. Working in tandem with the digital team and taking the time to understand the sentiments of local people will help the company be more mindful during the marketing phase.
Running giveaways or organising contests, either on social media or in public will also help companies increase their brand presence and in the long run, help with brand recognition. Restaurants can offer a free meal to their lucky customers, clothing brands can offer gift cards. Playing around with the various combinations, depending on the service and products your brand has to offer can lead to near-limitless possibilities in terms of branding.
At the end of the day, it is important to not overwhelm the customer with ads. Eid is a time for celebration and joy. It is a time when customers spend time with their families and it is important to give them that space without being in their face. The constant bombardment of ads can also lead to a negative brand position in the long run. The campaigns should only run for a few days and be very specific to the target audience, this doesn't mean that other customers can't benefit from the marketing activities of Eid.
Regardless, centering the activities around the theme and being mindful of the customer's needs and preferences will certainly prove useful for a brand. Be it either with an increase in sales or traffic, or overall brand recognition, a carefully planned campaign will yield fruitful results.