Easter has arrived at Costa Coffee!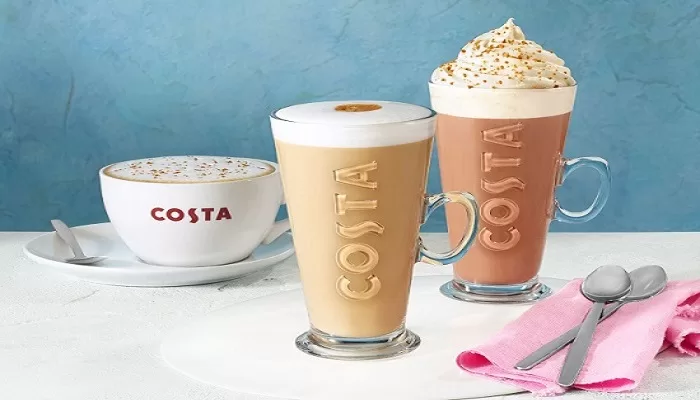 Easter has officially arrived at the Nation's Favourite Coffee Shop*, Costa Coffee, and there is an array of scrumptious drink options and sweet food treats to choose from across Costa Coffee stores and Costa Express self-serve machines now. And all are perfect to enjoy before or after the annual Easter egg hunt!
Classic Spring drinks flavours to try this season
Costa Coffee is offering this April a range of delicious drink options across Costa Coffee stores, Costa Express machines, via Click & Collect or through delivery partners – Just Eat, Deliveroo and Uber Eats.
Since March, the delightful limited-edition Hot Cross Bun range has been available across Costa Coffee stores and Costa Express machines. Choose to try either the Hot Cross Bun Latte, Hot Cross Bun Cappuccino, or the Hot Cross Bun Hot Chocolate. They are all seasonal twists on much-loved Costa Coffee classics thanks to the addition of the Hot Cross Bun sauce. Perfect for that Easter bank holiday weekend walk.
Sweet treats in time for Easter
From new sweet additions, returning fan-favourites and iconic muffins that are back with a twist, Costa Coffee has you covered this Easter.
What is better than a classic Hot Cross Bun? Costa Coffee is offering lovers of this staple product the chance to choose from either a: Classic Hot Cross Bun, Chocolate Hot Cross Bun, Hot Cross Spiced Loaf Cake, or a Hot Cross Treacle Tart.
Here come the chocolate choices and all are perfect for pairing with an afternoon Americano. Try either the delicious Chocolate & Orange Mini Egg Cake, Chocolate Cornflake Nest or the Double Chocolate Torte. There is even a cute Vegan Hopping Bunny Gingerbread if you want to grab an Easter treat to take home.
Costa Coffee has not stopped there! In partnership with KITKAT®, why not try the Chocolate muffin made with KITKAT® Bunny or the Caramel Millionaires made with KITKAT®. Be quick, as these items are only available for a brief time.
Looking for that perfect gift set?
This April, opt to buy the new limited-edition KITKAT® Gift Set to share with a loved one. This gift set is filled with an adorable KITKAT® Bunny, a KITKAT® four-finger bar and a bottle of delicious Monin syrup, which provides an extra flavour kick to any hot drink with only a few drops. All these products are enclosed in a classic Costa Coffee ceramic mug.
Costa Coffee is also launching a Hot Chocolate Tin & Mini Whisk gift set, which comes complete with a tin of scrumptious Costa Hot Chocolate and a mini whisk, presented inside a decorative Costa Coffee ceramic cup. Both these gift sets are available to purchase across Costa Coffee stores and online now.
Keep that Bean count going
Using a reusable cup this Spring to get a favourite Costa coffee? Before doing so, register with the Costa Club App as Costa Coffee is still offering members extra perks as part of the Costa Club rewards scheme. This includes earning two Beans when purchasing a favourite handcrafted drink in a reusable cup, meaning once you have bought four, you get your next drink for FREE.
Source: Costa Coffee