New KITKAT® range launches at Costa Coffee this Easter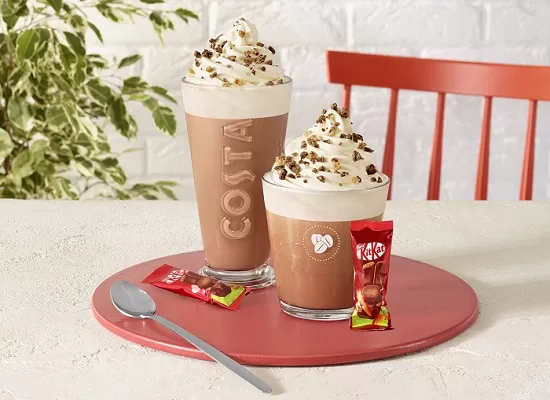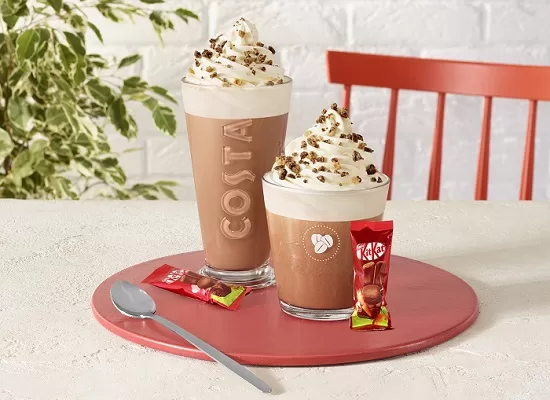 With Easter fast approaching, thex Nation's Favourite Coffee Shop*, Costa Coffee, has introduced a range of limited-edition food and drink items in partnership with KITKAT®. Available to buy now across Costa Coffee stores, this range is sure to be an instant hit with chocolate fans – but be quick its only available for a short time!
Scrumptious drinks
Already a Hot Chocolate fan? Why not purchase the new KITKAT® Hot Chocolate, made with Costa Coffee's signature Hot Chocolate powder that has been combined with a rich, creamy milk sauce to mirror that iconic KITKAT® taste? It is finished with a light dairy swirl and crunchy KITKAT® pieces and is joined by a delicious wrapped KITKAT® Bunny.
There is also the new KITKAT® Iced Chocolate to try. This delicious ice-based blended drink features the all-important Hot Chocolate powder and scrumptious milk chocolate sauce, with a light dairy swirl on top. This drink is completed with a sprinkling of KITKAT® pieces and a wrapped KITKAT® Bunny on the side.
Both are available to buy now across Costa Coffee stores nationwide, via Click & Collect or through delivery partners – Just Eat, Deliveroo and Uber Eats.
Chocolatey sweet treats
An iconic muffin is back at Costa Coffee but with a slight twist. Say a warm hello to the new Chocolate muffin made with KITKAT® Bunny, a delightful chocolate muffin, with a gooey centre that captures that signature KITKAT® chocolate and wafer flavour, finished with chocolate frosting and a KITKAT® Bunny.
Are you a fan of a millionaire's shortbread? Why not try the new Caramel Millionaires made with KITKAT®, great for sharing, each pack has two tasty fingers made up with a base of KITKAT® wafer pieces, topped with rich caramel and finished with a layer of milk chocolate.
This April, opt to purchase the new limited-edition KITKAT® Gift Set, which is available to purchase now*** across Costa Coffee stores and online.  Why not share this limited-edition gift set with a special someone as it comes complete with an adorable KITKAT® Bunny, a KITKAT® four finger bar and a bottle of delicious Monin syrup, which provides an extra flavour kick to any hot drink with only a few drops. All these products are enclosed in a classic Costa Coffee ceramic mug.
Cathy Port, Head of Product UK&I at Costa Coffee, said: "With Spring well and truly on its way, we have gone all out for our chocolate-loving customers. Thanks to this special partnership with KITKAT® we have been able to build on our existing menu in the most delicious way this Easter. From the KITKAT® Hot Chocolate, Chocolate muffin made with KITKAT® Bunny and the limited-edition KITKAT® Gift Set, there is something for everyone!"
What's more, if you are using a reusable cup this Spring to get your favourite drink, make sure you are registered with the Costa Coffee Club App. You can keep that bean count going as Costa Coffee is still offering members extra perks as part of the Costa Club rewards scheme. This includes earning two Beans when purchasing your favourite handcrafted drinks in a reusable cup, meaning that a FREE drink can be claimed for every four drinks purchased.
Source: Costa Coffee