Divine Chocolate introduces the Milk Chocolate Belgian Collection for Christmas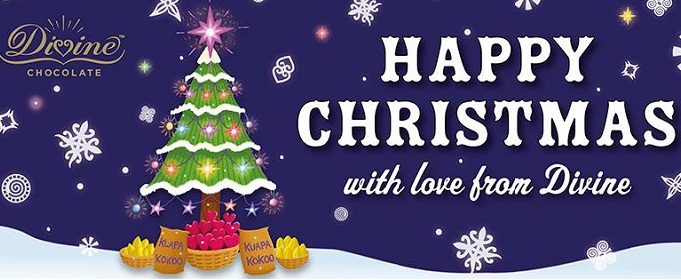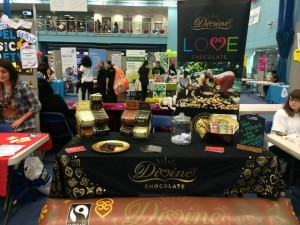 Divine Chocolate is delighted to announce the launch of Divine's Milk Chocolate Belgian Collection, which will be available exclusively at Tesco Stores this Christmas RRP £10.00. The stylish black and gold box of chocolates includes a range of milk chocolates with four different soft praline centres, produced in Belgium using the 'best of the best' Fairtrade cocoa from Kuapa Kokoo in Ghana, the co-operative that owns 45% of Divine.
The new chocolate box is the latest addition to Divine's Christmas collection and will make a highly desirable gift for any chocolate lover. The four luxurious chocolates include a heavenly caramel, hazelnut crisp, coffee praline and coconut crunch and are all palm oil free.
Charlotte Borger, Communications Director at Divine Chocolate said, "The new milk chocolate Belgian Collection is a great addition to our range and will make a great present this Christmas. We are very proud of the finished product and are delighted that these delicious praline chocolates include Fairtrade cocoa, sugar, coffee and vanilla, as well as being completely palm oil free."
The Milk Chocolate Belgian collection completes this year's distinctive Divine Christmas range which includes the popular Advent Calendar, with a new beautiful illustration, two new limited edition 100g bars in festive flavours, Dark, Milk and White Chocolate Christmas Trees, After Dinner Mint and Ginger Thins, the popular Dark Chocolate and Milk Chocolate Coins and further new editions to the range; the Divine Milk & Dark Chocolate mixed Nuts, and White Chocolate mixed Berries.
Divine chocolate is made with the finest quality Fairtrade cocoa beans from Kuapa Kokoo, a co-operative of smallholder farmers in Ghana. The cocoa is grown in the shade of the tropical rainforest, and slowly fermented and dried in the sun by the farmers, who take great pride in the chocolate company they co-own.
About Divine Chocolate
Divine Chocolate Ltd is the only Fairtrade chocolate company that is also co-owned by cocoa farmers. Kuapa Kokoo, a co-operative of 65,000 cocoa farmers in Ghana, benefit not only  from the Fairtrade premium on the sale of their beans, but also receive a 45% share of Divine's distributable profits giving the farmers more economic stability, as well as the increased influence in the cocoa industry company-ownership brings
All Divine products carry the Fairtrade Mark. This is an independent guarantee certified by the Fairtrade Foundation that the ingredients are sourced under internationally agreed fair trade terms and conditions. These include a guaranteed, secure minimum price, an extra social premium payment for the farmers to invest in their own community programmes, long term trading contracts, decent health and safety conditions – all aimed at empowering farmers to make their own improvements to living standards and prospects for the future
The UK chocolate market alone is worth approximately £3.98 billion a year (Mintel, 2012): if Fairtrade products can capture even a small proportion of that market, producers in developing countries gain real benefits.