The Hershey Company Unwraps Dramatically Different 'Candy Experience' at Winn-Dixie; Invests in the Future of the Candy Aisle Beyond Center Store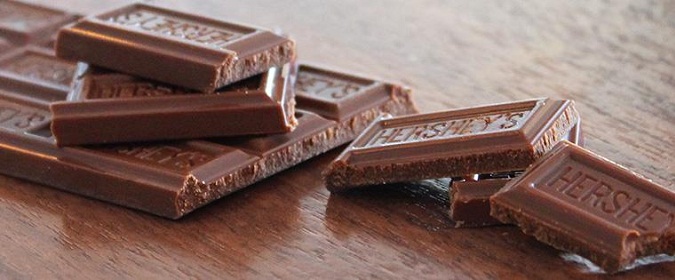 Tests show that the reinvented candy aisle can lift retailers' confection sales by strong double digits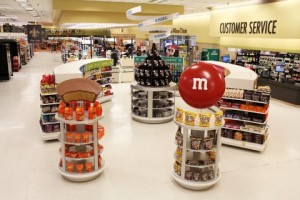 HERSHEY, Pa.–(BUSINESS WIRE)–Nov. 19, 2014– The Hershey Company (NYSE:HSY), in partnership with Winn-Dixie and its parent company Bi-Lo Holdings, today announced the opening of Hershey's "Candy Experience," a new concept that has replaced the traditional candy aisle at Winn-Dixie's newly renovated store in Baton Rouge, La.The new candy section, best described as a "store within a store," has shown in testing that it can lift confection category sales for retailers by strong double digits.
The candy aisle at Winn-Dixie's Baton Rouge store, located at 13002 Coursey Blvd., is now a circular set of bold displays located in the highly trafficked front of the store next to customer service and the checkout lanes, a dramatic change from where candy aisles are traditionally located. Hershey is the independent category advisor at many major U.S. retailers and took a full category approach in designing the section, which displays America's most well-known confections, including competitors' top brands. Shoppers will be enticed to shop by feature displays with Reese's Peanut Butter Cups and Hershey's KissesChocolates shaped toppers, graphics of unwrapped candy, bright colors and convenient organization by usage occasion (candy dish, premium, movie & snack, grab & go).
Winn-Dixie's Baton Rouge store has committed to using Hershey's new candy aisle design for one year. Throughout the year, Hershey will invest in in-store shopper research as well as category merchandising plans.
Over the last few years, the grocery channel has experienced declining sales in center of the store categories, including confection, with trips in the grocery channel down 2.1 percent1 .
"We are excited about this new candy experience because it puts the consumer and shopper first," said Rick Price, Senior Manager of Center Store Evolution, The Hershey Company. "A majority of shoppers2 find the candy category the hardest to shop and the least inspiring in the store resulting in many shoppers walking away without any confection in their basket. Our re-imagined candy aisle addresses these challenges and makes candy shopping more convenient and memorable."
Hershey's transformative approach to candy aisle merchandising is a result of the company's insights driven performance (IDP) model, its proprietary retail collaboration model to grow the category based on industry-leading consumer and shopper insights. Hershey's IDP customers typically outperform their peers and Hershey's merchandising experience and shopper insights team has been working to uncover ways to improve the center-of-the-store shopper experience and in-store conversion.
Winn Dixie is at the forefront of bringing a unique shopper experience to the consumer that will differentiate it from competitors and build shopper loyalty.
"We have put comprehensive success metrics in place, and we are excited to see how the Hershey's Candy Experience performs," saidFrank Jimenez, Senior Director of Retail Evolution, The Hershey Company. "We anticipate it will be a game changer and we look forward to working with Winn-Dixie to roll it out at other stores and beginning to ignite a change in how candy is displayed and sold across the grocery channel."
Hershey's industry-leading knowledge and insights has helped the company and its retail partners plan for new technology and changing consumer expectation in the retail environment. The Hershey Company's expertise includes front-end transformation, total store insights, center of the store transformation, experiential shopping and small store formats.
About The Hershey Company
The Hershey Company (NYSE: HSY), headquartered in Hershey, Pa., is a global confectionery leader known for bringing goodness to the world through its chocolate, sweets, mints and other great-tasting snacks.Hershey has approximately 13,000 employees around the world who work every day to deliver delicious, quality products. The company, which has more than 80 brands worldwide that drive over $7.1 billion in annual revenues, includes such iconic brand names as Hershey's, Reese's, Hershey's Kisses, Jolly Rancher and Ice Breakers. Hershey is focused on growing its presence in key international markets while continuing to build its competitive advantage in North America. Additionally, Hershey is poised to expand its portfolio into categories beyond confectionery, finding new ways to bring goodness to people everywhere.
At Hershey, goodness has always been about more than delicious products. For 120 years, Hershey has been committed to good business by operating fairly, ethically and sustainably to make a positive impact on society. This means contributing to a better life for its employees, consumers, communities, and, ultimately, creating a bright future for children in need. This commitment is exemplified by Milton Hershey School, established in 1909 by the company's founder and administered by Hershey Trust Company. The children who attend the school receive education, housing, and medical care — thriving as direct beneficiaries ofThe Hershey Company's success.
About Winn-Dixie
Winn-Dixie Stores, Inc. is a subsidiary of Bi-Lo Holdings, which is the fifth-largest conventional supermarket in the United States based on store count. Founded in 1925, Winn-Dixie employs more than 48,000 associates who serve customers in approximately 546 grocery stores and 415 in-store pharmacies throughout the five southeastern states ofAlabama, Florida, Georgia, Louisiana and Mississippi.