Discovery Cove – Become One Of The Pod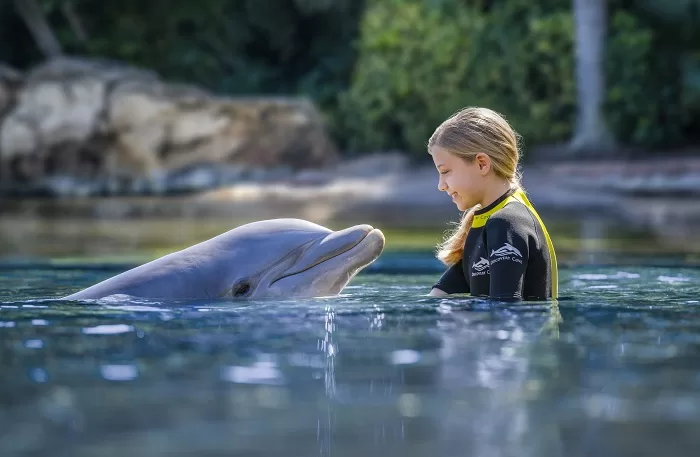 It is not surprising that so many people around the world list "having a close encounter with a dolphin" on their bucket list; we seem to have an innate fascination with these amazing, beautiful, intelligent marine mammals. It is a link that can be traced back thousands of years to ancient civilizations and generations of island communities through historical records and countless personal accounts. Thanks to ongoing research and carefully controlled interaction programs like the Signature Dolphin Experience at Discovery Cove in Orlando, Florida, we are all gaining a better understanding and appreciation of the relationship between humans and dolphins.
One of the most popular programs at the one-of-a-kind, all-inclusive Discovery Cove, the Dolphin Experience brings guests can get nose-to-bottlenose with one of the park's dolphins during a one-on-one encounter. During the experience, each guest spends time with a dolphin in the shallows of Dolphin Lagoon, where an animal care specialists shares insights on dolphin habits, behaviors, their incredible communication abilities, and the special relationships they build every day with these amazing animals. But the experience doesn't end there. Each individual guest also has the rare opportunity to safely interact with the dolphin and learn about its unique personality through behaviors. The experience often creates a special, long-lasting memory between guests and the park's most beloved residents.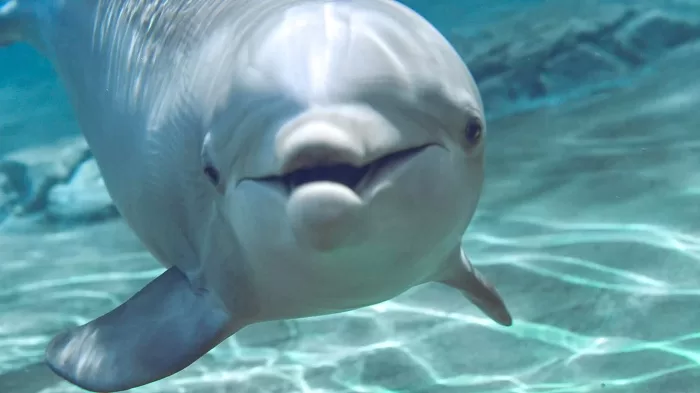 Situated in the heart of Central Florida, Discovery Cove is a tropical oasis where, in addition to swimming with dolphins, guests can snorkel among tropical fish and rays, hand-feed exotic birds, drift down a canopied river, or simply lounge on white sandy beaches while relaxing in the Florida sunshine – all while enjoying endless food and drinks (including beer and wine for those 21 years of age and over).
Discovery Cove has enchanted visitors for more than 20 years by combining all-inclusive amenities with exclusive "bucket list" encounters, limiting the number of daily visitors to ensure an intimate and carefree VIP experience.  Some additional experiences include:
The Grand Reef – Fringed by a sandy white beach, The Grand Reef is where guests can swim and snorkel with thousands of tropical fish, rays, and even sharks (behind panoramic viewing windows), exploring this immense coral reef habitat.
Explorer's Aviary – Home to more than 70 species, this massive free-flight aviary lets guests walk shaded pathways to observe and hand feed some of the more than 250 colorful birds.
Freshwater Oasis–The Freshwater Oasis features wading adventures and face-to-face encounters with playful otters and curious marmosets.
Serenity Bay – Guests love to slip into the refreshing 85 degree (F) waters of Discovery Cove's enormous and immaculate Serenity Bay.
The Wind-Away River– Ride the soothing currents of a tropical river as it winds past sandy beaches, through a dense rain forest, beneath the rocky terrain of cascading waterfalls, and through an underwater cave.
An escape to Discovery Cove can also be enhanced with additional upgrades, including luxury VIP cabanas – complete with a private host, stocked mini-fridge, hammocks and more; SeaVentureunderwater walking tours through The Grand Reef; behind-the-scene visits during Animal Trek; hand-feeding thousands of tropical fish and various species of rays during the morning Ray Feeding; a deep-water free swim alongside more than 20 sharks of various species with the Shark Swim; and even a strut with the famous Caribbean flamingos during the daily Flamingo Mingle.
Adding to the relaxed, carefree atmosphere, every all-inclusive admission to Discovery Cove includes unlimited access to a fantastic selection of food and drinks all day long. A freshly prepared breakfast and lunch is served at Laguna Grill. From familiar fare to chef specials, all dishes are prepared with fresh ingredients and incorporate healthy elements, with daily seafood selections, salad options, and vegetarian dishes available. Marketplaces throughout the park provide all-day service and offer everything from yogurt and soft pretzels to fruit smoothies and gourmet coffees. Ice-cold beverages, including bottled water, soft drinks, and select alcoholic beverages (for guests 21 years of age and older) are also available as part of the daily admission. Parking, lockers, wetsuits, and swim gear are also included.
For more information, or to book a reservation, visit DiscoveryCove.com.