Discovery Cove – An Appetite for Inspiration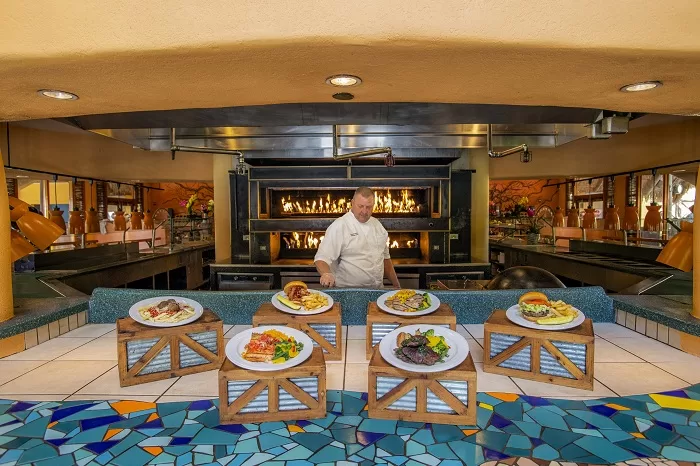 As a one-of-a-kind, all-inclusive daytime adventure, Discovery Cove in Orlando, Florida is known and loved for a breathtaking array of awe-inspiring animal encounters in its stunning, 35-acre tropical oasis, right in the heart of Central Florida. With reservations required and limited capacity, the experience is one of the most exclusive in the country and appreciated for its worry-free atmosphere where guests enjoy a relaxing day where everything is taken care of.  And as a truly all-inclusive park, every visit to this intimate destination includes wet suits, snorkel gear, towels, and many more amenities. Every admission also includes endless food and drink options (including beer and wine for those over 21 years old), providing surprising and satisfying ways to fuel a fun, full day of discovery.
It's the most important meal of the day, so Discovery Cove welcomes guests with a freshly made breakfast, available at the Laguna Grill from 7:30 to 10:30 a.m. All items are hand-prepared daily and carefully arranged for a mouth-watering, buffet-style breakfast by an exceptional culinary team who clocks in at 5 a.m. to begin prepping for the day. Some may stick with cereal, toast, and a glass of freshly squeezed Florida orange juice, but there are plenty of other items to let guests know what kind of culinary treat they're in for – from the just-made western eggs and piping-hot French toast, to hand-diced roasted potatoes, and yogurt parfaits with fresh seasonal fruit. If they can't fit it all on one plate, guests are welcome to go back for seconds or thirds; remember, Discovery Cove is all-inclusive.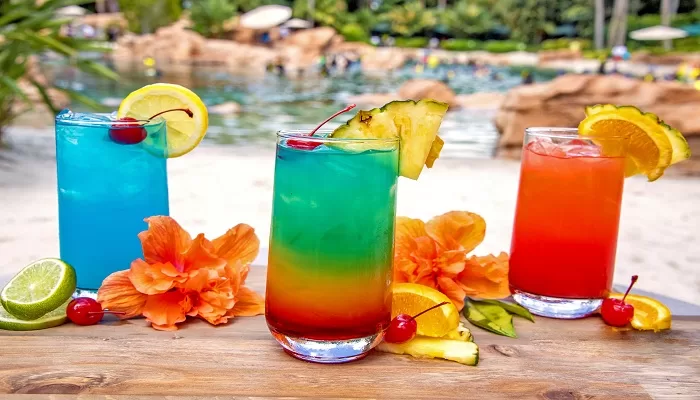 According to Culinary Operations Leader Russell Stehle, who refers to himself as the "nutritional doctor," there is no heavy-batch cooking at Discovery Cove. "We want to provide crisp, clean offerings that are not heavy or loaded down in fats; that's no way to start the day. And we work to stay up on the latest cooking trends and try to promote a few specials every day."
After guests get their fill of breakfast, they can immediately begin to enjoy their day of discovery and live each moment to the fullest; with the Signature Dolphin Experience, underwater SeaVenture adventure, The Grand Reef and Explorer's Aviary, there's not a moment to waste. Guests who prefer a slower pace might try a leisurely trip down the Wind Away River, or some quality sunbathing on a lounge by the white sandy beaches and crystal-clear lagoons.
When lunchtime rolls around, Stehle and his team will be ready to please with freshly made favorites such as grilled steak churrasco, Caribbean jerk chicken, and broiled fish with a light Cajun dust and tomato relish, which is just a sampling of the daily signature entrees. Served from 11 a.m. to 3:30 p.m. at the Laguna Grill, lunch also includes fresh salads, wraps and char burgers, and a selection of on-site baked desserts. While menu items stay relatively consistent for a period of time, Stehle encourages his staff to share inspiration for new recipes and offerings, some of which he expects to roll out this fall.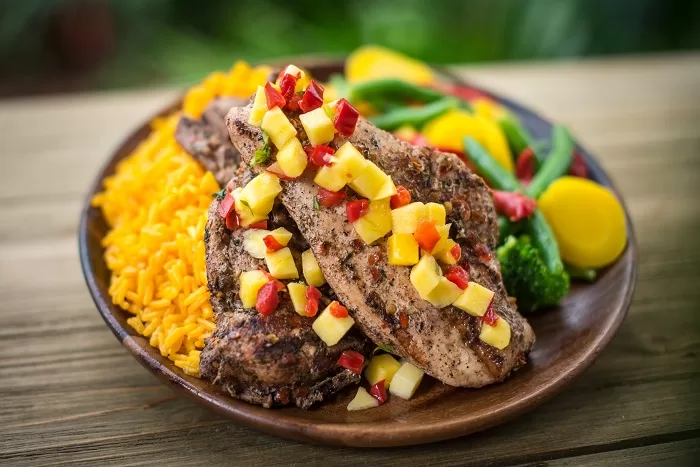 Accredited by the Association of Zoos and Aquariums, Discovery Cove focuses a significant amount of resources and attention to sustainability and global conservation efforts – a philosophy and practice which extends into the kitchen as well. All menu items are sustainably sourced, with produce and other available items purchased from local farmers and businesses as much as possible. And for any guests who have food allergies or have special dietary needs, Stehle and his team are always available to assist with special orders. In fact, when a guest indicates a dietary restriction on their reservation, Stehle will personally call them to discuss alternate options for their food selection on the day of their visit. "Whether gluten-free, dairy-free, nut allergy, Kosher or other, guests can rest assured my team is ready and willing to provide a healthy alternative to meet their needs," said Stehle.
As Discovery Covecontinues to enhance its health and safety protocols throughout the park, special attention has been given to all food services areas, including the drink and snack stations located throughout the park. Rather than self-serve, all food and drink items are presented to guests by staff members, single serve and with no sharing or cross-touching of serving pieces or utensils. As Stehle has pointed out, "this has actually enhanced our guest interaction, giving us added opportunities to talk with each guest as they come through food lines and stop to grab a snack or drink." All-day snacks available to guests include warm soft pretzels, cookies, assorted chips, tropical icees, and whole fresh fruit.
For guests 21 years old and up, admission to Discovery Cove includes a selection of beer and wine, along with the option to purchase a premium dink package which includes hand-crafted cocktails, additional craft and domestic beers, and delicious frozen drinks. The layered Aloha Sunrise is the park's most popular signature cocktail, featuring Tito's Vodka, Bacardi Rum, Triple Sec, Blue Curacao, Grenadine and fresh orange or pineapple juice – perfect for cooling off in the Florida sunshine.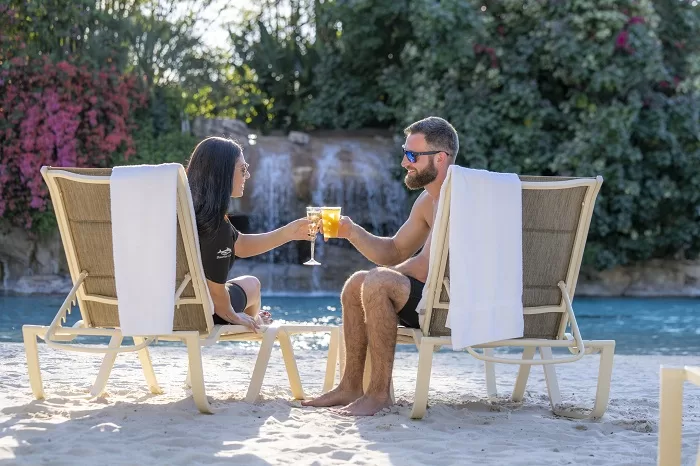 In addition to all the incredible culinary offerings, tropical setting, and breathtaking animal interactions included in the park's all-inclusive policy, guests receive wetsuits, snorkel gear, towels, parking, and many more amenities. Discovery Cove also requires reservations and limits the number of daily guests, making the experience one of the most exclusive attractions in the country, with ample room to enjoy the warm Florida weather. Knowing vacationers now require some planning flexibility, Discovery Cove offers a "Book with Confidence" policy, which allows guests FREE cancellations and a 100% refund if guests need to cancel more than 30 days prior to their reservation date.
If you're hungry for more information, or want to book a reservation, visit DiscoveryCove.com.