Different Types of Earrings: A Guide to Earring Styles, from Smallest to Largest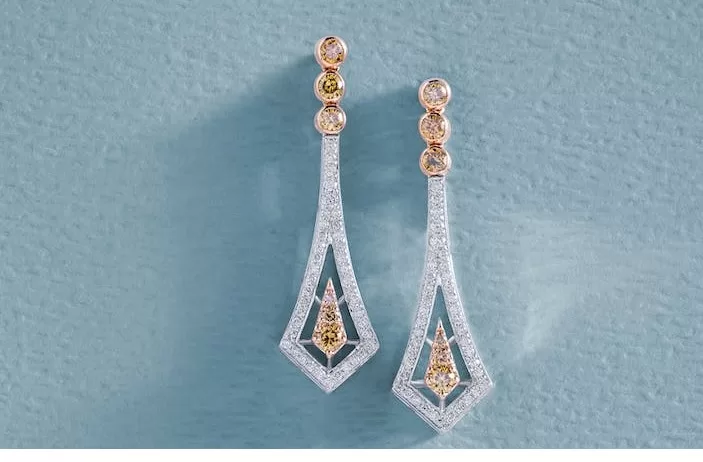 Earrings have come a long way since their ancient Sumerian beginnings! Extravagant tassels and delicate studs, both of which we now love so dearly, are contemporary descendants from simple gold hoops worn thousands of years ago.
Not only do earrings transcend fashion's boundaries; they also connect us all in our shared access to the varied styles that decorate almost every special occasion today. While the vast array can be overwhelming, you don't need to feel lost—from teardrops to chandeliers and everything between them–there is an ideal pair of earrings for your everyday look too!
That's why we've compiled a complete guide to the different types of earrings available on the market. You'll learn the difference between a cuff and a climber or a drop and a tassel and the ideal occasion to wear them. So you can feel confident on any occasion.
Earring Styles, from Smallest to Largest
Studs
Studs are the essential accessory you need in your jewelry collection — they're perfect for both day and night looks. From minimal gold metal designs or studs with a hint of sparkle, these earrings are ideal to add that little bit of elegance to any outfit.
Studs hug the lobes without draping down so can be comfortable enough even if worn all day long. The options available are almost endless – choose from solid metals set off by glimmering stones like diamonds, sapphires and rubies for an extra dose of luxe glamour.
Ear Cuffs
Add a bold statement to your look with an ear cuff. This versatile jewelry piece comes in different sizes and designs – ranging from sleek and subtle, to more daring styles.
The beauty of the ear cuff is that it requires no piercing; simply fasten comfortably around the outer edge of your ear for instant style boost. Perfectly complement any set of glitzy studs or small-medium hoops, or rock them solo as part of a modernized edgy aesthetic.
Climbers
Elevate your look with ear climbers! These special earrings, also known as crawlers or sweeps, have a distinctive and edgy appearance that is sure to turn heads.
Unlike traditional studs, they start at the lobe of your ears and climb up along their edges – creating an illusion of multiple piercings without going through all the trouble. Ear climbers come in various metals and gemstone varieties; choose whichever fits your personal style best for a playful yet sophisticated feel.
Hoops
Hoop earrings are a timeless classic, that easily transition from day to night looks. With the myriad of shapes and sizes available, you can opt for delicate dainty hoops or choose larger statement pieces studded with precious stones; either way everyone should have at least one pair in their jewelry rotation.
From metal designs to antique-style pearl settings–hoops lend themselves perfectly to any wardrobe choice: they're perfect for casual days yet still make an impact when dressed up chicly.
Drop Earrings
Drop earrings can be a great way to spice up any outfit — from an elegant evening out, to turning your pantsuit into something special for after work drinks with friends.
These versatile adornments come in various lengths and materials like gold, silver, diamonds or natural elements making them perfect for adding that extra touch of sparkle regardless of the occasion. So why not give yourself some 'everyday glam' with drop earrings.
Tassel
From subtle and chic to ornate and opulent, tassel earrings are the perfect way to make a statement in any occasion. Drape yourself with delicate strands of chain or adornments made from leather, beads, threads cords diamonds — whatever your style calls for.
 Tassels instantly elevate an outfit whether you're attending black tie events or walking down the aisle –just keep it simple so that these showstoppers can take center stage.
Chandelier
For a bolder, uber-dramatic alternative to tassel earrings, the chandelier earring style can give you the dazzling wow factor your outfit needs. Named after the opulent and ornate light fixtures that are the centerpiece of a room, chandelier earrings fit at the earlobe and then dangle into a cascading shape made of one or multiple tiers.
They vary in shape and length, even so far as stopping at just above your shoulders. They are made of any one or combination of the following materials: bronze, silver, gold, diamonds, and other gemstones, beads, and more.
Often reserved for special occasions like weddings, red carpets, Michelin-star restaurants, or just a night out at a brasserie on the Champs-Élysées in Paris, chandelier earrings are a wearable art form–equal parts bold, striking, and sure to leave a lasting impression.
Ready to Make a Bold Statement?
Your jewelry is a way to express your personality and let the world know what kind of person you are — without saying a word. From sophisticated office looks, to glamorous night outs or just for adding it into your personal collection – consult this guide to help make sure that no matter where life takes you, you always feel stylish!
You deserve to feel confident knowing that your look is just right no matter where you are or what you're doing.