Costa Coffee 'Serves More Ace' Free Drinks this July!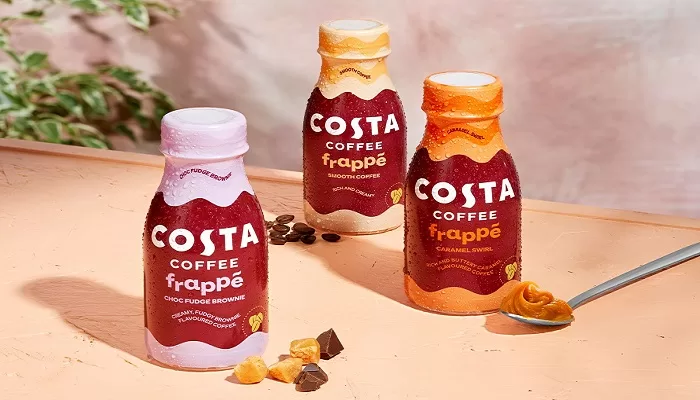 There's no stopping the Nation's Favourite Coffee Shop*, Costa Coffee, this summer as two additional exciting offers have just been announced and both are perfect for sipping in the sunshine while cheering on your favourite player at Wimbledon. Game, set, match! 
Brighten your day with some 'Frappé-ness'
Costa Coffee is gifting busy on-the-go coffee fans the chance to enjoy a FREE bottled Frappé or select flavours from its coffee in a can range** from Saturday 2 July. All products included in this offer have been expertly crafted by Gennaro Pelliccia, Master of Coffee at Costa Coffee and use Rainforest Alliance Certified™ coffee beans.
On Friday 1 July, registered Costa Club members who scan the mobile app after purchasing any drink from Costa Coffee's current menu via Click & Collect, in participating stores or at a Costa Express machine will receive a digital reward for one FREE drink that can be redeemed from the following day at a participating Costa Coffee store.
What is your go-to? Is it the flavour of Smooth Coffee, Caramel Swirl or Choc Fudge Brownie from the rich and indulgent bottled Frappé range or a classic Latte, Vanilla Latte or sweet Caramel Latte from the coffee in a can range? Whichever it is, make use of this exclusive offer across participating Costa Coffee stores*** from Saturday 2 July to Thursday 7 July, before one final offer is revealed the following week!
Let the good times roll…
Calling new members to the free Costa Club mobile app. Costa Coffee is offering yet another amazing offer this July by gifting new members that register to the Costa Club mobile app 50% off their first drink when they join between Friday 1 July to Sunday 31 July****.
When a new customer downloads the Costa Club mobile app and registers, they will automatically receive a digital reward in their account for 50% off their first drink, which they can redeem against one drink from the menu board within a week from receiving it. That's half price on drinks such as a signature Latte, a classic Flat White or a new drink addition from Costa Coffee's new summer menu.
Trust us it is worth joining, as members of Costa Coffee's free Costa Club rewards scheme receive a free drink after any four hot or cold handcrafted drinks have been purchased using a reusable cup. Or a free drink after any eight purchased without a reusable. What's more, members also receive a free slice of cake for their birthday.
Source: Costa Coffee