Taste the Track: Coca-Cola Drops New Coke Creation with Cultural Icon Marshmello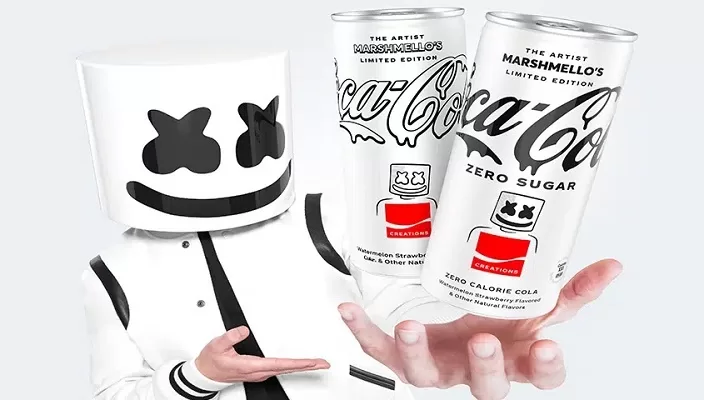 Coca-Cola Creations is dropping its newest limited-edition flavor—a collab with GRAMMY-nominated artist Marshmello.
Marshmello's Limited Edition Coca-Cola, the brand's first-ever beverage co-created with an artist, captures the feeling of mixing chart-topping beats. The new drink—which fuses strawberry and watermelon flavors with a great Coke taste—drops in the United States in July and will be available in select countries around the world. A zero-sugar version also will be available.
"We created a vibey blend of my favorite flavors in this all-new mix," Marshmello said. "I think it tastes amazing and hope fans love it, too."
Collectible slim cans with striking black and white visuals and dripped Coca-Cola Spencerian script pay homage to Marshmello's signature aesthetic.
Coca-Cola welcomed Marshmello and his crew to Atlanta last year for a tour of the company's archives and co-creation workshop. The artist doodled on whiteboards with Coke creatives, experimented with tastes crafted by R&D flavor scientists sipped through a custom-created straw to fit Marshmello's trademark helmet, and brainstormed experiential concepts with brand and marketing teams.
"From the beginning, we wanted this to be a collaborative process that could come to life and feel authentic to both of our brands," said Oana Vlad, Senior Director, Global Strategy, The Coca-Cola Company. "Everyone rolled up their sleeves and had a lot of fun… Marshmello is known as a connector of fans, so our values are aligned."
To coincide with the global flavor's IRL launch, an immersive Twitch takeover on July 9 will give fans the chance to control Marshmello in a livestream gaming adventure and gain exclusive access to metamerch designed by Zepeto. Beginning July 29, a scannable QR code will direct fans to the Coca-Cola Creations hub, where they can generate a unique piece of digital art while experiencing the feeling of listening to Marshmello's new track, "Numb".
The Coca-Cola Creations platform—which debuted in February when Coca-Cola Starlight offered fans a taste of outer space, followed by the gaming and metaverse-inspired Coca-Cola Byte—lends the brand to new expressions driven by collaboration, creativity and cultural connections. Over the course of 2022 and beyond, limited-edition flavors, designs and experiences will reimagine Coca-Cola and Coca-Cola Zero Sugar across physical and digital worlds.
"The novelty and unexpectedness of these innovations are driving curiosity and inviting people to engage with the brand," said Vlad, citing a spike in social media conversation, earned media coverage and Internet search traffic. "We're also seeing that taking a more experiential route with our marketing through digital experiences, licensing partnerships and creative collaborations is a meaningful and fresh way to reach younger consumers."
Source: Coca-Cola