Best Things to Shop for at Walmart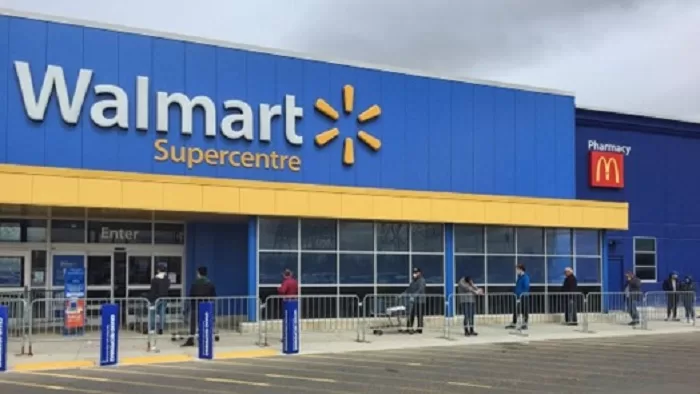 Walmart is an American global retail firm that runs a network of grocery stores, cheap department stores, and hypermarkets. The business, which has its headquarters in Bentonville, Arkansas, and was established by Sam Walton in 1962, is currently the largest by revenue in the world.
Walmart operates under a variety of retail formats, including Walmart Supercenter, Walmart Discount Store, Walmart Neighborhood Market, and Sam's Club. Via its many retail formats, the corporation provides services to customers in more than 25 countries while employing over 2.3 million colleagues globally.
Walmart's goal is to help consumers save money so they can live better. By its "Daily Low Price" strategy, which aims to provide clients with products at the lowest rates while maintaining quality, the company fulfils this purpose.
Groceries, apparel, electronics, home goods, and personal care items are just a few of the many products Walmart's retail division sells. In order to give customers quick access to healthcare goods and services, the business also runs its own pharmacies and optical clinics.
Since the corporation invested in its e-commerce skills, Walmart's online business has expanded tremendously. Walmart.com offers a large selection of goods, including ones that aren't sold in physical locations, and gives customers practical choices like in-store pickup and home delivery.
Walmart is dedicated to social and environmental sustainability in addition to its retail activities. To minimise greenhouse gas emissions, remove waste from its operations, and advance sustainable agriculture, the corporation has established a number of challenging objectives. With its charitable endeavours, which include contributions to initiatives for disaster relief, education, and healthcare, Walmart also helps local communities.
But over the years, Walmart has come in for criticism and controversy. Some have expressed worry about the business's anti-union and low-wage labour practises. Others have questioned Walmart's effects on neighbourhood businesses, asserting that the company's low prices and extensive operations drive away smaller merchants. Also, Walmart has come under fire for the ways in which its supply chain is run, including claims of environmental harm and labour breaches.
Walmart continues to be among the biggest and most powerful businesses in the world despite these difficulties. Millions of people all around the world now frequent the company as a favourite place to buy because of its dedication to delivering low pricing and a large selection of products for customers. Walmart is committed to acting as a good corporate citizen, as evidenced by its continual efforts to promote sustainability and assist local communities.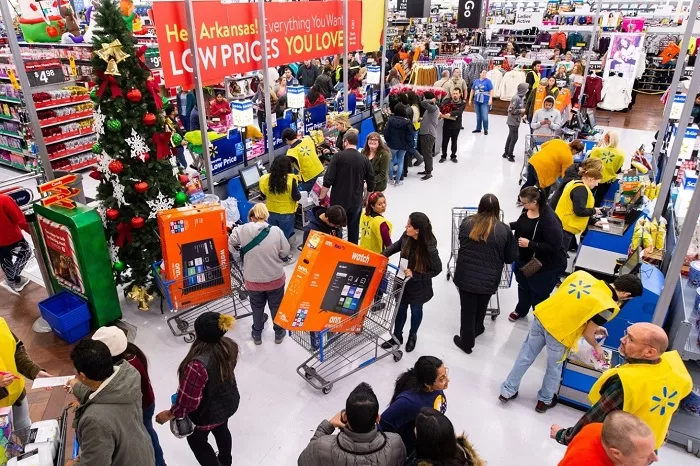 Innovating in the retail sector for a very long time is Walmart. The business was a leader in the 1980s when it came to the application of bar codes and computerised inventory management systems, which enabled it to streamline its processes and boost productivity. The "rollbacks" price strategy, which Walmart developed in the 1990s and which quickly established itself as a mainstay of the business's marketing initiatives, offered discounts on specific products for a set period of time.
The customer experience has lately been improved by Walmart's significant investment in technology. In order to enable customers to scan and pay for things using their smartphones, the business has introduced self-checkout devices and mobile scan-and-go technology. Moreover, Walmart has teamed up with both Uber and Lyft to provide home delivery services, and with Google to enable voice-activated purchasing through Google Assistant.
Efforts have been made by Walmart to enhance its logistics and supply chain processes. In order to cut waste, boost productivity, and raise sustainability throughout its supply chain, the company has put in place a number of initiatives. By pushing suppliers to use more environmentally friendly materials, Walmart has, for instance, tried to reduce packaging waste. It has also established more effective logistics and transportation procedures to cut down on carbon emissions.
As a major supporter of renewable energy, Walmart has also committed significantly. The corporation has made investments in a number of renewable energy projects, including wind and solar power, in order to meet its objective of obtaining 50% of its electricity from renewable sources by the year 2025.
Despite its many successes, Walmart nevertheless faces difficulties in a retail environment that is undergoing fast change. The business has had to adjust to shifting customer preferences and purchasing habits as a result of rising competition from Amazon and other large e-commerce players. Walmart, however, is well-positioned to stay a significant player in the retail sector for years to come thanks to its continuous focus on innovation and sustainability, as well as its dedication to low prices and customer service.
These are common products that consumers frequently love purchasing at Walmart:
Food: Walmart provides a large range of food items, including fresh produce, meat, dairy, and pantry essentials, frequently at affordable costs.
Home necessities: Walmart sells a variety of necessities for the home, such as cleaning products, laundry detergent, toilet paper, and paper towels.
Items for personal care: Walmart offers a range of toiletries, cosmetics, and grooming necessities for both men and women.
Electronics: A variety of gadgets are available from major brands at Walmart, including TVs, computers, cellphones, and gaming consoles.
Walmart offers reasonably priced apparel for men, women, and kids, as well as everyday necessities and stylish things.
Walmart offers a variety of baby goods, including diapers, formula, baby food, and baby gear from leading manufacturers.
Pet products are available at Walmart in a range of forms, including food, toys, and accessories for dogs, cats, and other animals.
Walmart has a wide variety of toys and activities for kids of all ages, including well-known brands like LEGO, Barbie, and Nerf.
Camping, hiking, fishing, and other outdoor activities all require equipment that is available at Walmart.
Furniture, bedding, curtains, and decorative elements for every room of the house are just a few of the home décor products Walmart has to offer.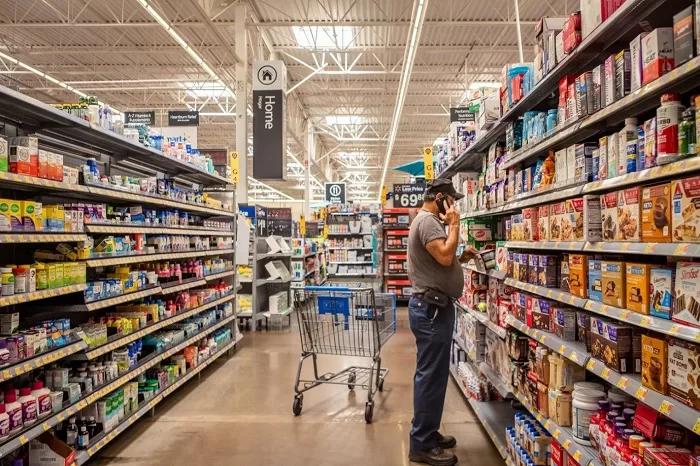 One of the biggest and most prosperous businesses in the world, Walmart enjoys a number of benefits that have helped it maintain its success. Here are a some of Walmart's main benefits:
Economies of scale: Walmart can negotiate lower supplier costs thanks to its enormous size and scale, which it can then pass along to customers in the form of cheaper prices. Due to its size, Walmart is also able to spread its fixed expenses across a bigger revenue base, which lowers its operational costs.
Supply chain efficiency: Walmart has made significant investments in its logistics and supply chain management, which helps to guarantee that merchandise is delivered quickly and effectively to stores. This lowers inventory expenses and boosts the overall effectiveness of the business.
Cheap prices: One of the company's main advantages is Walmart's dedication to providing inexpensive prices. Walmart is able to draw in a sizable number of price-conscious customers who are searching for good value by offering products at the lowest costs.
Wide selection of goods: Walmart sells a variety of things, such as food, apparel, electronics, home goods, and toiletries. As a result, Walmart becomes a one-stop shop for a lot of clients, helping to draw in a diverse customer base.
Internet presence: Walmart has invested heavily in its online capabilities, which has allowed the business to compete with e-commerce behemoths like Amazon. The simplicity of purchasing from home is made possible by Walmart's online presence, which also enables it to access a bigger client base.
One of the most well-known businesses in the world, Walmart has a solid track record for providing affordable rates and excellent value. New customers are drawn in and customer loyalty is increased as a result of this brand recognition.
Walmart has a strong commitment to charity and has given millions of dollars to initiatives that help healthcare, education, and disaster relief. This strengthens customer loyalty and support for the business and displays its dedication to acting as a decent corporate citizen.
Employee education and growth: Walmart places a high priority on employee education and growth, which helps to guarantee that staff members are knowledgeable and qualified to offer top-notch customer service. This promotes consumer loyalty and adds to the business's overall success.
Strategic alliances: Walmart has established alliances with a variety of businesses, including Google, Uber, and Lyft. Through these alliances, Walmart is able to reach more people and offer its consumers more convenience and value.
Sustainable business practises: Walmart has worked hard to promote sustainability and lessen its influence on the environment. This includes programmes to cut waste, support sustainable farming practises, and spend money on renewable energy sources. These environmentally friendly actions add to the company's performance overall by helping to foster goodwill and support for it.
Overall, Walmart's variety of benefits have helped it remain successful and maintain its ranking as one of the biggest and most successful firms in the world.
Walmart has a number of other strengths in addition to the ones already stated that have contributed to its status as a market leader in the retail sector:
Walmart has a global footprint, operating in over 25 nations, which serves to diversify the company's revenue sources and lessen its reliance on any one market. This global presence offers chances for expansion into new areas and for growth.
Strong management team: With years of expertise in the retail sector and a track record of success, Walmart's management team is highly qualified. This leadership contributes to the strategic direction of the business and helps to keep it competitive in a market that is undergoing fast change.
Focus on the customer: Walmart places a high priority on satisfying the demands of its customers, which has promoted customer loyalty and trust. Low prices, a broad selection of products, and an easy browsing experience are all examples of the company's commitment to its customers.
Walmart consistently innovates and rolls out new products and services to improve the customer experience. This invention gives clients more value while helping the business stand out from rivals.
Good financial position: Walmart is in a strong financial position thanks to its high cash flow and balanced balance sheet. The corporation can invest in growth possibilities and weather any economic downturns because to its strong financial position.
Competitive advantages: Walmart has a number of advantages over its rivals, including its size, knowledge of the supply chain, and low-cost business style. These benefits aid in fending off rivals and ensuring that Walmart stays at the top of the retail sector.
Overall, Walmart's advantages and strengths put the business in a strong position for future growth. Walmart is in a good position to adjust to shifting market conditions and maintain its leadership position in the retail sector by staying focused on customer requirements, innovation, and sustainability and utilising its size, scale, and expertise.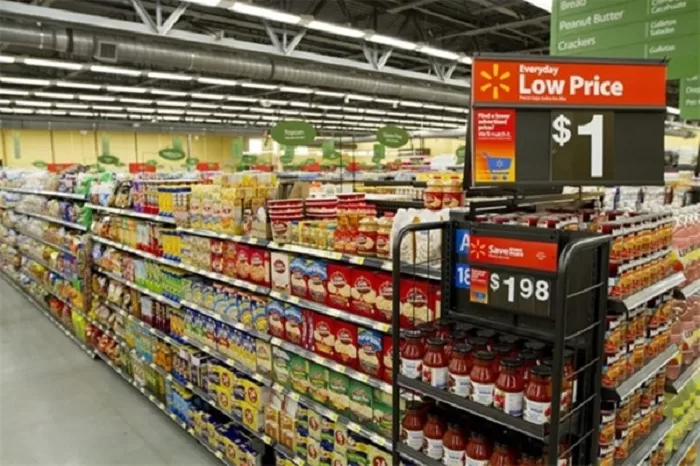 Walmart is a well-known place to buy groceries since it has a large selection of goods at reasonable costs. The following are some of the main characteristics of Walmart's grocery section:
Variety of goods: Walmart provides a wide selection of grocery items, such as fresh produce, meats, dairy goods, baked goods, and pantry essentials. Although the assortment varies depending on the shop, most Walmart locations include a stocked grocery department.
Inexpensive costs: Walmart is renowned for having cheap costs throughout the board, including in its grocery division. Due to its size and effective supply chain, Walmart is able to bargain with suppliers for lower rates, which it can subsequently pass along to customers in the form of cheaper prices.
Convenience: Several Walmart stores are open 24 hours a day, allowing shoppers to shop for groceries whenever it is most convenient for them. For clients who prefer to shop from home, Walmart also offers online grocery ordering, pickup, and delivery options.
Brands sold under a private label: Great Value and Marketside are two of the private label products Walmart sells in its grocery section. Customers can save more money by purchasing these firms' high-quality goods because they are less expensive than those from national chains.
Freshness warranty: Walmart provides a freshness warranty on their produce, allowing customers to return any items that aren't up to par and receive a full refund. Customers are more likely to purchase fresh produce at Walmart thanks to this assurance, which also helps to ensure that they are happy with their purchases.
Sustainability: Walmart has established a commitment to sustainability in its grocery division. This commitment includes programmes to cut waste, support sustainable agriculture, and purchase goods from trustworthy vendors. By promoting environmentally friendly business practises, these efforts assist Walmart lessen its negative environmental impact.
Dinner options: Walmart has pre-made meals, meal kits, and dish ideas available in its grocery section. Customers may plan and prepare meals more easily with the assistance of these solutions, which also provide convenience and value.
In conclusion, Walmart is a well-liked store selling a variety of things, from groceries and clothing to electronics and household necessities. Electronics, home products, apparel and accessories, toys, and groceries are a few of the top ten things to buy at Walmart. Many customers choose Walmart their first choice for shopping because of its affordable prices, extensive product selection, and simple layout. Walmart's dedication to innovation, sustainability, and customer pleasure also contribute to its position as a market leader in the retail sector. Customers can anticipate finding a large selection of high-quality goods at reasonable costs when they buy at Walmart thanks to the company's overall strengths and advantages, which position the business well for future growth.