Best Coffee Brands – Vietnam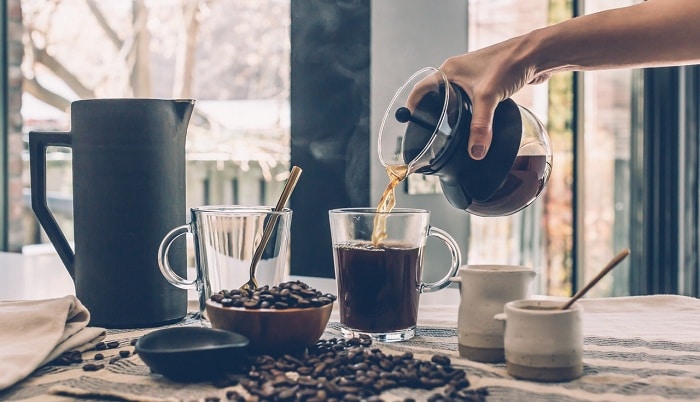 Vietnam is known for a lot of things, and it's no surprise that coffee is one of them. Vietnam produces coffee exceeding a million tons annually, and a vast majority of this is the robusta bean. With over 95% of the annual harvest being robusta, Vietnam happens to be by far the world's largest producer. Vietnam is a country with a strong and unique coffee culture that is an integral part of daily life, and you won't have to walk far in Hanoi or Ho Chi Min City (or Saigon as the locals still call it) to find a coffee shop filled with friendly locals enjoying a cup. Vietnamese coffee is made with something called a phin, the distinctive filter used for making drip coffee. Since the beans used are the typically bitter robusta, the coffee is often sweetened using condensed milk – which keeps far better than fresh milk in the hot tropical climate.
Below we have an overview of the finest and the best Cofee brands that this beautiful county has to offer:
TNI King Coffee
TNI KING COFFEE (Trung Nguyen International) was founded in Singapore in 2008 by Trung Nguyen Group's co-founder Madame Le Hoang Diep Thao. Trung Nguyen International's current headquarters is located in Ho Chi Minh City (Vietnam), under Madame Thao's leadership. In October 2016, Trung Nguyen International launched King Coffee, its first premium coffee brand in the United States.
In just a few months, the brand took the world by storm, conquering the U.S. and other foreign markets such as Korea, China, Singapore, Australia, and India. In July 2017, King Coffee officially returned to Vietnam and established its presence in 64 provinces all over the country. The core of King Coffee's success lies in product quality. Each coffee bean is a crystallized essence from the sun and the earth, carefully and meticulously chosen from famous coffee raw material production areas such as Ethiopia, Brazil, Colombia, and Guatemala.
Robusta comes from Buon Ma Thuot – Vietnam's coffee capital, and Arabica, from Cau Dat (Lam Dong). The best materials and our Oriental secretly-handed-down processing know-how is the perfect combination that makes King Coffee brand – the perfect Coffee King of Vietnam – possible.
King Coffee has a wide range of products ranging from instant coffee (King Coffee 3in1, Pure Black, Coffee & Creamer, Espresso) which satisfies the time-saving needs of the modern lifestyle, roasted ground coffee (Gourmet Blend, Inspire Blend, Premium Blend) for gourmet drinkers, the original Whole Bean coffee and many Luxury ones such as the new and premium Weasel, Legacy, Golden, and Capsules. Each of King Coffee's products represents a sophisticated production process, inheriting nature's essence and carrying stories of borderless passion.
Trung Nguyen Vietnamese Coffee
This coffee brand has been in existence since 1996 and is one to beat the rest. The notable Trung Nguyen brand is as close as you will come to find a "standard" Vietnamese coffee.
If you travel to Vietnam, there is one brand of coffee you will see everywhere. The unique style of the coffee featuring a delicious aroma and flavour is something every coffee lover will appreciate. It is slightly lighter than French roast and is smooth with low acidity. This coffee is a blend of arabica, robusta, Excelsa and Catimor. It is ground to the ideal coarseness for making traditional Vietnamese-style coffee.
Trung Nguyên is the largest and domestic coffee brand within Vietnam and exports its products to more than 60 countries, including major markets such as G7 countries, United States, European Union, United Kingdom, Germany, China, Canada, Russia, Japan, Dubai and ASEAN including Singapore.
Chestbrew Strong Dark Roast Vietnamese Coffee
If you're looking for premium-quality coffee from Vietnam rather than standard traditional Vietnamese-style coffee, this could be a good pick.
This company prides itself on helping the farmers who grow their coffee. The beans are roasted in one of the most hi-tech facilities in Southeast Asia. Coffee made from these beans is described as strong and smooth with an exotic flavour. These beans are dark-roast 100% single-origin arabica and are ideal for cold brew, Vietnamese-style hot or iced coffee, or regular hot-brewed coffee.
ChestBrew sells whole bean coffee and pour-over coffee pouches exclusively online.  The company's signature roast brands itself as "strong and made for hard work". ChestBrew's whole bean coffee is noted for its uniqueness to make the best Vietnamese iced coffee (CàPhêSữaĐá), cold-brewed coffee and hot coffee.
ChestBrew's pour-over coffee pouches (ChestBrew POP) are one of the leading Vietnamese Single-Serve brewers on the market.  The POP is marketed as a "destination coffee" and is ideal for hard-working people who want ridiculously strong coffee anywhere.
Vinacafe Instant Coffee Mix
Instant coffee is popular in Vietnam and the rest of Southeast Asia, and if you want to try an authentic version of what they drink over there, this Vinacafe instant mix could be a good pick.
This is a typical Southeast Asian three-in-one coffee mix, meaning the sugar and creamer are already included. All you have to do is add hot water to make a sweet and delicious coffee drink. Highly practical when at home or when travelling. The Vinacafé brand was established in 1983, and the company became a joint-stock company in December 2004.
Its coffee products have been awarded the title of "Highest Quality Vietnamese Product" since 1995. The company's director is Mr.PhạmQuangVũ.
Dalat Peaberry Robusta Coffee
This peaberry coffee is from ĐàLạt, a city to the south of Buôn Ma Thuột and gateway to the southern Central Highlands.
These robusta beans are perfect for making Vietnamese-style coffee or espresso.
These peaberry beans are high in caffeine and display a high body, a low acidity and a smooth finish with notes of chocolate.
This robusta coffee is almost entirely peaberries and comes from the rich soils of Vietnam. Its complex and flavorful brew comes from the sun-drying process of the coffee cherries which gives it a chocolaty taste and lush body.  Used in many award-winning Italian espresso blends. Peaberries are a coffee cherry that produces only one seed, often more round without a flat side. For a reliable and flavorful robusta coffee, having 4.5-star reviews on Amazon. We recommend DalatPeaberry Robusta Whole Bean Coffee.