B2Broker's Partner-Network is Designed for the Most Efficient Fintech Solutions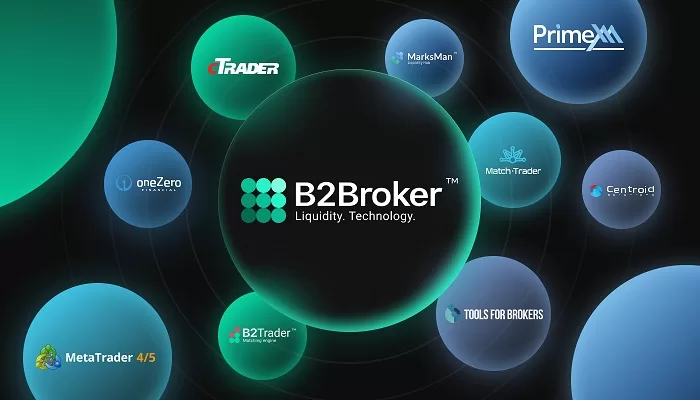 B2Broker is a true leader in the Financial Technology industry, empowering businesses of any size – from startups to established enterprises – with its diverse selection of transferable solutions and strategic insights. This powerhouse offers unparalleled expertise that has propelled numerous business ventures toward success. The company has integrated its products with nine unique trading technologies providers, including CFD brokers, spot exchanges, security brokers, and margin trading platforms. This allows for a seamless user experience across multiple software solutions.
CFD Brokers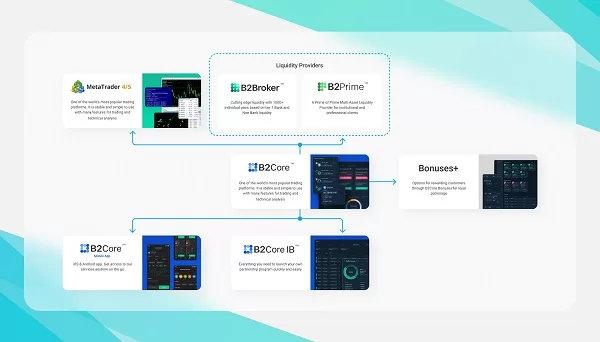 Brokers looking to integrate with MT4 and MT5 can rely on B2Broker's complete integration solutions. They have a sophisticated internal CRM platform – B2Core – that facilitates communication between brokers, their customers, and other parties; and an in-house referral program with incentive calculations dependent upon lot sizes, markups, commissions, and spreads. In addition, it provides two user-friendly mobile solutions that enable integration with B2Core Mobile for iOS & Android users as well as supporting MetaTrader Mobile iFrame.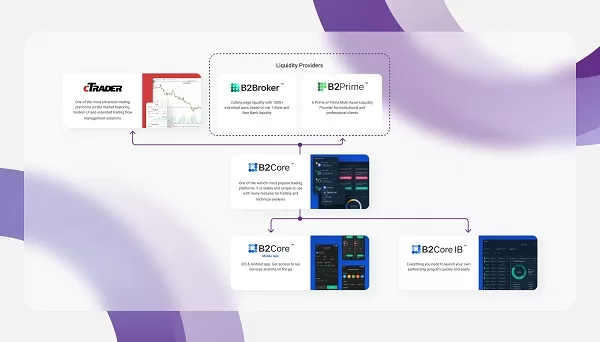 With B2Broker's integration package for the cTrader platform, users of all levels have access to a superior solution with its white label support and integrated trading platform, IB software solution, and B2Core CRM. This powerful combination is specifically designed to make sophisticated tools accessible to everyone. With B2Core IB, you'll have comprehensive assistance in managing your trading settings, markups, and commissions. Plus, traders on your platform can take advantage of a full-fledged native Trading UI across iOS and Android through the B2Core Mobile app.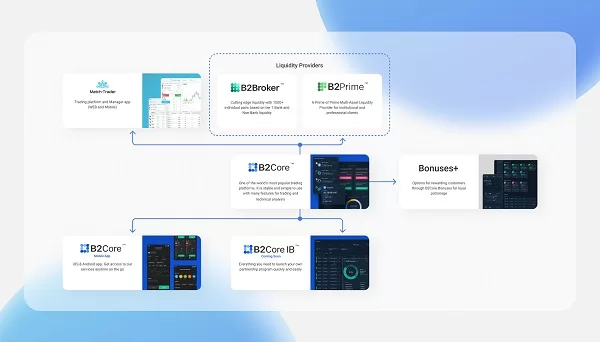 For CFD brokers seeking a comprehensive suite of trading tools with competitive commercials and volume charges, the Match-Trader platform through B2Broker is an excellent choice. Not only does B2Broker provide full White Label support, but its integration into the existing B2Core CRM provides added efficiency. Furthermore, soon it will be possible to integrate with B2Core IB for even more enhanced functionality!
Spot Exchanges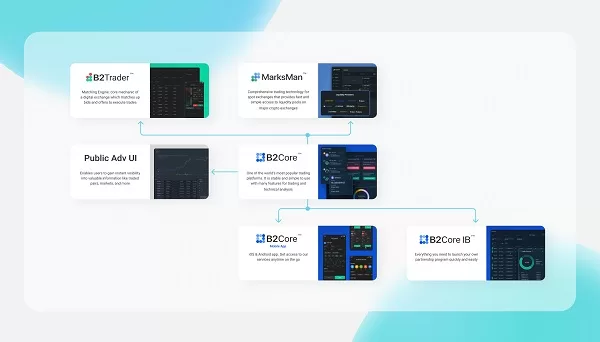 B2Broker offers a powerful integration of their algorithmic matching engine, B2Trader, for spot exchanges. This innovative technology can process and record every open order in the market before matching them up accurately when both buy/sell criteria are fulfilled – thus leading to successful trades! B2Broker provides White Label support and the capability to integrate B2Trader with B2Core, facilitating commissions and mobile trading on iOS/Android. Through its Advanced public UI feature, users can gain instant access to essential data such as traded pairs and markets – all without needing an account! This makes it easier than ever for clients to obtain the information they need quickly without spending time creating or logging into accounts.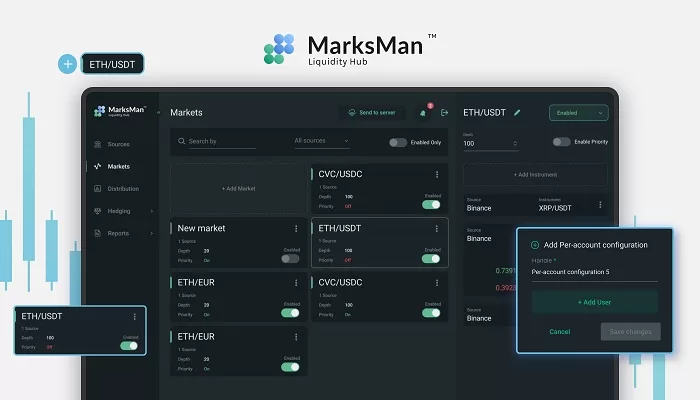 The Marksman Liquidity Hub is an all-inclusive trading tool that provides traders instantaneous and effortless access to liquidity pools on the most popular crypto exchanges, like Binance, Coinbase, Kraken, Bitfinex, Huobi, Gemini, Bitstamp, Bittrex, Poloniex, and B2BX. With this robust technology at your fingertips, you can take advantage of every market opportunity! Utilizing this advanced technology not only helps reduce costs but also increases efficiency and opens up your time to focus on other market areas. Features such as aggregation, hedging, mapping of symbols, synthetic instruments, and risk parameters help traders from all levels of experience improve their risk management strategies while granting them stability in their positions and shielding them against potential losses.
Margin Liquidity Provision (FIX API) For Margin Accounts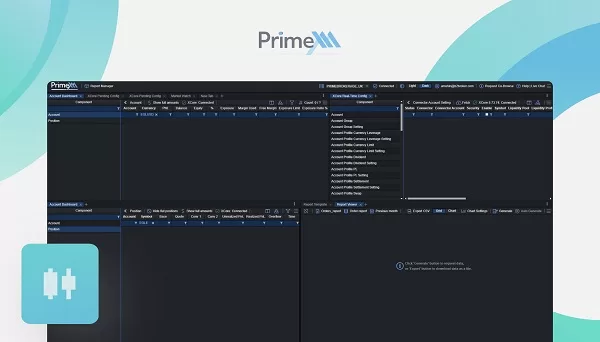 As one of the most innovative tech providers in the financial sector, PrimeXM offers a comprehensive suite of aggregation software and ultra-low latency connectivity solutions. Clients utilizing PrimeXM through the integration with B2Broker can connect to nine diverse markets that include Forex, spot metals, CFDs, and indices – allowing them access to an extensive range of asset classes for trading with ease! B2Broker's full integration and aggregation technology offer seamless access to over 1000 trading products with competitive margins, the best spreads available in the market, and premium liquidity.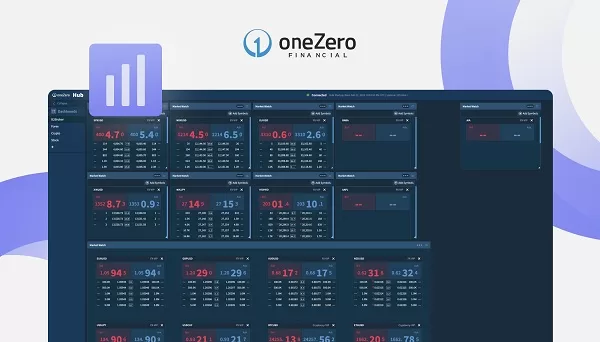 With B2Broker's OneZero integration, you can access robust institutional-level technology and expertise to help manage your margin accounts. This provides various features such as a customizable user interface (UI) for trading as well as the ability to integrate with B2Core so that financial operations can be performed quickly and efficiently in real time. B2Broker has a wide array of cryptocurrencies on offer as well as unmatched liquidity for FX (103 pairs), CFDs on Indices & Commodities (16 pairs), Metals (13 pairs), and single stocks (803 pairs). OneZero provides an ideal mix of technology and proficiency to many institutional and retail broker-dealers, guaranteeing them the capability to remain competitive in today's complex global markets.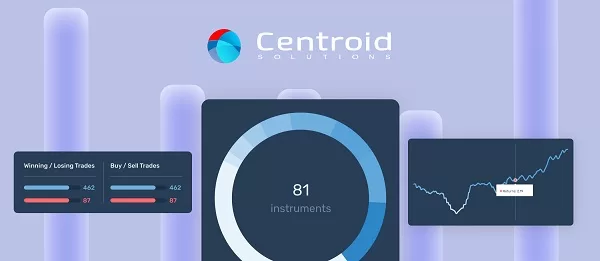 B2Broker's integration with Centroid for margin accounts allows clients to access global markets seamlessly. With cutting-edge technology from Centroid, traders can diversify their portfolios with over 1000+ instruments and seven asset classes that come complete with top-of-the-line liquidity management tools and analytics features.
Tools 4 Brokers is the perfect platform for liquidity distribution, and with B2Broker's integration for margin accounts, users receive many advantages that simplify managing their investments. Opening trades on T4B can be done speedily through our FIX API or gateway for MetaTrader customers.
Bottom Line
As a leading technology provider and liquidity supplier, B2Broker has established many valuable partnerships with trading service providers. It offers integration for CFD brokers, Spot Exchanges, and Margin Accounts and an extensive array of features that can meet the needs of brokerage owners regardless of their size! As B2Broker's list of partnerships grows, it offers you a wide range of turnkey solutions for Forex and cryptocurrency brokers, crypto exchanges, and spot converters that will help you provide extraordinary customer service while outshining the competition. Make sure to check out their offerings today!