Cozy Up this Winter at Four Seasons Hotel Gresham Palace Budapest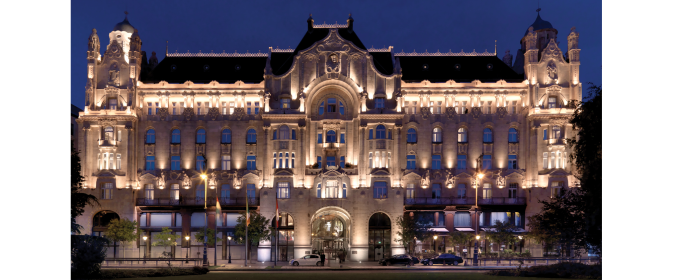 Searching for the perfect winter escape? Literally steps from the best shopping districts, Christmas markets and community celebrations, Four Seasons Hotel Gresham Palace Budapest is the ideal destination for a winter vacation filled with holiday cheer.
Warm Up Your Winter With An Exclusive Package
Look no further than the Winter Hot Spot Package with added value including special winter offerings beginning on November 27, 2013.
Enjoy the convenience and great value of all the offerings included in this package:
Luxurious accommodations
Daily American breakfast at the Gresham Restaurant
Complimentary cocktail at the Gresham Bar in case of booking dinner at the Gresham Restaurant per stay
Complimentary time-freezer Hydra-Globe exclusive eye treatment in the Spa in case of booking any facial with minimum 60 minutes per stay
There's never a shortage of winter activities in amazing Budapest. The Hotel's Concierge team is available to put together a suggested itinerary and assist with any special requests.
Budapest Christmas Markets – A Truly Unforgettable Atmosphere
Each year, from Advent to New Year, Vörösmarty Square and St Stephen Square only steps from the Hotel, are transformed into the annual Budapest Christmas Market. Visitors can browse more than 100 stands offering unique Christmas-themed arts and crafts. The Christmas markets are great spots to pick up some unique hand-made gifts as well. Exhibitions, live entertainment and food and wine are also part of the festivities. Children's programs include artisan courses and puppet shows.
The scent of traditional Hungarian foods such as lángos (fry bread with a variety of toppings), körtőskalács (a cone-shaped sweet hollow pastry), roasted meats, fried sausages and other delicacies such as home-made strudels, töki pompos (oven-baked dough) and roasted chestnuts wafting in the air is sure to wet the appetite.
Visitors can soak up the holiday atmosphere and keep warm while strolling among the wooden stalls of the markets with a cup of mulled wine.
Classical Music Concerts at St. Stephen Basilica
St. Stephen Basilica is one of the most stunning Neo-Classical buildings of Budapest. Its great acoustics makes it the perfect place to enjoy a series of beautiful classical music concerts where the organ and the flute are the main players, together with outstanding performers. The ensemble performs works by famous composers including Vivaldi, Bach, and Händel. Classical musical lovers shouldn't miss the opportunity to attend one of these great concerts in one of the most beautiful buildings in Budapest. Classical music concerts are held throughout the year, usually from 8:00 pm, however the most memorable concerts are worth attending during the winter season.
Ice Skating in Europe's Largest Outdoor Ice Skating Rink
There are several ice skating rinks in Budapest but certainly the City Park Ice Rink is the best of all. Ice skating in the Budapest City Park Ice Rink is a traditional winter experience for Hungarians and tourists alike. This ice rink was open for all in December 1876 and since then it has been for generations a favourite winter activity in December. The City Park Ice Rink is considered Europe's largest and one of the oldest outdoor ice skating rinks. In the summer it becomes the City Park Lake. At night, the lights, the music and the beautiful views of the Romanesque, Gothic, Renaissance and Baroque Vajda Hunyadi Castle make ice skating in the City Park a magical experience. The rink closes when spring arrives.
Winter Shopping Sale in Budapest – Do Not Miss the Great Bargains
In January, Budapest's shopping malls, department stores, boutiques and all kind of shops launch the winter shopping sale, offering great bargains that go up to 70% off. The January shopping sale is the perfect time to shop in Budapest and update one's wardrobe for the New Year. The Winter Sale in Budapest usually begins end of December and lasts for the entire month of January, although some stores keep the sale until the middle of February or until stocks last. This is the perfect opportunity to go shopping in Budapest and find something unique at a great price.
Váci utca is a great place to start. There one can find lots of renowned stores as well as local ones. Shopping centres such as Il Bacio de Stile – as freshest addition to Budapest's luxury row, Westend, Arena Plaza and Allee shopping malls are great choices as well.
Defrost this winter and enjoy memorable winter getaways in Budapest.