5 Best National Parks in Canada You Should Visit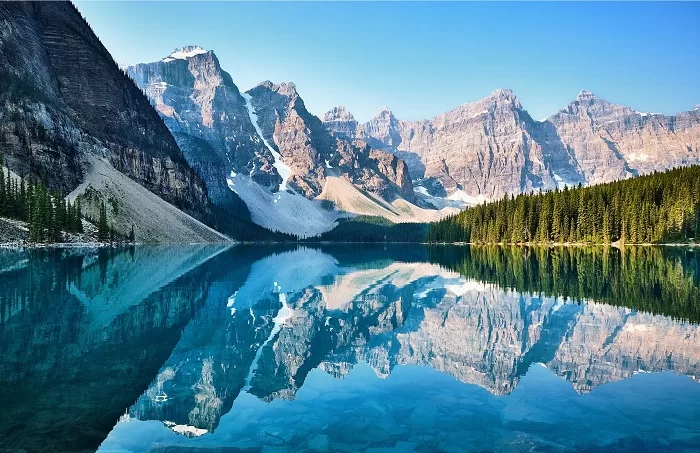 Canada has over 40 parks that are kept unspoiled for wildlife and protected from urbanization. With a sizable number of these parks along the Rocky Mountains, upon visiting them you enjoy the stunning view of white mountain peaks, a montane climate, and the glistening of frozen waterfalls in the winter. To have a wholesome experience of some of these parks in the Canadian Rockies, you can book a train from canadatrains.com and be conveyed to the epicenter of the Jasper and Banff National Parks. In addition, you can pass through Yoho National Park, home of the earliest evidence of complex life, if you do not hold a park pass that can allow you a stop.
It will be cool to have a glimpse of what these parks feel like before you book that ride, won't it? Below are the five best parks for you to relish untainted wilderness in Canada.
Jasper National Park
Renowned for its exceptional natural beauty, magnificent peaks, plethora of wildlife and boundless wilderness, Jasper National Park draws millions of tourists from all around Canada and the globe yearly. Sitting on about 11,000 square kilometers of land, it is the largest national park in the Canadian Rockies. The park is included in UNESCO's Canadian Rocky Mountain Parks World Heritage Site. Attractions at Jasper National Park include the Athabasca Glacier (an outer glacier of the Columbia Icefield), the Edith Cavell hiking area, Maligne Lake for boating, Maligne Canyon, Pyramid Lake, Miette Hot Springs, the Jasper Skytram. The most popular attraction during winter at the park is the Marmot Basin ski area. This park is at its most beautiful during winter; the frozen waterfalls and peculiar ice formation during this season are absolutely breathtaking.
Banff National Park
A cool montane climate and home to 56 recorded mammal species that include bears, elks, mooses, predatory animals like pumas, and over 260 species of birds, Banff National Park commands up to four million visitors yearly. Hundreds of archeological pits are dotted around this park as some of Canada's earliest-known human material remains have been found in this expanse of land at the Vermillion Lakes. The tooth-like peaks of the mountains in this area of Alberta gives the park a dashing ragged demeanor. Connected to Jasper National Park to the North and neighbors to Yoho National Park to the West, this beautiful park can be a stop while you take a trip to the parks in the Rocky Mountains. By the way, you should not forget to see Lake Louise and Moraine Lakes in the mountains.
Yoho National Park
The hiking experience is one thing you should not miss out on at Yoho National Park. This is because during a hike, you dwell in the experience of seeing the Takakkaw Falls and Wapta Falls on the Kicking Horse River and holding the Burgess Shale fossils -the well-preserved and oldest evidence of complex life on earth – in your hands. Yoho is a Cree expression for amazement and awe. And let me promise you, the stunning landscape and mountain peaks will leave you in a Yo-ho state of emotions. The Yoho National Park in addition to the two preceding parks are part of the UNESCO World Heritage Site declared along the Canadian Rockies in 1984.
Gros Morne National Park
In this 180,500-hectare park in Newfoundland, the deep ocean crust and rocks of the earth's mantle are exposed for you to see. The park is protected by UNESCO as it is considered as reflecting "a rare example of continental drift" with the exposure it holds. The mountains in the pack are peaceful and calm-looking. This is in continuum with the name "Gros Morne", taken from the name of Newfoundland's second-highest mountain peak located in the park. Gros Morne can be translated from French to mean "great somber". The park holds diverse spectacular  natural sights which includes falls, fjords, alpine plateau, cliffs, coastal lowlands, and glass-clear lakes.
Waterton Lakes National Park
Tucked in the southwest corner of Alberta, the last park in this list is vibrant and impressive with its colorful rocks, rainbow-colored streams and wildflowers. It is modest in size at about 505km² and holds four ecoregions: foothills parkland, alpine, subalpine, and montane. Waterton Lake National Park is the only park that contains a foothill parkland ecoregion in all of Canada. There are more than 1000 species of "true" plants in the park, 20 of which are native to this park and 50 of which are extremely rare to find in the globe. This cozy park is perfect for planning getaways – which should definitely include camping underneath the stars.
You can be assured that there is an abundance of parks waiting to be seen by you in Canada. Therefore, do not limit yourself to just these and have a fun-filled adventure whilst close to nature!