125 Science Kits Donated to Philadelphia School District Teachers Through an FMC Employee Collection Drive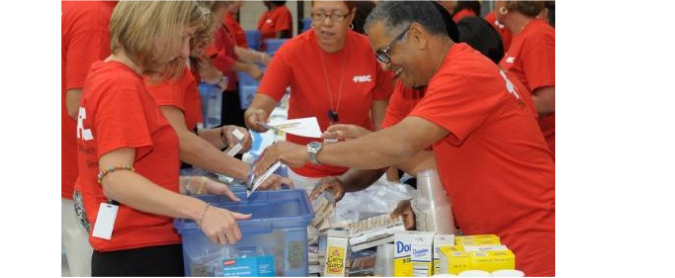 PHILADELPHIA, Aug. 27, 2013 /PRNewswire/ — Hundreds of 6th, 7th and 8th grade students in the Philadelphia School District will have the opportunity to do a "mystery powders" experiment, thanks to a two-week collection drive by FMC Corporation employees. Through a partnership with the Philadelphia Education Fund's Math + Science Coalition, 125 science kits will be delivered to Philadelphia School District teachers for the upcoming school year.
To celebrate the success of its collection drive today, executives 'raced for education' on tricycles to kick off the assembly of school supplies and household items into science kits.  Executives included FMC's global sustainability, health and nutrition, and operations leaders. Other executives were United Way's strategic giving vice president and the Franklin Institute's assistant director of corporate giving.  Employee volunteers built the kits with reams of paper, calculators, baking soda, salt, magnifying glasses, and other supplies necessary for the classroom lab. Staples® donated reams of paper and the plastic boxes to hold the supply kits.
"Teachers inspired many of our employees to pursue careers in science, technology and engineering.  Given the tremendous challenges faced by Philadelphia teachers, a resource like these science kits can help them to spark students' curiosity and excitement about the world around them," said Barbara Del Duke, FMC's senior public affairs manager.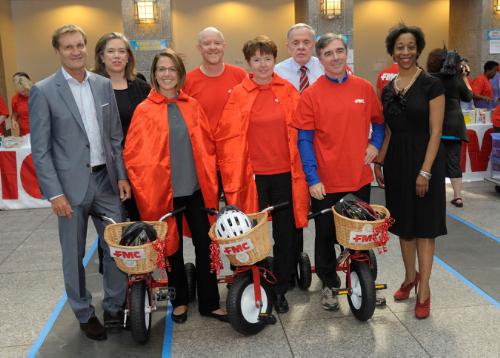 According to a recent pulse survey conducted by FMC, the majority of scientists (76.9 percent) and parents (74.1 percent) and teachers (61.2 percent) in the Philadelphia School District agreed that a hands-on approach is the most valuable trait for science teachers' success. The majority of students (70.4 percent) also said science lessons should be fun.
Public school teachers across the U.S. spent an average $485 of their own money on school supplies and classroom materials last year, according to the National School Supply and Equipment Association.
"Research shows that unless kids become hooked on science by eighth grade, they may never become interested. With tightening budgets and dwindling resources, many teachers are forced to pay for the microscopes, beakers, and other supplies for hands-on activities that can excite students about science," said Don McKinney, Coordinator for the Philadelphia Education Fund's Math + Science Coalition.
The school supply collection drive is part of FMC's investment in education. Earlier this summer, FMC served as the premiere sponsor of the United Way's Back-Pack-A-Thon for Cradles to Crayons, and its employees joined hundreds of other corporate volunteers to fill 23,000 backpacks with school supplies for local children in need. In 2013, FMC and its employees across the U.S. donated nearly $1 million to the United Way.
"United Way believes that education is the cornerstone of individual and community success, and thanks to the generosity of FMC Corporation, we're able to support community organizations that help students to learn the lessons that will shape their view and their potential," said Annie Madonia, Senior Vice President of Strategic Philanthropy at United Way of Greater Philadelphia and Southern New Jersey.
About FMC
FMC Corporation (NYSE: FMC) is a diversified chemical company serving agricultural, industrial, environmental, and consumer markets globally for more than a century with innovative solutions, applications and quality products. In 2012, FMC had annual sales of approximately $3.7 billion. The company employs approximately 5,700 people throughout the world, and operates its businesses in four segments: FMC Agricultural Solutions, FMC Health and Nutrition, FMC Minerals and FMC Peroxygens.  For more information, visit www.FMC.com.


RELATED LINKS
http://www.fmc.com
http://www.prnewswire.com/news-releases/125-science-kits-donated-to-philadelphia-school-district-teachers-through-an-fmc-employee-collection-drive-221379621.html