ZAGA Urban wins the "Best New Tech Construction Company in India" at the 9th edition of Global Brands Magazine Awards 2021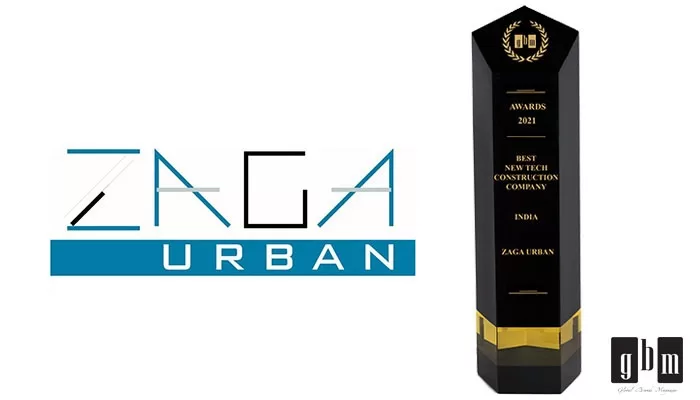 ZAGA Urban, a premium tech construction company in Bangalore, India, has won an international award for the year 2021. The felicitation ceremony will be held at the Palm Jumeirah – Waldorf Astoria in early 2022 in Dubai.
The Global Brand Awards is an annual event held by Global Brands Magazine (GBM), an international publication headquartered in the UK. The award aims to recognise global brands achieving excellence in performance across a broad range of sectors while keeping its readers updated on key trends surrounding the branding world. ZAGA Urban was evaluated based on customer service, satisfaction, digital innovation, strategic relationships and new business development.
Commenting on ZAGA Urban winning the awards, Edwin Martin (Head of Media) of Global Brands magazine said, "We couldn't be more proud of Zaga winning an award. Starting in late 2021, Zaga has already made huge moves in the real estate industry. Providing beautiful luxury homes for affordable rates, Zaga has managed to push the boundaries of what we thought was possible. Backed by some of the most brilliant minds in the country, their tech-construction capabilities are solving problems and still delivering high-quality products to their customers."
Commenting on winning the awards, Gaurav Kumar (CEO of Zaga Urban) said, "Zaga Urban was created with the idea that everyone deserves to have their own dream home. A place where they can come back relax and unwind, a place to call their own; but seeing the prices of real estate sky-rocket it only remains a dream for some. Using our high-quality tech construction capabilities, we aim to bring the prices down while still serving our customers. We want to build your dream home."
About Zaga Urban
Zaga Urban is India's newest tech-construction company. With alumni from some of the best business schools in India, the team at Zaga started their mission to build affordable, luxury dream homes for everyone. Based in India's I.T capital, Bangalore, Zaga Urban employs all the technical abilities at its disposal.
With the promise of delivering and building dream homes, Zaga Urban has worked on several projects throughout the city, without compromising on quality, meeting every project deadline.
About Global Brands Magazine (England)
Global Brands Magazine (GBM) has been at the forefront, bringing news, views and opinions on brands shaping the future of their industry. The UK-based magazine provides its readers with the latest news and information on 'best-in-class brands across the globe. Each year, GBM develops a series of awards for companies that stood out, having a unique vision, exceptional service, innovative solutions and consumer-centric products among their industry leaders.
About Global Brand Awards
Global Brand Awards honours brands for their excellence in performance and rewards companies across different sectors for the quality of their services. The Brand Awards highlight accomplishments of organisations that have performed remarkably well in finance, education, hospitality, automotive, lifestyle, education, real estate, technology and several more. Global Brand Awards recognise vital players who progress towards excellence by providing a platform to acknowledge their efforts. In addition, GBM strives to create awareness concerning the significance of such organisations and rewards them for their notable efforts with the ultimate global recognition.