World Health Day – #our planet, our health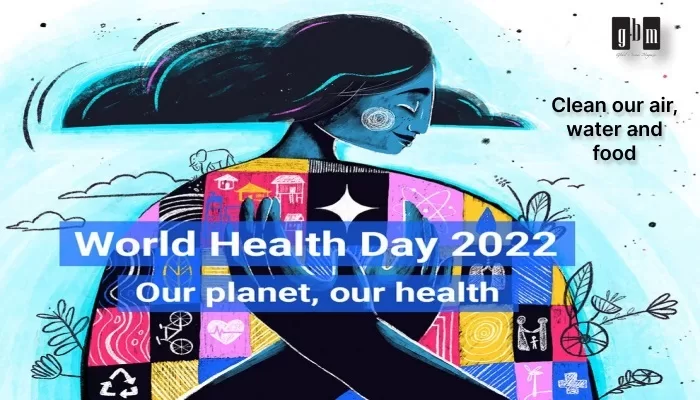 On April 7, we celebrate and observe World Health Day. The World Health Organization celebrates the day every year to address health-related issues and spotlight specific health concerns around the world. In 1950, World Health Day for the first time was observed after the first World Health Assembly had set aside 7 April as a date to mark the founding of the World Health Organization in 1948. In that way, the day commemorates the anniversary of the founding of WHO.
World Health Day was one of the first official acts of the World Health Organization. It began on 7th April 1948. Originally, World Health Day was celebrated on 22 July in 1949, but the date was later changed to 7 April to encourage student participation. Worth Health Day has been held annually since 1950, with the theme and theme chosen by the current WHO Director-General based on the suggestions of the member governments and staff.
It is an opportunity for the global community to focus on important public health issues that affect the international community. During World Health Day, promotional campaigns are launched that take a long time to conclude.
Every year, World Health Day is celebrated with a specific theme and this year is no different. The theme of this year's World Health Day is "Our Planet, Our Health." Over 90% of the current population is forced to breathe unhealthy air. A major cause is our over-reliance on fossil fuels. This, as simple as it may seem, is also a major contributing factor in global warming, and a hotter Earth results in more disease-bearing mosquitoes but this is still only a part of the problem.
Dirty oceans, riddled with plastic waste not only infect and pollute the water but also destroy the natural ecosystem and habitat of marine life. Plastic waste has been a huge menace to society, taking several decades and centuries to decay, it has made its way to the deepest pits of the oceans as well as the tallest peaks of our mountains.
Furthermore, the global pandemic shed light on other important issues. Over the last two years, the pandemic wreaked havoc on day-to-day life, and certain studies show that are even more dangerous viruses and diseases trapped in the ice in the Antarctic. A pandemic has revealed weaknesses in all areas of society and highlighted the need to build societies committed to achieving equitable health now and for future generations without compromising the environment. Too many people are still living in poverty and instability due to the current economic model, which results in an inequitable distribution of income, wealth, and power. Human well-being, fairness and ecological sustainability are the goals of a well-being economy. These goals are achieved through long-term investments, well-being budgets, social protection, and legal and fiscal strategies. Legislative action, corporate reform, individual incentives, and support for healthy choices need to be taken to protect the planet.  On this World Health Day, the focus needs to be shifted and needs to be brought to the majority of factors that are disrupting habitats and threatening our world.
Brands need to be more alert and understanding of these issues. While some brands are aggressively trying to promote sustainable products, others can also do their part by taking small, yet impactable steps. Some of these activities can be brought to light on social media using relevant hashtags on World Health Day however, these activities should be an ongoing process.  Engaging with your audience and talking about your eco-friendly measures will go a long way in building brand awareness and retention.  Some ways brands can take small, cost-effective and eco-friendly steps are –
Switching off electric appliances and lights after office hours. Ensuring that you use the least amount of energy during working hours and switch off all non-essential and unnecessary appliances that will consume energy is a great way to help reduce your environmental impact.
Companies can and should also make it a point to provide clean and safe drinking water to their employees. Water is a basic need and lack of access to it can lead to disastrous results.
Some brands that have taken an eco-friendly initiative are –
Beyond Meat – is a company that is primarily focusing on producing plant-based meat. The meat industry is one of the leading contributors to the ongoing environmental crisis. Beyond meat promises to deliver the same quality, taste and health benefits of meat but is made with plant-based alternatives instead.
Patagonia- Apart from being one the largest outdoors brands in the world, Patagonia's corporate policy revolves around building sustainable and eco-friendly products. Their centres across the world are aimed at reducing their carbon footprint as well. In 2016, they donated around $10 million to grassroots environmental groups that focused on preserving and improving the planet.
Apple- A few years ago, Apple went completely carbon neutral. In its quest to become eco friendly, Apple also aims to make its entire product line carbon-neutral too. In their newer products, Apple has used a lot of recycled material instead of mining and going for newer ones.
World Health Day has been a major factor in shedding light on important issues. It is very important for all of us to pay attention to the important events rolled out by WHO. Brands can also engage more actively by donating to other companies, NGOs and other places that help in maintaining and preserving the environment. Companies can also provide relevant data and opportunities to raise funds and help to develop underdeveloped countries. Investing in countries and building a reliable and eco-friendly service to help them sustain for years to come will go a long way to building brand awareness, and retention and help build a good brand image.
The tracking of any changes in health-related indicators is critical, on all fronts, to identify where investments would be more impactful for improving population health and tackling the root causes of inequities, putting inclusion and equity at the centre of all recovery responses to create a fairer, healthier society.
Disaggregated data can help communities achieve health equity by revealing hidden health inequalities and guiding policies and interventions. With more timely and reliable data, progress toward all health goals and priorities at the national, regional, and global levels can be monitored more effectively.
It is critical that countries and brands alike increase investments and donations in their health information systems to better prepare for future outbreaks and ensure rapid progress toward achieving the Triple Billion targets by 2023 and the health-related Sustainable Development Goals by 2030. Building a sustainable community and a healthier planet should not only be the theme for this World Health Day, but it is something that needs to be focused and worked on everyday.