Winging It At Discovery Cove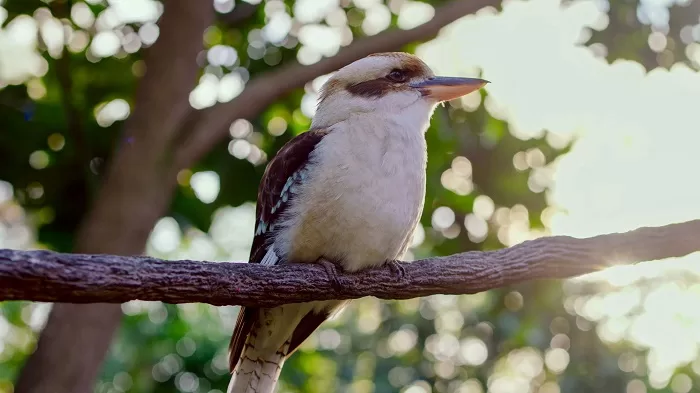 Known around the world, Discovery Cove in Orlando is a unique, all-inclusive day resort offering a spectacular array of outdoor adventures in the heart of Central Florida. This lush, one-of-a-kind getaway is perhaps best known for its unforgettable animal experiences, allowing guests to interact with dolphins, swim with rays and sharks, float along meandering waterways, and bask in shimmering lagoons among a rainbow of tropical fish. Many of Discovery Cove's most amazing animals can be found beneath the surface while snorkeling, swimming, wading or otherwise exploring the park's crystal-clear waters. But guests can also venture beyond the beaches, waterfalls and lagoons to interact with hundreds of other fascinating creatures in the Explorer's Aviary, an inspiring natural habitat humming with the rhythm of wings and mesmerizing birdsong.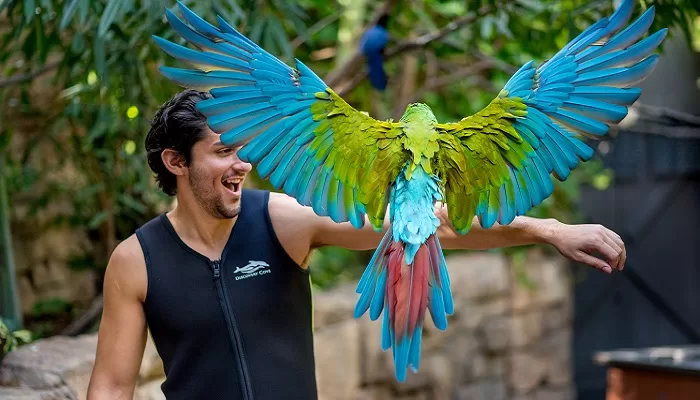 Reaching high above the canopied Wind-Away River, a tropical lazy waterway coursing along the boundary of Discovery Cove, the Explorer's Aviary is home to more than 250 birds, a fluttering kaleidoscope of colorful species from around the world. This massive free-flight aviary is lushly landscaped, with shaded pathways winding past low stone walls and ledges, and crisscrossed with vines and tree limbs where more than 70 different species of bird can perch for an introduction. Bridges lead over the Wind-Away River below, where guests drift through the aviary by passing through refreshing curtains of water that naturally keep the birds safely within habitat.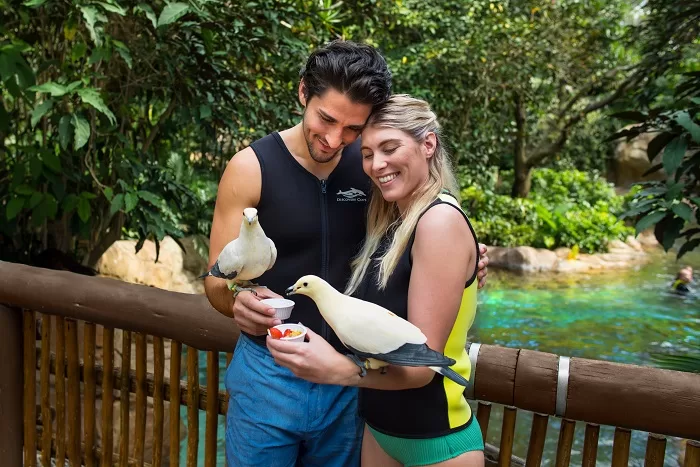 Unlike some of the scheduled experiences such as the Signature Dolphin Experience and SeaVenture, the Explorer's Aviary is open continuously throughout the day, allowing guests to explore at their own unhurried pace. A cool, shady sanctuary, it's a perfect place for guests who want a break from the Florida sun or need to let soggy fingers and toes "de-prune." Benches provide convenient seating to watch as children – and the young at heart – stand with outstretched arms, waiting in anticipation and then squealing with delight when a feathered friend glides in to perch on their head, arm or shoulder, nibbling fruit from their hands and posing for close-up selfies. Don't know a cockatiel from a kookaburra? No problem.  Whether observing or hand-feeding, guests can use their smart phone to access a bird guide, or simply ask one of the aviculturists who are always on hand to offer tips, identify species, take photos, and provide feeding cups.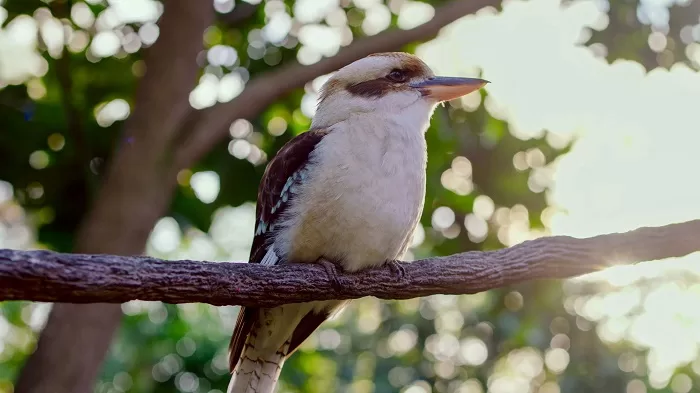 Like all animals at Discovery Cove, birds in the Explorer's Aviary are cared for by a team of experts, including nutritionists who specially formulate a healthy avian diet. So, while guests may be enjoying unlimited breakfast, lunch and snacks, or wetting their beaks at a fully-stocked bar with the Premium Drink Package upgrade, the birds stick with a carefully-prepared mix of grains, fruits and vegetables. The delicious treats are provided to guests free of charge and are certain to create some close encounters of the feathered kind.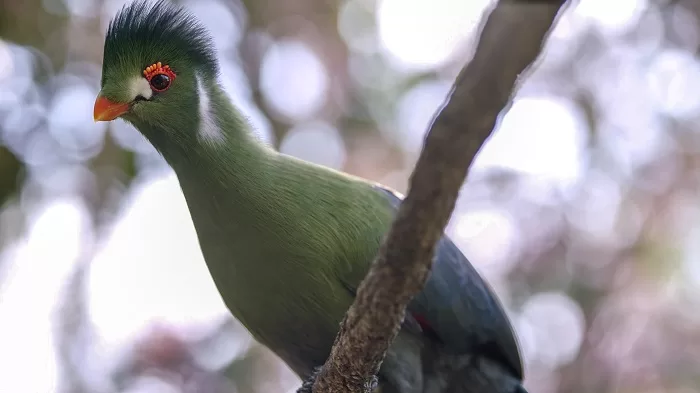 From the smallest – a mousebird, which weighs only 1.2 ounces and grows to just 14 inches in length – to the largest – a common peacock, which can weigh up to 13 pounds – there are all shapes and sizes of birds to discover. The global gathering of birds also represents a dizzying variety of colors, but the most colorful is the White-cheeked Turaco. From sub-Saharan Africa, the Turaco's brilliant green, blue, red and yellow plumage makes it easy to spot even through the lush and tropical foliage. Strolling through the aviary, guests will enjoy an ever-changing, international soundtrack, often featuring the park's most melodious bird, the White Crowned Robin. Birds from Australia, Central, North and South America, India, Asia, the Caribbean and more, round out the lyrical chorus.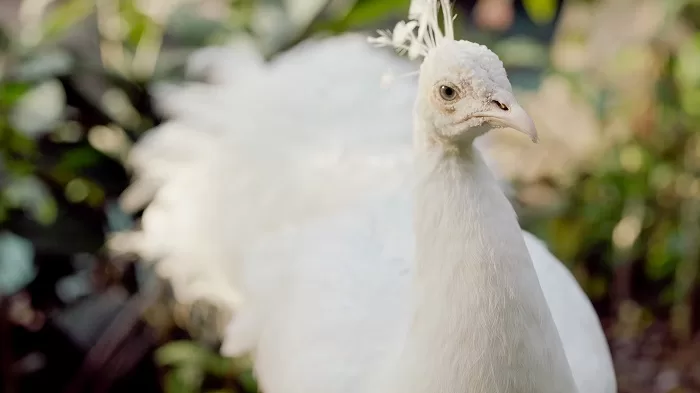 A proud member of the Association of Zoos & Aquariums (AZA), Discovery Cove is committed to the protection and conservation of animal species. As such, the park is an active participant in the Species Survival Plan (SSP), which was developed in 1981 by the AZA to help ensure the survival of selected species in zoos and aquariums, most of which are threatened or endangered in the wild. Within the Explorer's Aviary, there are at least 19 avian species in the SSP. Overseen by a team of veterinary staff and aviculture experts, the birds at Explorer's Aviary receive the most professional attention and care, not to mention the extra love and affection they receive daily from park guests. The horticulture team also works to ensure flight paths within the aviary are clear, and the on-site nutritionists who formulates custom diets, again, making sure the birds at the Explorer's Aviary receive the best care possible.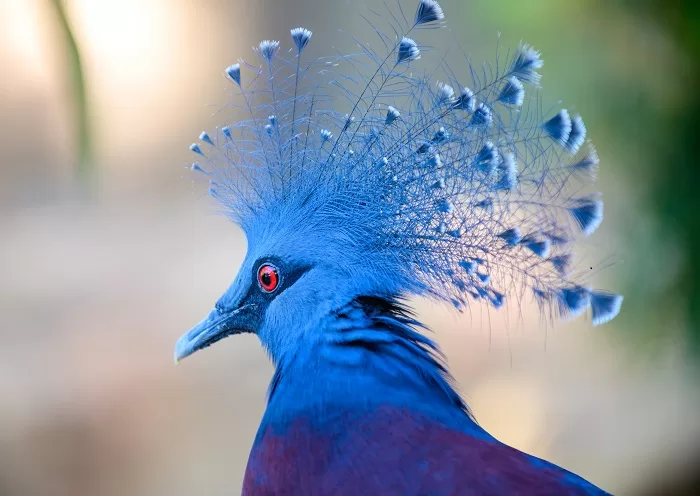 Beyond the natural beauty of the aviary, Discovery Cove is an oasis itself, located in the heart of Central Florida. An immersive day includes visits to the Dolphin Lagoon, The Grand Reef, Freshwater Oasis, Serenity Bay, Wind-Away River and more. Every admission includes endless food and drink options (including beer and wine), wetsuits, snorkel gear, towels, and many more amenities. Discovery Cove also requires reservations and limits the number of daily guests, making the experience one of the most exclusive attractions in the country, with ample room to enjoy the warm Florida weather. Discovery Cove has enhanced its health and safety protocols, and is offering vacation planning flexibility through its "Book with Confidence" policy which allows guests FREE cancellations and a 100% refund if guests need to cancel more than 30 days prior to their reservation date.
For more information, or to book a reservation, visit DiscoveryCove.com.