WhatsApp Unveils Exciting New Features for Enhanced User Experience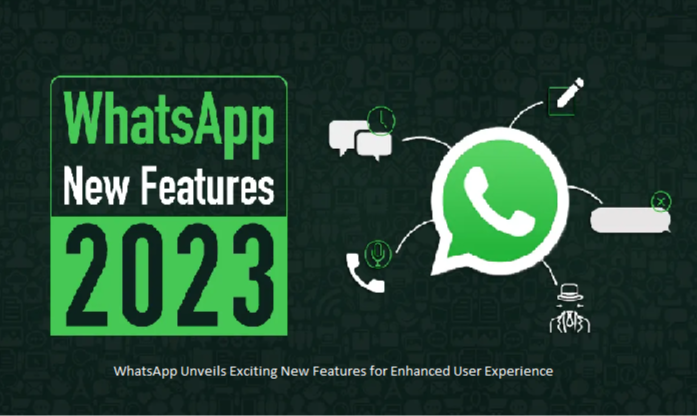 WhatsApp, the global messaging giant, is embarking on a groundbreaking journey to redefine how users engage with businesses and contacts. Through a series of innovative updates, WhatsApp aims to revolutionize tasks, fortify privacy measures, and offer tailor-made experiences. From the seamless 'Flows' feature enabling business interactions to the streamlined payment system in India, WhatsApp is committed to elevating the user experience.
This article sheds light on the game-changing features, including Meta Verified Businesses, WhatsApp Channels, and an enhanced Mac desktop experience. With privacy-focused tools like Silence Unknown Callers and Chat Lock, WhatsApp is spearheading a new era of secure communication.Join us on this exploration of transformative updates that promise to reshape the way we connect on this leading messaging platform
WhatsApp: Flows for Faster Chat Experiences
WhatsApp
has launched Flows, a feature designed to facilitate seamless interactions with businesses directly within the chat. This allows users to perform tasks like seat selection, meal orders, and appointment booking without leaving the conversation. Flows will support rich menus and customizable forms, making it even more convenient for users.
WhatsApp: Convenient Payment Options
WhatsApp
has integrated a simplified payment process. Users can now add items to their cart and make payments using a variety of methods, including UPI apps, debit/credit cards, and more. This partnership with Razorpay and PayU aims to make transactions as effortless as sending a message.
WhatsApp: Meta Verified Businesses
WhatsApp
is introducing Meta Verified Businesses to ensure users are interacting with authentic entities. Verified businesses will display a badge, providing enhanced security against impersonation. Meta Verified status also offers additional premium features, including a customizable
WhatsApp
page and multi-device support for efficient customer service.
WhatsApp Channels Go Global
WhatsApp Channels
, a private broadcasting service, is now available in over 150 countries. This feature allows users to follow organizations, sports teams, artists, and influencers within the app.
Channels
are separate from regular chats, ensuring privacy. The Enhanced Directory and Reactions options further enhance the user experience.
WhatsApp App for Mac with Group Calling
WhatsApp
has extended its improved desktop experience to Mac users. This new app allows group calls, connecting up to 8 people on video and 32 on audio calls. Users can join ongoing calls, view call history, and receive notifications even when the app is closed. File sharing is also simplified, making communication more efficient.
Instant Video Messages
In a bid to enrich communication,
WhatsApp
now supports instant video messages. Users can record and share short videos directly in the chat, adding a personal touch to their conversations. These videos are protected by end-to-end encryption, ensuring privacy and security.
Privacy Enhancements: Silence Unknown Callers and Privacy Checkup
WhatsApp
continues to prioritize user privacy. The new features, Silence Unknown Callers and Privacy Checkup, provide additional layers of protection. Silence Unknown Callers automatically screens out spam and unknown calls, enhancing privacy. Privacy Checkup guides users through crucial privacy settings, offering a comprehensive approach to safeguarding their communications.
WhatsApp:Edit Sent Messages
WhatsApp
now allows users to edit sent messages within fifteen minutes of sending. This
feature
provides more control over conversations, enabling users to correct mistakes or add context. Edited messages are clearly marked, maintaining transparency.
WhatsApp: Chat Lock for Added Privacy
To further enhance privacy,
WhatsApp
introduced Chat Lock. This feature enables users to protect sensitive conversations with an additional layer of security. Locked chats are accessible only with the device password or biometric authentication. This ensures that private conversations remain confidential.
WhatsApp: Polls and Media Sharing Updates
WhatsApp
has introduced new updates to enhance user interaction. Users can now create single-vote polls for definitive answers, search for polls in their chats, and receive notifications for poll responses. Additionally, users can forward media with captions, allowing for better context when sharing photos and videos. Documents can also be shared with captions for added clarity.
WhatsApp's recent updates demonstrate a commitment to enhancing user experiences across various aspects of the platform. From seamless interactions with businesses to improved privacy features and innovative communication tools, WhatsApp continues to evolve to meet the diverse needs of its global user base. These updates pave the way for more efficient, secure, and personalized interactions on the platform.
Source:WhatsApp