What's on Kids' Holiday Toy Wish Lists? Walmart Unveils its Top Toys, Launches Layaway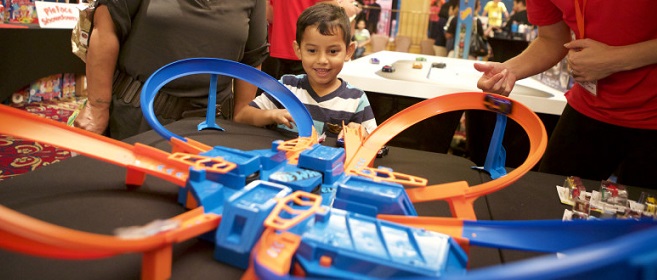 More than 20 percent of the top toys are exclusive to the retailer
BENTONVILLE-From the smallest to the tallest, Walmart polled hundreds of kids to find out just what they will be including in their letters to Santa this year. Today, Walmart unveiled its annual top toy list, Chosen By Kids, including six exclusives such as the Teenage Mutant Ninja Turtles Remote Control Skateboarding Mikey and Disney® Princess Carriage. The retailer also announced today the return of its popular layaway program, which opens on Sept. 2. Between Walmart's layaway program, and their efforts to make shopping easier for customers no matter when and how they want to shop – in store, online, on a mobile device or a combination – the retailer is helping everyone up their "elf skills" this holiday.
"Santa may know who is naughty and nice, but we know what's on their list," said Anne Marie Kehoe, vice president of toys at Walmart U.S. "Santa's workshop is hard to compete with, but we are confident our assortment hits the mark with kids of all ages – we have playsets, ridealongs, licensed merchandise even toys that fly. Our customers can count on us to bring the coolest toys at everyday low prices, online and in stores, and enough of them for even the last shopper of the season to take home something that is going to put a smile on a child's face."
Walmart will have more than 400 exclusive toys in addition to the six toys that are exclusives on the Chosen By Kids list. Some of these exclusives include Star Wars 3-3/4" Black Series collector figures, the Barbie Camping Collection and a FlipaZoo plush.
Chosen By Kids Top Toy List
It's become a tradition at Walmart to have the real experts – kids – choose the top toys for the holidays. Hundreds of kids, ages 18 months to 12 years, were given the chance to play with some of the year's hottest toys and pick their favorites. This one-of-a-kind playdate lead to this year's Chosen By Kids list – the top 25 toys of the season, nearly a quarter of which are exclusive to Walmart. The nation's largest toy store, thanks to their trusted focus group of kids, is sure to have plenty of these most coveted items at prices that will thrill even Jolly ole' St. Nick, no matter if he is shopping in store or online.
Based on the Chosen by Kids list, Walmart has an idea of just who is asking for what …
The Boss: Your child can't wait to start their own business? These toys are perfect for the little entrepreneur in your life. Top entrepreneurial toys include:
My Life As Food Truck –

Walmart exclusive (coming soon)

Num Noms Lipgloss Truck
Pom Pom Wow Decoration Station
The Humanitarian: Kids love to take care of others and with these toys they can put their skills to the test. Toys that make this list include:
Doc McStuffins Hospital Care Cart
FurReal Friends® Torch, My Blazin' Dragon
Hatchimals (coming soon)
Little Live Pets Puppy
The Dreamer: Playsets and toys that give kids the opportunity to create their own story and put their imagination to work. Frontrunners for imagination are:
Batman v. Superman: Dawn of Justice Batcave –

Walmart exclusive (coming soon)

Barbie Rainbow Cove Princess Castle Playset
Fisher Price® Imaginext® Bat Flight City
Fisher Price® Little People® Sit 'n Stand Skyway
My Little Pony Explore Equestria Crystal Empire Castle
Teenage Mutant Ninja Turtles Mega Lair Playset
The Thrill-Seeker: For the thrill seeker, these toys allow kids to take an adventure right in their own homes. Topping the list of adventurous toys are:
Pie Face Showdown! Game –

Exclusive to Walmart for a limited time

Razor PowerCore E100 Electric Scooter –

Walmart exclusive

Teenage Mutant Ninja Turtles Remote Control Skateboarding Mikey –

Walmart exclusive

Fisher Price® Imaginext® Ultra T-Rex
Hot Wheels® AI Racing Playset (coming soon)
Nerf® N-Strike Elite® HyperFire® Blaster
Tyco® Terra Climber Remote Control Vehicle
Vtech® Go! Go! Smart Wheels Treasure Mountain Train Adventure
Mr./Ms. Independent: Sibling not home to play? These toys are a perfect way to keep kids entertained for hours by themselves. Top independent toys include:
Disney® Princess Carriage –

Walmart exclusive

Paw Patrol Zooming Marshall
Sky Viper Streaming Drone (coming soon)
Star Wars™ Electronic R2D2 (coming soon)
The Chosen By Kids list is just the beginning of Walmart's season-long celebration of toys. Beyond the top 25 toys, Walmart will have thousands of toys to choose from available both in Walmart stores and on Walmart.com.
Layaway Arrives in Time to Stock Up on the Season's Hottest Toys
Walmart's layaway program begins Sept. 2 allowing customers to get a head start on holiday shopping. This popular servce offers customers the opportunity to stay on budget, keep gifts hidden until the holidays or pay over time. Customers can find all of the top toys available to reserve through the layaway program, along with thousands of other items in Walmart stores.
There is no opening fee for customers to start a layaway account and they only need to put down 10% (or $10, whichever is greater). Walmart has kept its minimum threshold again this year. Customers can put items as low as $10 on layaway with a $50 minimum basket. Customers have until Dec. 12 to pay off their account.
Toys are Just the Beginning
In addition to working with kids to test and review the top toys, Walmart engaged adults to test and review other popular categories like home, apparel and electronics. This year, video games and consoles are also expected to be hot items for the holiday. One of the most coveted gifts of the season for teens and children at heart – the Sony PlayStation Virtual Reality Bundle.
Throughout the holiday season, Walmart is committed to making shopping easier for their customers creating ways for them to shop anytime and anywhere online, through mobile devices, and in stores. Customers can take advantage of Walmart's convenient pickup service on hundreds of holiday items where they can buy online and pick their items up as soon as the same day in Walmart store for free.
For more information on Walmart's Chosen By Kids list, visit www.walmart.com/chosenbykids.

About Walmart
Wal-Mart Stores, Inc. (NYSE: WMT) helps people around the world save money and live better – anytime and anywhere – in retail stores, online, and through their mobile devices. Additional information about Walmart can be found by visiting http://corporate.walmart.com