Wells Fargo's Get College Ready℠ Website Transforms How Students Plan for College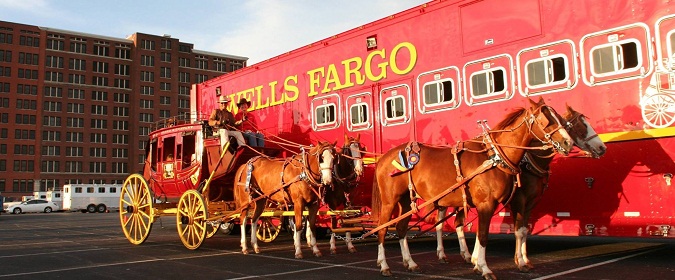 An interactive website offers a holistic approach to financial
education and literacy with free tools and resources
Wells Fargo & Co. (NYSE:WFC) today announced the new Get College Ready℠ interactive website, which has been redesigned to better educate and engage students, parents, families, and high school counselors on best practices for planning and preparing for college.
By offering a holistic approach to financial literacy, the Get College Ready℠ program and accompanying website offers valuable information to help visitors build a tailored financial plan that allows them to start college on the right financial foot. The site helps students understand how to pay for college, manage money, and build credit while in college taking into account a person's full financial picture, including student loans, college credit cards
, student checking and savings accounts, and student insurance.
"Next to saving for retirement or buying a home, paying for an education is one of the most significant life events for families," said John Rasmussen, Wells Fargo's head of Education Financial Services.  "Many high school graduates remain unaware of the critical importance of budgeting properly, understanding the complete financial picture, and how not taking these steps will often create serious long-term financial problems. This is why we designed Get College Ready℠ to go beyond simply helping college-bound students understand how to prepare financially for college. Rather, Get College Ready℠ online provides an easy-to-navigate interface that brings overall financial and budgeting considerations, along with college financing details, together in a holistic view for students and their parents."
In an effort to amplify Get College Ready℠, the company will leverage a variety of its own social media channels and collaborate with nonprofit organizations using the hashtag #GetCollegeReady. Having reached an estimated 14 million impressions through social media during its 2014 debut, Get College Ready℠ website visitors last year spent an average of four minutes on each web page, and based on recent reports most website visitors leave a web page in less than 59 seconds.
The GCR national campaign runs through September 30, 2015.
About Wells Fargo Education Financial Services
Wells Fargo Education Financial Services has been in the student lending business since 1968 and currently serves more than 1.3 million student, parent and family private student loan customers in all 50 states. Wells Fargo provides private student loans to consumers, through the Internet and at more than 6,000 Wells Fargo banking stores to help customers finance their education. Wells Fargo Education Financial Services also provides customers with tools to help them succeed financially while in school and prepare them for when they finish college. Through the Wells Fargo Foundation, we partner with nonprofit organizations and stakeholders to strengthen our goal of providing high quality assistance to those individuals who are working to achieve their educational dreams. Learn more about Wells Fargo Education Financial Services.
About Wells Fargo
Wells Fargo & Company (NYSE: WFC) is a nationwide, diversified, community-based financial services company with $1.7 trillion in assets. Founded in 1852 and headquartered in San Francisco, Wells Fargo provides banking, insurance, investments
, mortgage, and consumer and commercial finance through more than 8,700 locations, 12,500 ATMs, and the internet (wellsfargo.com), and has offices in 36 countries to support customers who conduct business in the global economy. With approximately 265,000 team members, Wells Fargo serves one in three households in the United States. Wells Fargo & Company was ranked No. 29 on Fortune's 2014 rankings of America's largest corporations. Wells Fargo's vision is to satisfy all our customers' financial needs and help them succeed financially
. Wells Fargo perspectives are also available at Wells Fargo Blogs and Wells Fargo Stories.