Wells Fargo Reimagines Mobile Experience with 'Pay with Wells Fargo'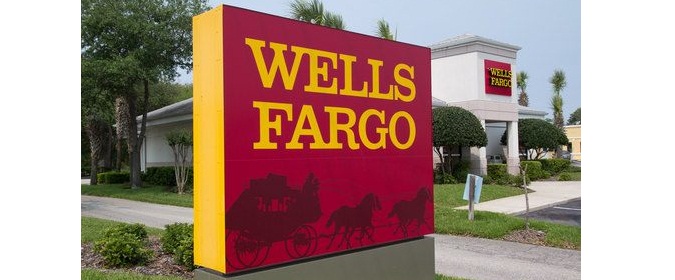 Brings most popular payment features front-and-center on the industry's #1 mobile app 1, making payments on-the-go even easier for nearly 22 million mobile banking customers
Wells Fargo & Company (NYSE: WFC) announced Pay with Wells Fargo, which will bring to the app's home screen an option for customers to conveniently select their most commonly used payment features like Zelle ®2 , mobile wallets, Card-Free ATM Access Code and transfers, even before signing into the app. Pay with Wells Fargo is the first phase of a longer-term reinvention of Wells Fargo's mobile banking experience, aimed at meeting all of our customers' financial needs in a simple, easy-to-use, and customer-driven mobile experience.
From the new screen, customers can more simply select the feature they want to use and authenticate to immediately send payments, transfer money, or make a purchase with a digital wallet. In a future enhancement, Wells Fargo plans to launch a feature where customers also will be able to donate money to their favorite charities and non-profits directly from the mobile experience. Pay with Wells Fargo will be piloted with Wells Fargo team members next month and piloted with customers later this year.
Today at Wells Fargo's Investor Day, Avid Modjtabai, head of Payments, Virtual Solutions and Innovation for Wells Fargo, will unveil onstage the new payments interface and speak to the company's efforts to develop a new consumer strategy that is transforming the way the bank approaches customer experience. Modjtabai will also announce that Control Tower SM , a digital experience aimed at providing customers a more comprehensive view of their digital footprint, will launch in a customer pilot next month.
"Pay with Wells Fargo is another step in our journey to transform how we serve customers and provide them with tools that make their financial lives easier and simpler, and put them in better control of their finances," said Modjtabai. "The enhancements we are making in mobile are an example of how Wells Fargo is innovating based on customer needs and feedback about how they want to manage their money."
With Pay with Wells Fargo, customers will be able to more easily access the aspects of the Wells Fargo Mobile ® app they use most frequently, as customers increasingly want to check their balance and move money via a mobile device. Additionally, through Wells Fargo's proprietary Control Tower experience, customers will be able to better manage and control their complex financial lives, empowering them to view and manage their account and payment relationships from one central location.
Payments features that will be initially featured in the Pay with Wells Fargo experience include Zelle, mobile wallets, Card-Free ATM Access Code, mobile check deposits, and money transfers. Mobile usage data shows that these are the mobile payments features Wells Fargo customers use most often. For example, as of Q1 2018:
Since Zelle launched last year, Zelle transaction volume for Wells Fargo customers increased 64%, and average transaction volume per active Zelle user increased 19%
More than one million Card-Free ATM Access codes (launched last year) are used monthly for ATM transactions3
Our customers value being able to donate to charities at our ATMs, and have donated more than $8 million since launching the capability in 2007. Soon customers can donate to a charity of their choice right from the Wells Fargo Mobile app.
Longer-term features of Pay with Wells Fargo will be customized based on customers' personal usage patterns. Customers also will have the ability to customize the highlighted features themselves.
Last summer, Wells Fargo announced Control Tower , a new, first-of-its kind digital banking experience that provides customers a more comprehensive view of the places their Wells Fargo card or deposit account information is connected — including recurring payments, mobile wallets, subscriptions, etc. —and will, in the future, enable customers to control when and where their Wells Fargo account is shared via an on/off function from one single, convenient, and secure place. This new mobile experience, available this summer in a multi-state customer pilot, and then to all Wells Fargo customers later in 2018, reinforces our strategy of providing customers a seamless and comprehensive mobile payments and banking experience in their increasingly cluttered digital lives.
About Wells Fargo
Wells Fargo & Company (NYSE: WFC) is a diversified, community-based financial services company with $1.9 trillion in assets. Wells Fargo's vision is to satisfy our customers' financial needs and help them succeed financially. Founded in 1852 and headquartered in San Francisco, Wells Fargo provides banking, investments, mortgage, and consumer and commercial finance through 8,200 locations, 13,000 ATMs, the internet (wellsfargo.com) and mobile banking, and has offices in 42 countries and territories to support customers who conduct business in the global economy. With approximately 265,000 team members, Wells Fargo serves one in three households in the United States. Wells Fargo & Company was ranked No. 25 on Fortune's 2017 rankings of America's largest corporations. News, insights and perspectives from Wells Fargo are also available at Wells Fargo Stories.
1 Business Insider Intelligence Study, October 2017.
2 Zelle and the Zelle related marks and logos are property of Early Warning Services, LLC.
3 ATM Access Codes are available for use at all Wells Fargo ATMs for Wells Fargo Debit, ATM and Wells Fargo EasyPay® Cards using the Wells Fargo Mobile app. Availability may be affected by your mobile carrier's coverage area. Your mobile carrier's message and data rates may apply. Some ATMs within secure locations may require a card for entry.