Volvo Provides the First Look at its New Range of Smaller Cars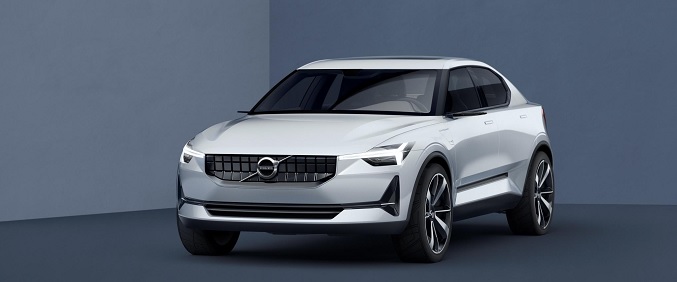 Volvo Cars, the premium car maker, unveiled two new concept cars that move the Swedish brand in an audacious new direction and mark the official launch of its global small car strategy.
Newly-revealed 40 series concepts demonstrate for the first time how Volvo plans to expand into the large and lucrative global market for premium small cars with a range of vehicles that combine bold exterior and interior design with industry-leading connectivity, electrification and autonomous drive technologies.
The new concept cars will be the first built around Volvo's new Compact Modular Architecture (CMA), which has been specially created for smaller cars and which has liberated the company's designers and engineers to explore bold and daring new directions.
"Each member of our product family has its own distinct character, just like the members of a real family. CMA has helped us to capture something special, something youthful in our new concept cars. They have an energy, a disruptive and engaging urban character that makes them stand out amongst the crowd. This is the flavour of small Volvos to come," said Thomas Ingenlath, Senior Vice President, Design, at Volvo Car Group.
Volvo's small car strategy is an essential element in its ongoing global operational and financial transformation. The Swedish company is currently implementing an ambitious revitalisation plan that will reposition the brand to compete with its global premium competitors within the next four years.
Volvo's new global small car range will include a pure battery electric vehicle as well as Twin Engine plug-in hybrid powertrain variants, in line with the company's commitment to the electrification of its entire portfolio. Volvo plans to have sold a total of up to 1 million electrified cars by 2025 globally.
"By taking a modular approach to both vehicle architecture and powertrain development we have succeeded in leap-frogging many of the players in the premium segment," said Dr Peter Mertens, Senior Vice President Research & Development. "Our new battery electric powertrain variant opens yet another exciting chapter in the unfolding Volvo story."
On top of their daring exterior design and electrified powertrain options, the new cars will also offer a full range of innovative connectivity services, plus the world's most advanced standard package of safety features and ground breaking Scandinavian interior design.
"The new 40 series cars have the potential to improve our market penetration in an important growing segment," said Håkan Samuelsson, president and chief executive. "An electric powertrain program including both a new compact Twin Engine plug-in hybrid as well as a pure electric car are central to the CMA architecture." He added that the first new 40 series car is expected to go into production in 2017.
Volvo Car Group in 2015
For the 2015 financial year, Volvo Car Group recorded an operating profit of 6,620 MSEK (2,128 MSEK in 2014). Revenue over the period amounted to 164,043 MSEK (137,590 MSEK). For the full year 2015, global sales reached a record 503,127 cars, an increase of 8 per cent versus 2014. The record sales and operating profit cleared the way for Volvo Car Group to continue investing in its global transformation plan.
About Volvo Car Group
Volvo has been in operation since 1927. Today, Volvo Cars is one of the most well-known and respected car brands in the world with sales of 503,127 in 2015 in about 100 countries. Volvo Cars has been under the ownership of the Zhejiang Geely Holding (Geely Holding) of China since 2010. It formed part of the Swedish Volvo Group until 1999, when the company was bought by Ford Motor Company of the US. In 2010, Volvo Cars was acquired by Geely Holding.