A New Generation of KTM Enduro Machines is Here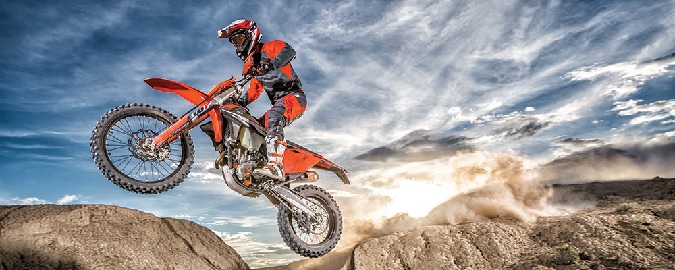 KTM is excited to announce a brand new generation of Enduro machines for model year 2017 that have been re-designed from the ground-up. With an entirely new chassis, all-new engines and some model changes within the ever-popular Enduro machine line-up, the new KTM Enduro range is lighter, stronger and faster.
KTM once again underlines its commitment to its foundations in offroad, as its world-dominating, class-leading Enduro machines have been completely revised with a staggering 90 per cent of the model year 2017 line-up's components being new. Notable weight reductions of up to five kilograms have been realized throughout the model range, with improved mass centralization resulting in increased performance and better handling.
For MY2017 the line-up has been changed to include the 125 XC-W and 150 XC-W (replacing the 125 and 200 EXC), which are specifically designed for closed course racing, as well as the more traditional, fully homologated powerhouses with the 250 EXC and300 EXC in the 2-stroke range. In the 4-stroke range KTM continues with its completely updated versions of the 250 EXC-F, 350 EXC-Fmodels, as well as modifying the name of the higher capacity models to fall in line with the typical 4-stroke name to 450 EXC-F and500 EXC-F.
Not only does each machine receive a new chassis with new suspension including the WP XPlor 48 upside-down split fork by WP, the R&D team in Mattighofen, Austria combined with its network of test riders, factory racing teams and input from KTM North America R&D, has worked tirelessly to deliver new engines at the same time with improved performance, reduced weight and a more compact size to assist with better machine handling.
With refinements from the frame and bodywork, down to the smaller details in the dashboard of these READY TO RACE machines, KTM has utilized the latest technology to consider every improvement possible for the amateur rider right up-to the professional world championship racer.
Following a tried and tested tradition, the specially finished SIX DAYS models stand side by side with the legendary, new generation EXC bikes. Available as 2- and 4-stroke bikes and equipped with several performance-enhancing and useful technical parts, the new "Six Days Spain" bikes, designed with sophisticated special graphics, top the latest KTM EXC model range.
Joachim Sauer (KTM Offroad Product Manager): "As the saying goes, after the race is before the race. According to our understanding in state-of-the-art development, the brand new line-up of our offroad competition Enduros are proof of KTM`s ongoing commitment to our core discipline. We believe this Enduro sportmotorcycle range will push the excitement and satisfaction of any rider to a new level."
The new KTM MY2017 Enduro range was unveiled at its launch in Les Comes, Spain and the new machines will begin to arrive in European dealers in June.