Up-Close and Purposeful – Discovery Cove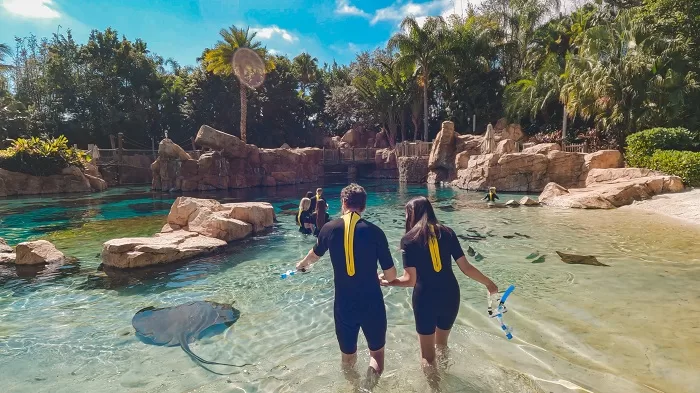 For more than two decades now, Discovery Cove has welcomed visitors from around the globe to experience some of the most amazing, up-close animal interactions possible. In the all-inclusive park's secluded, 35-acre oasis in the heart of Central Florida, guests are forever changed as they swim with dolphins, snorkel among tropical fish and rays, hand-feed exotic birds, wade beside otters, strut alongside flamingos, and much more.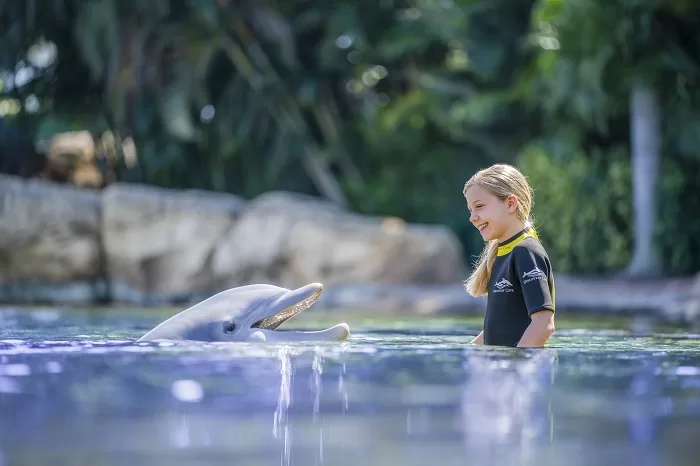 Discovery Cove captures the hearts and imaginations of visitors by combining all-inclusive amenities with an array of exclusive, up-close animal interactions. A typical day at Discovery Cove can include:
Signature Dolphin Swim–The highlight of many visits is a one-on-one dolphin encounter, during which guests can form a special, long-lasting memories with the park's most beloved residents.
The Grand Reef – Fringed by a sandy white beach, The Grand Reef is where guests can swim and snorkel with thousands of tropical fish, rays, and even sharks (behind panoramic viewing windows), exploring this immense coral reef habitat.
Explorer's Aviary – Home to more than 70 species, this massive free-flight aviary lets guests walk shaded pathways to observe and hand feed some of the more than 250 color birds.
Freshwater Oasis–The Freshwater Oasis features wading adventures and face-to-face encounters with playful otters and curious marmosets.
Animal Trek – A behind-the-scenes visit with some of the park's birds and small mammals such as owls, macaws, armadillos, sloths and more.
Flamingo Mingle – A rare opportunity to interact one-on-one, as well as strut alongside – and even feed – the famous Caribbean flamingos.
Shark Swim – Unique to Discovery Cove, allowing guests to swim freely alongside several species of sharks for an up-close encounter you won't soon forget.
SeaVenture – Invites guests to wear a dive helmet for an innovative walking tour through The Grand Reef, where you will come "face-to-fin" with colorful fish and other animals that call the reef home.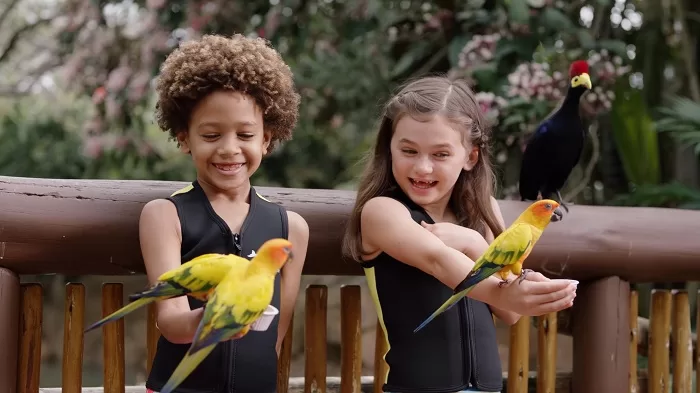 Without question, these breathtaking "bucket list" encounters are treasured for being uniquely personal and powerful, but they are also equally purposeful. Discovery Cove is committed to protecting the environment and preserving its future by inspiring others to act. Discovery Cove actively supports global conservation initiatives by providing financial and scientific contributions focused on marine animal health, habitat protection, and education programs that help to develop the next generation of conservation ambassadors.
Accredited by the Association of Zoos and Aquariums, American Humane, the international Marine Animal Trainers' Association, and The Alliance of Marine Mammal Parks and Aquariums, Discovery Cove maintains the highest standards of care for the animals in its domain, while helping those in the wild, too. Revenue generated at accredited facilities directly supports millions of dollars in animal welfare research, global conservation efforts, and critical rescue and rehabilitation activities.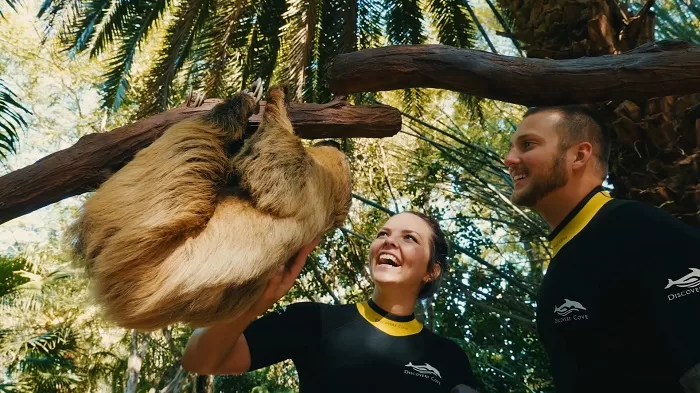 Several species at Discovery Cove are a part of the Species Survival Program, the mission of which is to oversee the population management of select species within AZA member institutions and enhance conservation of this species in the wild. In the last two years, Discovery Cove has announced the birth of five spotted eagle rays and two Asian otters, threatened marine species which are a part of the Species Survival Plan® (SSP) of the Association of Zoos and Aquariums (AZA). The rays and otter kits are thriving in the park's Grand Reef, where guests can see them while wading and snorkeling.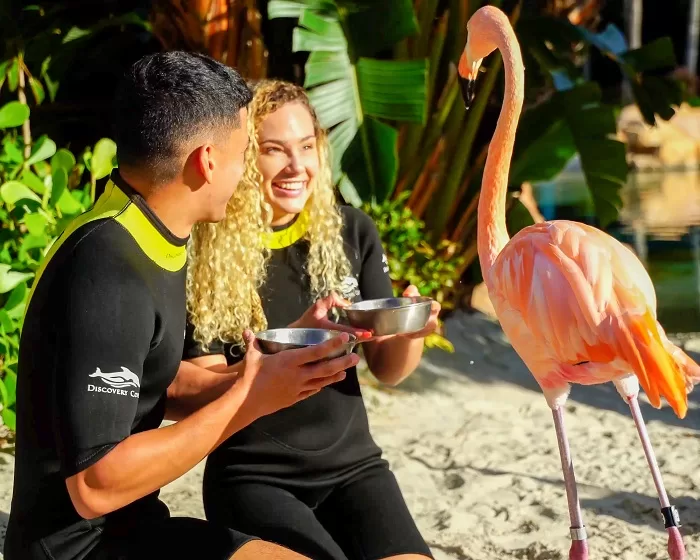 Guest at the park helps make a difference, too. Discovery Cove donates a portion of the proceeds from every SeaVenture experience to Rising Tide Conservation, a non-profit dedicated to the protection of coral reefs through sustainable aquaculture. And, for guests who book a Shark Swim, a portion of the proceeds supports the Guy Harvey Ocean Foundation, which conducts scientific research and hosts educational programs aimed at conserving the greater marine environment.
With reservations required and limited capacity, the experience is one of the most exclusive in the country and appreciated for its worry-free atmosphere where guests enjoy a relaxing day where everything is taken care of. And as a truly all-inclusive park, every visit to this intimate destination includes endless food and drink options (including beer and wine for those over 21 years old), wet suits, snorkel gear, towels, lockers and many more amenities – providing surprising and satisfying ways to fuel a fun, full day of discovery.
For more information, or to book a reservation, visit DiscoveryCove.com.