Tsubame Industries Unveils $3 Million Giant Robot Inspired by "Mobile Suit Gundam"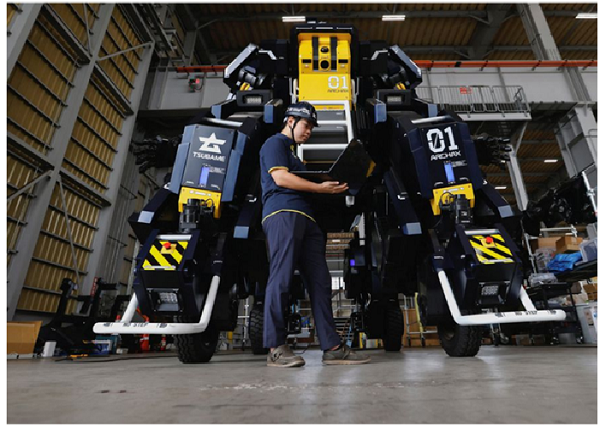 In an impressive feat of engineering, Tokyo-based start-up Tsubame Industries has introduced ARCHAX, a colossal four-wheeled robot standing at an impressive height of 4.5 meters (14.8 feet). Bearing a striking resemblance to the iconic "Mobile Suit Gundam" from the immensely popular Japanese animation series, this mechanized marvel is now available for a price tag of $3 million.
The ARCHAX Experience
ARCHAX, named after the prehistoric avian dinosaur archaeopteryx, offers an immersive experience for its pilot. Fitted with cockpit monitors linked to exterior cameras, the operator can effortlessly control the robot's arms and hands using joysticks from within its torso.
Modes of Operation
This 3.5-ton behemoth boasts two distinct modes. In its upright 'robot mode,' ARCHAX stands tall, showcasing its awe-inspiring design. Alternatively, it can transform into a 'vehicle mode,' allowing it to achieve speeds of up to 10 kilometers per hour (6 miles per hour).
The Visionary Behind the Innovation
Ryo Yoshida, the 25-year-old CEO of Tsubame Industries, envisioned ARCHAX as a fusion of Japan's expertise in animation, gaming, robotics, and automotive technology. "Japan is very good at animation, games, robots and automobiles so I thought it would be great if I could create a product that compressed all these elements into one," shared Yoshida.
Beyond Entertainment
While ARCHAX promises to be a collector's dream, Yoshida envisions more profound applications for his creation. He intends to produce and market five of these extraordinary machines for affluent robot enthusiasts. Furthermore, he harbours hopes that ARCHAX could serve critical roles in disaster relief efforts and even find a place in the burgeoning space industry.
A Legacy of Innovation
Yoshida's journey in the world of manufacturing began at a young age, honing his skills in welding at his grandfather's ironworks. His entrepreneurial spirit eventually led him to establish a company specializing in myoelectric prosthetic hands. With ARCHAX, Yoshida aims to not only push the boundaries of technological achievement but also preserve Japan's legacy as a global manufacturing powerhouse.
ARCHAX stands as a testament to Japan's prowess in innovation and engineering. Its seamless blend of cutting-edge technology with iconic cultural references opens new avenues for exploration in both entertainment and practical applications. As Ryo Yoshida propels his brainchild into the limelight, we eagerly await the future chapters in ARCHAX's remarkable journey.