Trillium Labs' Surveyor Enhances Their Already Powerful Best Execution Solution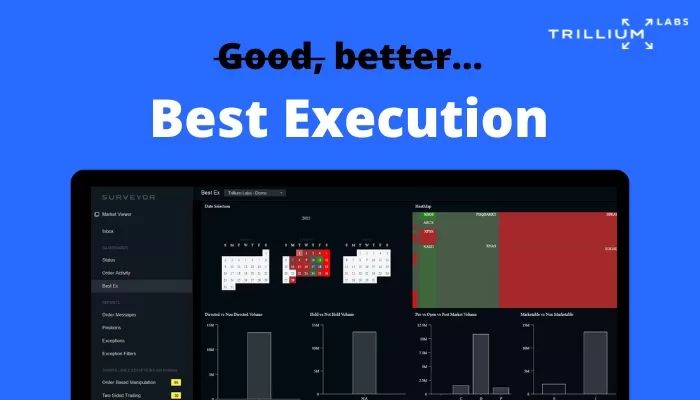 This summer, Trillium Labs released an enhanced version of their best execution tool, part of their post-trade surveillance suite, Surveyor. The latest enhancements provide customers with advanced and intuitive visualizations that highlight key metrics to accurately monitor trade execution quality. Using full depth-of-book market data, users can effectively analyze pricing outliers and execution quality on the most granular level and display them with customizable charts. It's now easier than ever to safeguard clients' business and best interests.
"The latest iteration of our software bridges the gaps our customers experienced in the industry de facto solutions. The upgraded technologies optimize quality analysis and feature additional functionality to ensure financial institutions have a holistic, and commercial, best execution solution," said Melissa Watras, Director of Product.
Recent Regulatory Headlines
Major financial news outlets have published prominent headlines in recent months detailing the imposition of hefty fines on institutions that have failed to adequately comply with FINRA Rule 5310. These fines can reach upwards of millions of dollars and ultimately deteriorate client trust and social prestige. "We will continue to pursue disciplinary action against firms that fail to use reasonable diligence to execute customer transactions so that the price is as favorable as possible under prevailing market conditions," said Jessica Hopper, Executive Vice President and Head of FINRA's Department of Enforcement.
Who is Trillium Labs?
Founded in 2014 by electronic trading pioneers, Trillium Labs is a financial technology company and creator of Surveyor, a post-trade monitoring software, dedicated to delivering innovative RegTech solutions built for accuracy and intuition. Delivering actionable insights on a global scale across equities, derivatives, fixed income, and crypto markets, Surveyor allows organizations to fully adhere to the latest guidelines and regulations without disrupting their business growth objectives. Surveyor is the only patented solution to use a full depth-of-order book to significantly reduce false positives. The mission to "detect accurately, display intuitively" is the core pillar of Trillium Labs' dedication to providing their customers with trusted solutions in an ever-evolving financial landscape.
Trillium Labs offers a suite of trade compliance products and services including SEC Rule 605/606 regulatory reporting, cross-product comparisons, and best execution, all powered by Surveyor. Surveyor's solutions and capabilities are continually improving to provide each customer with a robust, tailor-made tool kit to accommodate their unique business needs. Trillium Labs prides itself on empathetic technical support and building compliance software that is easy to use without pretension.
For more information or to schedule a Surveyor demo, visit www.trlmlabs.com