Top 7 Summer 2021 Trends for the Hot Days Ahead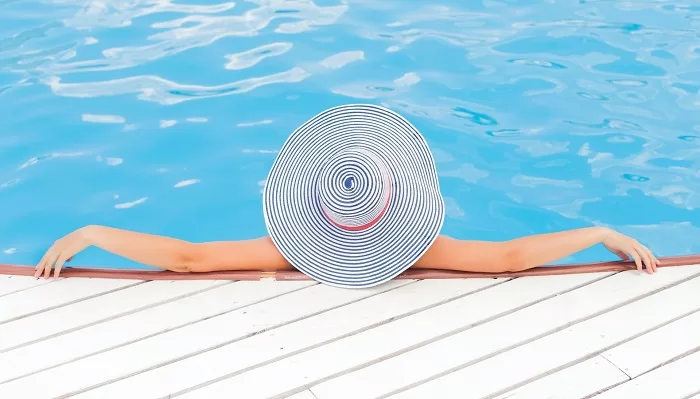 We've waited a long time for the year's best weather to arrive, but the warm, sunny days of summer are finally here. Whether your plans involve heading back into the office or simply relaxing at water's edge, you want to look as fabulous as you feel. From menswear-inspired apparel to ultra-girlie ruffles and pastels including pink gemstones, this year is all about expressing the True You. To help you figure out which style suits you best, we've gathered the top 7 trends for the balmy summer days ahead.
1 Pastels
Pastels are easy on the eyes and soothing to the spirit. They embody hopefulness, just what we need as we emerge from the pandemic, and their calming energy makes it less surprising that cool pastels are one of the hottest fashion trends for summer 2021. Happily, pastels are also one of the easiest things to wear. There's a pastel tone to suit absolutely everyone. Whether you're in the market for officewear, beachwear or an outfit for a summer wedding, pastels are the perfect pick. You can never go wrong in pairing pastels with neutrals. For casual outings, a pastel top and jeans are a classic. Combine a pastel dress with dainty jewelry and you're all set for an evening out on the town. Don't be afraid to mix pastels either. Similar colours like pink and lavender are lovely together, as are mint and baby blue. Complementary tones look fab too: think pink and mint or lavender and lemon. For advanced fashionistas, you can also coordinate your pastel to a bolder hue in the same colour family. Yet another popular option is wearing one pastel shade for your outfit and a different one for your accessories. The possibilities are virtually endless!
2 Frills
The devil is in the details and that's where you'll find a lot of the fun too. Everyone loves a dress with bounce, and frills and flounces are another top pick for summer 2021. Even better, ruffles will go the distance and last for many future seasons, making them a fave among classic fashion adherents. Unlock your inner princess. Design details like smocking and ruffled straps elevate a simple tank top to an eye-catching piece that can be dressed up or down depending on your needs. Wear it with a denim skirt for a day of shopping, or pair it with a sleek pencil skirt to meet up with friends for cocktails. A ruffled collar gussies up a classic business suit and offer an updated design on a timeless look. Expect to see frills everywhere: tops, dresses, jackets, skirts, saris, and even on accessories like handbags.
3 Straps
For summer 2021, skin is in. Popular styles include drawstring ties, spaghetti straps, and complex backstrap designs. Classics shapes like slip skirts get a strappy upgrade. If you're really feeling bold, dare to bare your midriff with sexy strings patterns. For more conventional settings, sophisticated straps are the best way to show some skin without revealing too much, and that includes foundational items. For formalwear, a strapless bra is a way to go. For casual wear, you can get away with wearing a bra with straps, so long as they're the type that is meant to be seen.
4 Shine
After a year in the same old black yoga pants, people want their clothing to shine, literally. Everything from blouses and skirts to shoes and handbags will be glimmering and shimmering all on their own. Glittering crystals, sparkling sequins, radiant rhinestones, and classic gold lamé are all hot this summer. Show off your happy glow and add some shine to your wardrobe with a metallic top, skirt, gown, or even a sexy, scintillating motorcycle jacket.
5 Pleather
Stylish, affordable, and animal-friendly, faux leather has been gaining ground for some time in the fashion field, and you can expect to see plenty of it in summer 2021. Manufacturing techniques have come a long way, and pleather now looks and feels virtually identical to the real thing, with the added bonuses of being budget-friendly and cruelty-free. Stylish and durable, synthetic leather is the material of choice for tote bags, shoes, pants, and an extremely hot item for summer 2021: the versatile vegan leather shirt jacket. A shirt and a jacket rolled into one; who doesn't love multifunctional clothes?
6 Menswear
With all the girly looks trending so far: frills and baby colours, shimmer and spaghetti straps, it may come as a surprise to learn how popular menswear-inspired pieces are. The truth is, borrowing from the boys was always fun. After too many months in shapeless joggers, people are longing to appear more put together. Tailored menswear-inspired pieces include button-downs, pinstripes, trousers, and double-breasted blazers, with just enough femininity to keep it fresh for the new year. A lavender pantsuit catch your eye as your new back-to-work uniform? Go for it. For a smart beach-casual look, try pairing an oversize button-down shirt with matching shorts.
7 Slides
When a woman asks herself, 'What am I going to wear?', what she really means is 'What am I going to wear on my feet?' This summer, cosy, slipper-style shoes are all the rage. Hot weather has always meant more casual styling in the footwear department, and after a year of sometimes not even putting proper shoes on your feet, fashionistas are taking it easy with super comfy slides. Style options include classic leather or pleather with bold gold links and flirty florals. Birkenstocks have had incredible staying power, and clogs are another comfort-inspired shoe that looks fab with everything from bathing suits and frilly sundresses to trousers and the ever-popular maxi skirt.
All of the apparel listed above are trending for summer 2021, and you'll likely see them in combination as well: pastel menswear-inspired pinstripe suits, shimmering slides, and dresses that are both strappy and frilly. If there's one thing we've learned over the past year, it's that hard times do not crush creativity; quite the opposite. Don't be afraid to put your own unique twist on this summer's hottest trends.