Top 4 Sterling Silver Jewelry Trends for Summer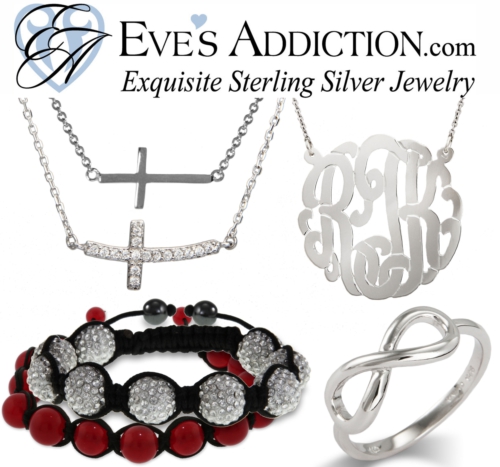 DEEP RIVER, Conn., June 20, 2013 /PRNewswire/ — Sterling silver jewellery is once again at the forefront of summer fashion. Wondering where to find this season's hottest trends and must-have jewellery for less? EvesAddiction.com, an award winning online jewellery retailer, has released the most popular jewellery styles of the season.
"There are so many great options when it comes to sterling silver jewellery . That is why it continues to be the most popular choice when it comes to jewellery styles season after season," said Julie Yarsawich-Groom, merchandising manager at EvesAddiction.com. "Sterling silver jewellery such as the monogram necklace, infinity ring and sideways cross necklace remains the most popular pieces going into the summer."
Sterling silver and cubic zirconia jewellery are always in trend. But there are certain jewellery styles in each category that are more popular for summer. Here are the top 4 must have styles for this summer 2013:
Sideways Cross Necklace

–

Sideways jewellery has become increasingly popular. This summer the sideways cross necklace has already proved itself as a hot style. Celebrities like Kelly Ripa and JLo have both been seen wearing their very own sideways crosses. Available in many styles including cubic zirconia.

Shamballa Bracelet

 –

No summer wardrobe is complete with a bracelet that you can layer with any outfit. Whether you are headed to the beach or out for the night, a wrap bracelet or a shamballa style bracelet is a must.

Monogram Necklace – Personalization is the hot new buzz word and monogram necklaces are the most popular personalized jewellery around. So popular that The Wendy Williams Show featured Eve's Addiction's monogram necklace in April. This is also a hot celebrity style.

Infinity Ring

 –

Infinity jewellery has been one of the most popular style this entire year and is not going away any time soon. Infinity rings are extremely fashionable and also carry a special meaning. Infinity necklaces and bracelets are also hot sellers right now.
"At Eve's Addiction, we watch the trends very closely so we can always offer the latest and most popular styles," Yarsawich-Groom said. "This includes seasonal styles as well as jewellery that gains instant popularity by being worn by a celebrity or featured in a movie."
Eve's Addiction offers fast and free shipping on all orders over $75, free earrings on all purchases over $125 and 60 day returns and exchanges. With thousands of jewellery styles to choose from, an easy on-line customization tool and award winning customer service, EvesAddiction.com is a top rated website for easy and affordable jewellery throughout the year.
To view Eve's Addiction's complete summer look book, click here: http://blog.evesaddiction.com
About EvesAddiction.com
EvesAddiction.com was founded by President and CEO Ray Galeotti. Specializing in sterling silver jewellery and cubic zirconia jewellery the site has grown to include a large collection of personalized jewellery , engraved jewellery , celebrity style jewellery, designer style jewelry, monogram necklaces and more. With the site's online customization tool, award winning customer service and constant new arrivals, Eve's Addiction excels in quality, price and style.
Shoppers can conveniently make jewelry purchases 24 hours-a-day, 7 days-a-week via the toll free number, 1-800-679-3837 as well as online at www.EvesAddiction.com.
Contact: Christine Pafumi
Tel. 1-800-679-3837
Email: christine@evesaddiction.com
SOURCE EvesAddiction.com