Top 10 Most Influential Brands In The World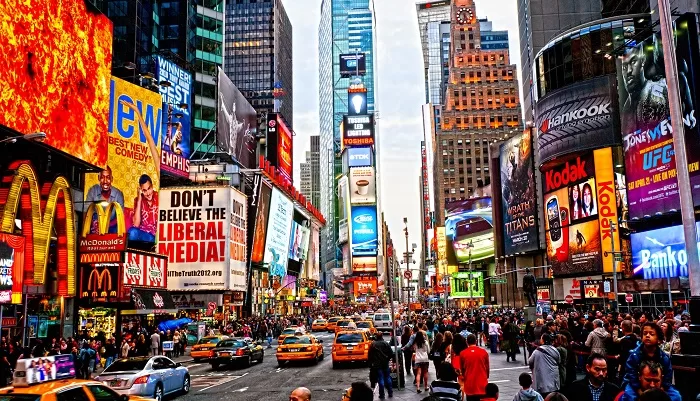 Today, we will be looking at the top 10 most influential brands that have changed the landscape of the branding world over the years.
| | | | | | |
| --- | --- | --- | --- | --- | --- |
| Rank | Brand | Brand Value | 1-Yr Value Change | Brand Revenue | Industry |
|   |   |   |   |   |   |
| 1 | Apple | $241.2 B | 17% | $260.2 B | Technology |
| 2 | Google | $207.5 B | 24% | $145.6 B | Technology |
| 3 | Microsoft | $162.9 B | 30% | $125.8 B | Technology |
| 4 | Amazon | $135.4 B | 40% | $260.5 B | Technology |
| 5 | Facebook | $70.3 B | -21% | $49.7 B | Technology |
| 6 | Coca-Cola | $64.4 B | 9% | $25.2 B | Beverages |
| 7 | Disney | $61.3 B | 18% | $38.7 B | Leisure |
| 8 | Samsung | $50.4 B | -5% | $209.5 B | Technology |
| 9 | Louis Vuitton | $47.2 B | 20% | $15 B | Luxury |
| 10 | McDonald's | $46.1 B | 5% | $100.2 B | Restaurants |
Apple Inc.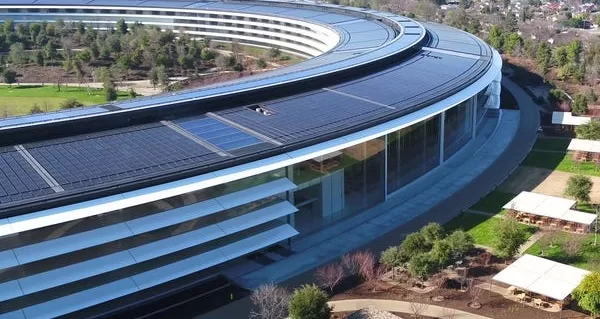 Apple Inc. is an American multinational technology company headquartered in Cupertino, California, that designs, develops and sells consumer electronics, computer software, and online services. It is considered one of the Big Five companies in the U.S. information technology industry, along with Amazon, Google, Microsoft, and Facebook.
The company's hardware products include the iPhone smartphone, the iPad tablet computer, the Mac personal computer, the iPod portable media player, the Apple Watch smartwatch, the Apple TV digital media player, the AirPods wireless earbuds and the HomePod smart speaker. Apple's software includes macOS, iOS, iPadOS, watchOS, and tvOS operating systems, the iTunes media player, the Safari web browser, the Shazam music identifier and the iLife and iWork creativity and productivity suites, as well as professional applications like Final Cut Pro, Logic Pro, and Xcode. Its online services include the iTunes Store, the iOS App Store, Mac App Store, Apple Arcade, Apple Music, Apple TV+, iMessage, and iCloud. Other services include Apple Store, Genius Bar, AppleCare, Apple Pay, Apple Pay Cash, and Apple Card.
Apple was founded by Steve Jobs, Steve Wozniak, and Ronald Wayne in April 1976 to develop and sell Wozniak's Apple I personal computer, though Wayne sold his share back within 12 days. It was incorporated as Apple Computer, Inc., in January 1977, and sales of its computers, including the Apple II, grew quickly. Within a few years, Jobs and Wozniak had hired a staff of computer designers and had a production line. Apple went public in 1980 to instant financial success. Over the next few years, Apple shipped new computers featuring innovative graphical user interfaces, such as the original Macintosh in 1984, and Apple's marketing advertisements for its products received widespread critical acclaim. However, the high price of its products and limited application library caused problems, as did power struggles between executives. In 1985, Wozniak departed Apple amicably and remained an honorary employee, while Jobs and others resigned to found NeXT.
Google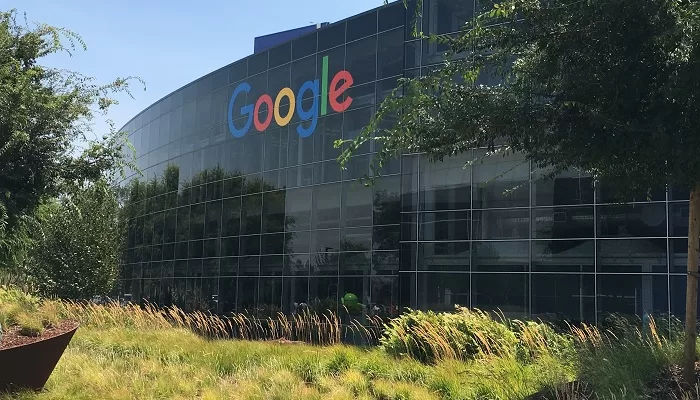 Google, LLC is an American multinational technology company that specializes in Internet-related services and products, which include online advertising technologies, a search engine, cloud computing, software, and hardware. It is considered one of the Big Five technology companies in the U.S. information technology industry, alongside Amazon, Facebook, Apple, and Microsoft.
Google was founded in September 1998 by Larry Page and Sergey Brin while they were PhD students at Stanford University in California. Together they own about 14 per cent of its shares and control 56 per cent of the stockholder voting power through supervoting stock. They incorporated Google as a California privately held company on September 4, 1998, in California. Google was then reincorporated in Delaware on October 22, 2002. An initial public offering (IPO) took place on August 19, 2004, and Google moved to its headquarters in Mountain View, California, nicknamed the Googleplex. In August 2015, Google announced plans to reorganize its various interests as a conglomerate called Alphabet Inc. Google is Alphabet's leading subsidiary and will continue to be the umbrella company for Alphabet's Internet interests. Sundar Pichai was appointed CEO of Google, replacing Larry Page, who became the CEO of Alphabet.
Microsoft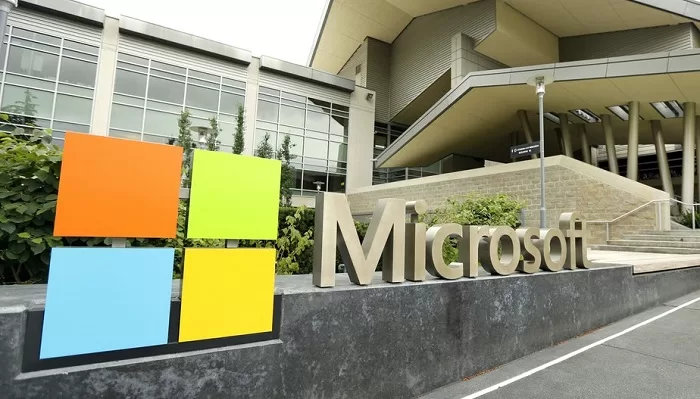 Microsoft Corporation is an American multinational technology company with headquarters in Redmond, Washington. It develops, manufactures, licenses supports, and sells computer software, consumer electronics, personal computers, and related services. Its best-known software products are the Microsoft Windows line of operating systems, the Microsoft Office suite, and the Internet Explorer and Edge web browsers. Its flagship hardware products are the Xbox video game consoles and the Microsoft Surface lineup of touchscreen personal computers. Microsoft ranked No. 21 in the 2020 Fortune 500 rankings of the largest United States corporations by total revenue; it was the world's largest software maker by revenue as of 2016. It is considered one of the Big Five companies in the U.S. information technology industry, along with Google, Apple, Amazon, and Facebook.
Microsoft (the word being a portmanteau of "microcomputer software") was founded by Bill Gates and Paul Allen on April 4, 1975, to develop and sell BASIC interpreters for the Altair 8800. It rose to dominate the personal computer operating system market with MS-DOS in the mid-1980s, followed by Microsoft Windows. The company's 1986 initial public offering (IPO), and subsequent rise in its share price, created three billionaires and an estimated 12,000 millionaires among Microsoft employees. Since the 1990s, it has increasingly diversified from the operating system market and has made a number of corporate acquisitions, their largest being the acquisition of LinkedIn for $26.2 billion in December 2016, followed by their acquisition of Skype Technologies for $8.5 billion in May 2011.
Amazon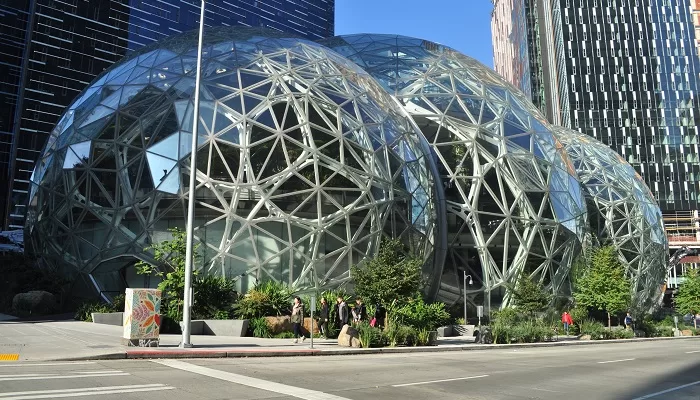 Amazon.com, Inc., is an American multinational technology company based in Seattle, Washington, which focuses on e-commerce, cloud computing, digital streaming, and artificial intelligence. It is considered one of the Big Five companies in the U.S. information technology industry, along with Google, Apple, Microsoft, and Facebook. The company has been referred to as "one of the most influential economic and cultural forces in the world", as well as the world's most valuable brand.
Amazon was founded by Jeff Bezos in Bellevue, Washington, on July 5, 1994. The company started as an online marketplace for books but expanded to sell electronics, software, video games, apparel, furniture, food, toys, and jewellery. In 2015, Amazon surpassed Walmart as the most valuable retailer in the United States by market capitalization. In 2017, Amazon acquired Whole Foods Market for US$13.4 billion, which substantially increased its footprint as a physical retailer. In 2018, Bezos announced that its two-day delivery service, Amazon Prime, had surpassed 100 million subscribers worldwide.
Amazon is known for its disruption of well-established industries through technological innovation and mass scale. It is the world's largest online marketplace, AI assistant provider, live-streaming platform and cloud computing platform as measured by revenue and market capitalization. Amazon is the largest Internet company by revenue in the world. It is the second-largest private employer in the United States and one of the world's most valuable companies.
Facebook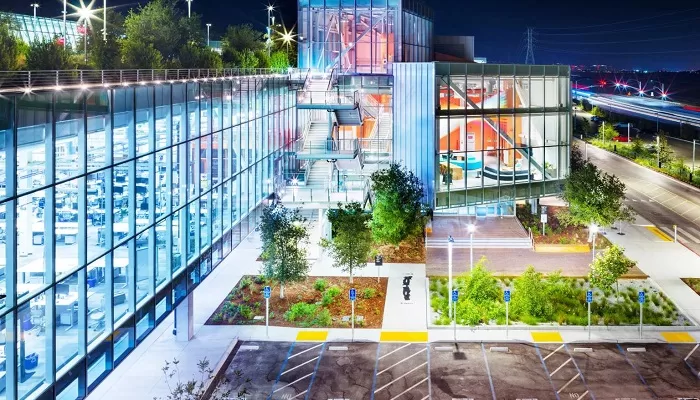 Facebook (stylized as Facebook) is an American online social media and social networking service based in Menlo Park, California, and a flagship service of the namesake company Facebook, Inc. It was founded by Mark Zuckerberg, along with fellow Harvard College students and roommates Eduardo Saverin, Andrew McCollum, Dustin Moskovitz, and Chris Hughes.
The founders of Facebook initially limited membership to Harvard students. Membership was expanded to Columbia, Stanford, and Yale before being expanded to the rest of the Ivy League, MIT, and higher education institutions in the Boston area, then various other universities, and lastly high school students. Since 2006, anyone who claims to be at least 13 years old has been allowed to become a registered user of Facebook, though this may vary depending on local laws. The name comes from the face book directories often given to American university students.
Facebook can be accessed from devices with Internet connectivity, such as personal computers, tablets and smartphones. After registering, users can create a profile revealing information about themselves. They can post text, photos and multimedia which is shared with any other users that have agreed to be their "friend", or, with a different privacy setting, with any reader. Users can also use various embedded apps, join common-interest groups, buy and sell items or services on Marketplace, and receive notifications of their Facebook friends' activities and activities of Facebook pages they follow. Facebook claimed that it had more than 2.3 billion monthly active users as of December 2018, and it was the most downloaded mobile app of the 2010s globally.
Coca-Cola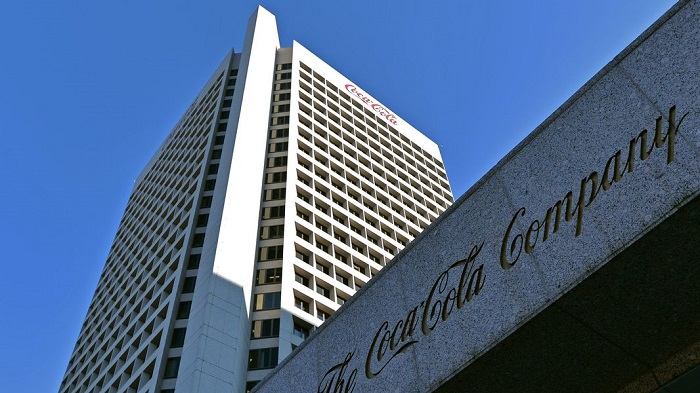 Coca-Cola, or Coke, is a carbonated soft drink manufactured by The Coca-Cola Company. Originally marketed as a temperance drink and intended as a patent medicine, it was invented in the late 19th century by John Stith Pemberton and was bought out by businessman Asa Griggs Candler, whose marketing tactics led Coca-Cola to its dominance of the world soft-drink market throughout the 20th century. The drink's name refers to two of its original ingredients: coca leaves, and kola nuts (a source of caffeine). The current formula of Coca-Cola remains a trade secret; however, a variety of reported recipes and experimental recreations have been published.
The Coca-Cola Company produces concentrate, which is then sold to licensed Coca-Cola bottlers throughout the world. The bottlers, who hold exclusive territory contracts with the company, produce the finished product in cans and bottles from the concentrate, in combination with filtered water and sweeteners. A typical 12-US-fluid-ounce (350 ml) can contain 38 grams (1.3 oz) of sugar (usually in the form of high-fructose corn syrup). The bottlers then sell, distribute, and merchandise Coca-Cola to retail stores, restaurants, and vending machines throughout the world. The Coca-Cola Company also sells concentrate for soda fountains of major restaurants and foodservice distributors.
Disney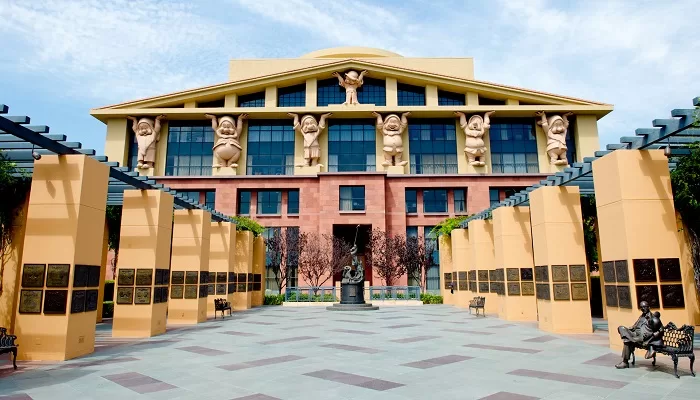 The Walt Disney Company, commonly known as Disney is an American diversified multinational mass media and entertainment conglomerate headquartered at the Walt Disney Studios complex in Burbank, California.
Disney was originally founded on October 16, 1923, by brothers Walt and Roy O. Disney as the Disney Brothers Cartoon Studio; it also operated under the names The Walt Disney Studio and Walt Disney Productions before officially changing its brands name to The Walt Disney Company in 1986. The company established itself as a leader in the American animation industry before diversifying into live-action film production, television, and theme parks.
Since the 1980s, Disney has created and acquired corporate divisions in order to market more mature content than is typically associated with its flagship family-oriented brands. The company is known for its film studio division, The Walt Disney Studios, which includes Walt Disney Pictures, Walt Disney Animation Studios, Pixar, Marvel Studios, Lucasfilm, 20th Century Studios, Searchlight Pictures, and Blue Sky Studios. Disney's other main business units include divisions in television, broadcasting, streaming media, theme park resorts, consumer products, publishing, and international operations.
Samsung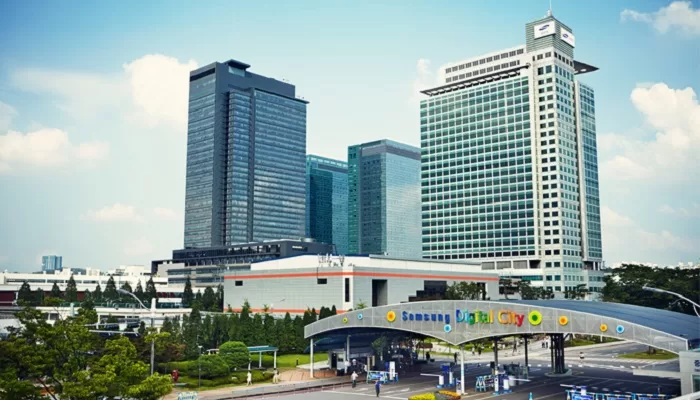 The Samsung Group is a South Korean multinational conglomerate headquartered in Samsung Town, Seoul. It comprises numerous affiliated businesses, most of them united under the Samsung brand, and is the largest South Korean chaebol (business conglomerate).
Samsung was founded by Lee Byung-Chul in 1938 as a trading company. Over the next three decades, the group diversified into areas including food processing, textiles, insurance, securities, and retail. Samsung entered the electronics industry in the late 1960s and the construction and shipbuilding industries in the mid-1970s; these areas would drive its subsequent growth. Following Lee's death in 1987, Samsung was separated into four business groups – Samsung Group, Shinsegae Group, CJ Group and Hansol Group. Since 1990, Samsung has increasingly globalised its activities and electronics; in particular, its mobile phones and semiconductors have become its most important source of income. As of 2020, Samsung has the 8th highest global brand value.
Notable Samsung industrial affiliates include Samsung Electronics (the world's largest information technology company, consumer electronics maker and chipmaker measured by 2017 revenues), Samsung Heavy Industries (the world's 2nd largest shipbuilder measured by 2010 revenues), and Samsung Engineering and Samsung C&T (respectively the world's 13th and 36th largest construction companies). Other notable subsidiaries include Samsung Life Insurance (the world's 14th largest life insurance company), Samsung Everland (operator of Everland Resort, the oldest theme park in South Korea) and Cheil Worldwide (the world's 15th largest advertising agency, as measured by 2012 revenues).
Louis Vuitton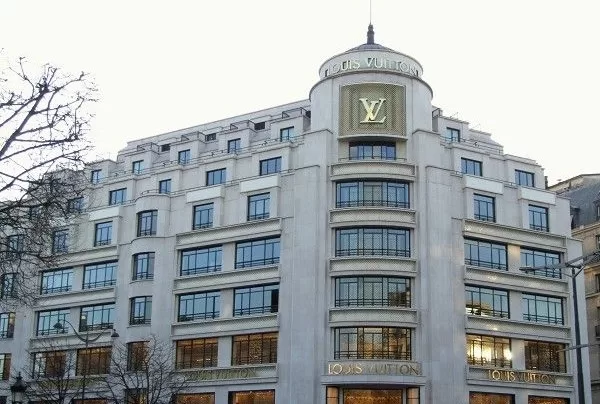 Louis Vuitton Malletier commonly known as Louis Vuitton or shortened to LV is a French fashion house and luxury goods company founded in 1854 by Louis Vuitton. The label's LV monogram appears on most of its products and brands, ranging from luxury trunks and leather goods to ready-to-wear, shoes, watches, jewellery, accessories, sunglasses and books. Louis Vuitton is one of the world's leading international fashion houses; it sells its products through standalone boutiques, lease departments in high-end department stores, and through the e-commerce section of its website.
For six consecutive years (2006–2012), Louis Vuitton was named the world's most valuable luxury brand. Its 2012 valuation was US$25.9 billion. The 2013 valuation of the brand was US$28.4 billion with revenue of US$9.4 billion. The company operates in 50 countries with more than 460 stores worldwide
McDonald's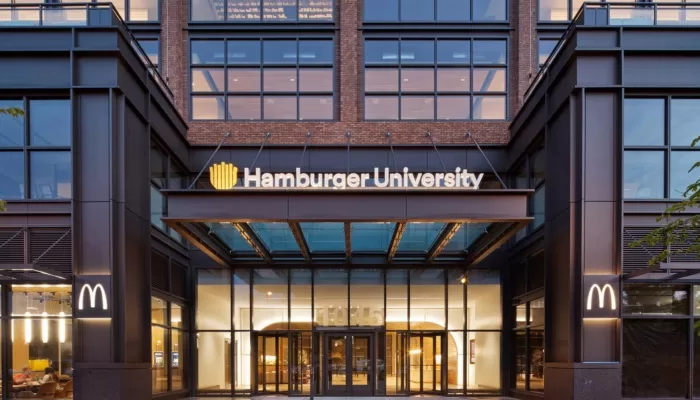 McDonald's Corporation is an American fast-food company, founded in 1940 as a restaurant operated by Richard and Maurice McDonald, in San Bernardino, California, United States. They rechristened their business as a hamburger stand, and later turned the company into a franchise, with the Golden Arches logo being introduced in 1953 at a location in Phoenix, Arizona. In 1955, Ray Kroc, a businessman, joined the company as a franchise agent and proceeded to purchase the chain from the McDonald brothers. McDonald's had its original headquarters in Oak Brook, Illinois, but moved its brands global headquarters to Chicago in June 2018.
McDonald's is the world's largest restaurant chain by revenue, serving over 69 million customers daily in over 100 countries across 37,855 outlets as of 2018. Although McDonald's is best known for its hamburgers, cheeseburgers and french fries, they feature chicken products, breakfast items, soft drinks, milkshakes, wraps, and desserts. In response to changing consumer tastes and a negative backlash because of the unhealthiness of their food brands, the company has added to its menu salads, fish, smoothies, and fruit. The McDonald's Corporation revenues come from the rent, royalties, and fees paid by the franchisees, as well as sales in company-operated restaurants. According to two reports published in 2018, McDonald's is the world's second-largest private employer with 1.7 million employees (behind Walmart with 2.3 million employees).