Tokio Marine Brings Cheer To Singapore General Hospital Staff in Latest CSR Initiative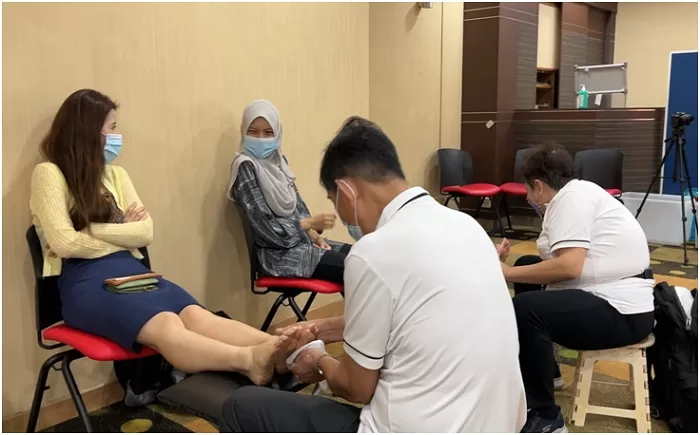 Tokio Marine Life Insurance Singapore (TMLS) brought back its well-received "Caring From Top To Toe" corporate social responsibility (CSR) initiative in September. The initiative's second edition saw Singapore General Hospital (SGH) healthcare staff treated with 20-minute massages, in appreciation of their tireless efforts over the past few years as well as their ongoing contributions.
The heart and soul of the frontlines. That was, and is, the role healthcare staff continue to play as key members of our community, whether by working directly with patients, or by providing much-needed behind-the-scenes support.
To show them care and express appreciation for their tireless dedication and selfless contributions, TMLS brought back its successful CSR campaign, "Caring From Top To Toe" last month, for a second edition. The life insurer was pleased to extend the initiative's positive impact to a healthcare institution that has been playing a significant role in the fight against Covid-19: SGH.
Through the gift of massage treats, TMLS brought cheer to about 200 healthcare staff from the hospital, allowing them well-deserved respite and relief amid their busy schedules. From 26 to 28 September 2022, mobile stations were set up by qualified, visually handicapped masseurs at SGH for three hours daily, to provide the hospital's healthcare staff with 20-minute head and shoulder or foot massages.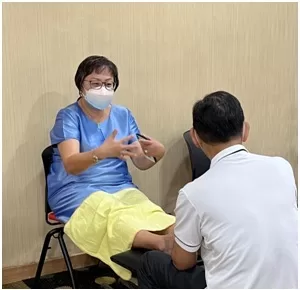 SGH Senior Patient Experience Manager Koh Yee Mui — who TMLS learnt had an impressive 50 years of nursing experience under her belt — was one of the staff who enjoyed a massage on the very first day the mobile stations arrived at SGH.
She conveyed her gratitude to TMLS for the relaxing session: "It helped me to wind down after a tense day — a good and beneficial experience. I think that it is a very good initiative for the benefit of the staff, because they work very hard. Thank you Tokio Marine!"
SGH Communications Director Angela Ng also expressed appreciation for TMLS' thoughtful gift on behalf of the hospital's staff. "For almost three years now, our staff have been working long and hard at the frontlines of the Covid-19 pandemic… (They) had been looking forward to this treat — to have their aching muscles relieved by the masseurs," she shared.
On top of providing care for the healthcare staff from head to toe through the gift of massages, the dual-pronged CSR effort furthered TMLS' efforts to promote a more inclusive society. Through engaging qualified, visually handicapped masseurs from a mobile massage team for the event, TMLS supported them in their independence and resilience.
Daisy Keh, a masseur who has been with the mobile massage team for 17 years, shared with TMLS the sense of satisfaction she receives at being able to care for others through the healing power of touch. "It is a delight when customers feel relieved after our massage and appreciate the services we rendered," she said.
The meaningful CSR initiative was first incepted last year, while the Covid-19 pandemic was still raging. The pandemic highlighted the cruciality of frontliners' work and the need to extend encouragement and appreciation to them, as well as to provide them with a well-deserved respite during a busy and dynamic period.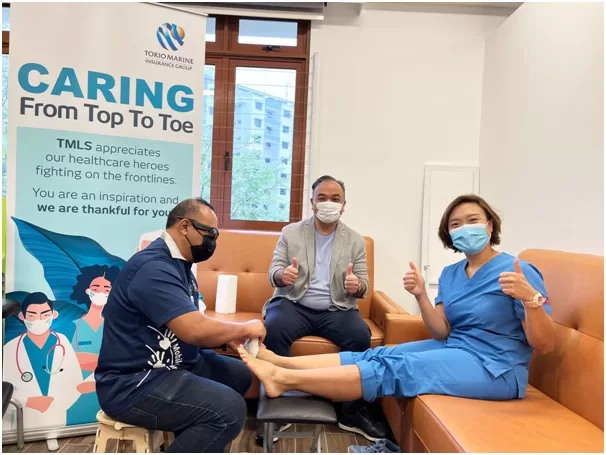 The first edition of "Caring From Top To Toe" (pictured above), which came into fruition in November 2021, had benefitted nursing professionals from the Home Nursing Foundation (HNF) — another vital organisation at the frontlines. Across three days in end-November, TMLS had similarly extended massage treats to the HNF professionals at various locations across the island.
Visually handicapped masseurs from the same mobile massage team had also been engaged and empowered by this first edition of the initiative. The team's leader had revealed the challenge of securing bookings amid the pandemic and the impact of this on the livelihood of the masseurs.
As a Good Company that Looks Beyond Profit to the interests of its stakeholders, TMLS recognises the importance of continuing to commit to giving back to the community. Moving forward, TMLS will continue to seek more opportunities to do good and achieve lasting, positive impact. One initiative in the works is a dinner to be held later this year to celebrate persons living with dementia as well as their courageous caregivers.