The Winner Of $5000 In Cash In The First Tour Of "Go for Dreams" Was Born.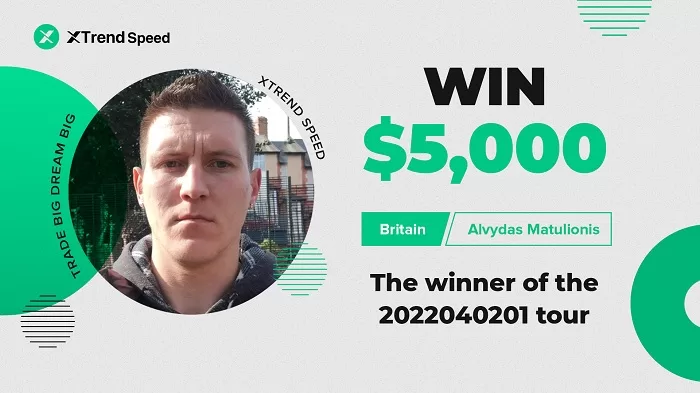 Alvydas Matulionis, a lucky individual investor from Lithuania. He currently lives and works in the UK. He is the operator of an Internet company. Like many young people, he likes swimming, playing football and travelling.
Alvydas Matulionis, has been engaged in investment for many years. He became our client two years ago. He has participated our activity "Go for Dreams" recently. He traded to get dream numbers and then won the prize of the first tour.
Alvydas Matulionis said," I signed up for an XTrend Speed account and got a $100 Credit two years ago, and I used the $100 Credit to execute a few trades. I experienced smooth trade on this app, but I was a little unfamiliar with the brand at that time. Until March 2022, I received an email from XTrend Speed saying that it has been awarded with "Best New Forex Trading Platform-Europe", and then I made deposits to execute a few trades. Unbelievably, I am so lucky that I win $5000 in cash."
" To be honest, I don't think I will win because I don't redeem many tickets. However, I finally win $5000 in cash. It is unbelievable. I think I will save a sum of money, and I will use the rest of the money to have a trip abroad. This is a fair and transparent event, and I look forward to winning prizes again.
Are you excited to see this? Alvydas Matulionis get profits more than 100 times the small investment he has made. You don't have to focus on the market trend all day long, because XTrend Speed is featured with many intelligent functions such as "Stop Loss", "Get Profits" and "Pending Orders", and timely alert of crucial market information. Even if you are working or traveling, you can also invest with XTrend Speed.
Adhering to the principle of "TRADE BIG·DREAM BIG", XTrend will carry out activities for investors to realize their dreams from time to time. "Go for Dreams" is one of the best. XTrend Speed team has determined the activity form and prizes after 120-day deliberation. The activity of "Go for Dreams" is valid for a long time. The winning number is randomly selected. The winning number of this tour is 00500, and the draw time is 2022/04/08 21:30(UTC).
"Go for Dreams" is a fair and transparent activity. The winning numbers are based on the opening prices of two U.S. stocks. The specific calculation rules are as follows:
Step1: Generate a six-digit number A. The first three digits of A are taken from the ones place, first decimal place, and second decimal place of the opening price of two US stocks. The last three digits of A are taken from the ones place, first decimal place, and second decimal place of the opening price of US stock. If the quotes from &value& don't have first or second decimal place, the corresponding value is replaced by 0.
Step 2: Divide A by B (the total Dream Numbers issued in this tour) to get the remainder C.C is the winning number.
We affirm that every client has the equal opportunity to get prizes. Executing a trade makes it possible to win $5000 in cash.
XTrendSpeed hopes that every investor can come out on top, so we affirm every winner is born based on fair and transparent activity rules. No matter you are a novice trader or a master trade, you will have equal opportunities.
The activity was available on 2nd April 2022, and it will be valid for a long term. Prizes of each tour are different, but they will exceed your expectations. Prizes include but are not limited to a Porsche sports cars, $5000 in cash, real estate and Apple's latest Electronic products.
A Porsche sports car
A house
Domestic and foreign luxury tours
$5000 in cash
Apple's latest electronic products
……
Start participating in the activity, and you may be the winner of the next tour!
How to participate
As a new client, you can download XTrendSpeed, sign up for an account, execute trades with cash, and then you can participate.
As an old client, you can open XTrendSpeed, execute trades with cash and then participate.
Website: www.xtrendspeed.com
Activity Rules
Clients need execute trade with cash. A single $10 or more trade in cash will trigger one Number Coupon, and Number Coupon is used to redeem Dream Number.
The winning numbers will be announced after all of Dream Numbers are redeemed every time. Here is the announcement time.
Daylight saving time (UTC): 13:30
Standard time (UTC): 14:30
Open XTrend Speed for more details!
If you have any questions about the activity, you can enter the activity page to know more, or contact the online customer service staff of XTrend Speed who will answer your questions 24/7.
Enjoy your trading!