The Second Round Of "Go For Dream" Will Begin. Big Prizes Are Being Bestowed!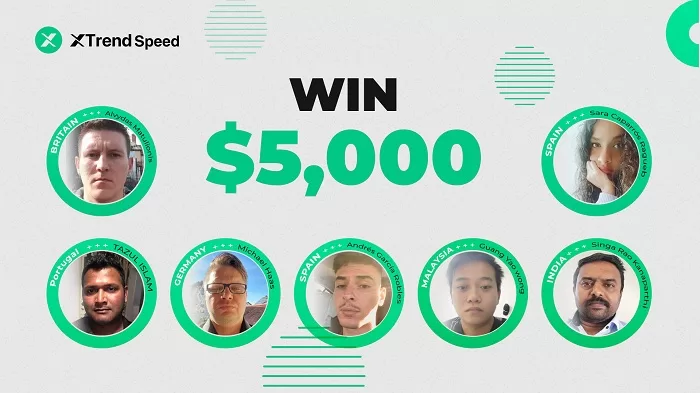 There have been 7 winners for the first round of "Go for Dreams" winning $5000 each
There have been hundreds of thousands of participants since "Go for Dreams" was available on 2nd April. More than one million dream numbers have been redeemed. The number of participants is increasing on the event's hotness.
As of the date of writing, there have been 7 winners getting $5000 in cash each. Let's congratulate these seven lucky winners!
"I work in my favorite job with which i managed to win a big jackpot in my experience ira two years,since then as suggested to me by a friend and then i can thank XTrend for already getting the prize now, I will think where she put it hopefully this is my first jackpot and not the last."–AlvydasMatulionis
"In my eyes XTrend speed is a trusted platform. And it is strictly regulated by qualified and trusted regulator agencies.Hence people from many other countries invest their money with this platform ."–TAZUL ISLAM
"I personally think XTrend Speed is a pretty good formal platform. It is strictly supervised by multiple regulatory agencies and is very reliable."–Andrés García Robles
"$5000 in cash, this is the first time I've won such a big prize, thanks to XTrend Speed.
I have improved my trading skills through the XTrend Speed platform, XTrend Speed has many useful trading features."–Guang Yao wong
"In past 3 years I have been improving day by day in online trading using Xtrend Speed app.
Because, there are many videos and tips in Xtrend Speed forum, to improve your self in online trading.
Come join and avail the life changing gifts."–SingaRao Kanaparthi
"My experience in this field is very positive. I recommend it to you. I want to share this prize with my family. I want to travel and save.After testing several applications, I chose this because it was very simple. Thank you very much and good luck!"–Sara Caparrós Ragueb
Has your enthusiasm for the event is aroused? XTrendSpeed is committed to truly realizing dreams for users. The recognition and support of users is the driving force for XTrendSpeed to move forward!
Thank users for continued trust and support for XTrend Speed. We have received helpful advice on "Go for Dreams" from users, which touches us all deeply. We are very happy to truly think about users, adhere to the concept of "TRADE BIG, DREAM BIG" that XTrendSpeed upholds, and realize the dreams of users.
The second round of "Go for Dream" will be available
To show gratefulness to users, the XTrendSpeed team have decided to start the second round of the "Go for Dream" at the same time as the first round to increase the winning rate of users.
Two tours will occur in the second round, which will increase the winning rate. Prizes of each tour are different, but they will exceed your expectations. Prizes include but are not limited to a Porsche sports cars, $5000 in cash, real estate and Apple's latest Electronic products.
A Porsche sports car
A house
Domestic and foreign luxury tours
$5000 in cash
Apple's latest electronic products
……
Start participating in the activity, and you may be the winner of the next tour!
Two ways to participate in the second round
The first one is like the first round. Users trade with cash and then get tickets, and then they should use tickets to redeem dream numbers within the validity period. The winner will be born if his/her dream number is consistent with the announced winning number.
The second one is the newly added pattern. Users can check in, do tasks or share the link to get participated in the event automatically and get free dream number. We may also give you dream numbers to make users be involved in the event. The winner will be born if his/her dream number is consistent with the announced winning number.
The way how winning number occur
Every round of "Go for Dreams" is fair and transparent. The dream numbers of two rounds are based on the opening price of the cryptocurrency or the US stocks on the chart of the hour, which can avoid the unfairness of the number selection caused by human beings and distribute the chance of winning the prize to each participant to the greatest extent. Every participant have an opportunity to win $5000 in cash.
How to participate
As a new client, you can download XTrendSpeed, sign up for an account, execute trades with cash, and then you can participate.
As an old client, you can open XTrendSpeed, execute trades with cash and then participate.
Download link: https://play.google.com/store/apps/details?id=com.rynatsa.xtrendspeed
XTrendSpeed has the access to MT4 platform
Users can switch between the STrade platform and the MT4 platform according to their preferences, and there is no commission for the mutual transfer of funds between the platforms.
XTrend Speed's official website link: https://www.xtrendspeed.com/en-US
If you have any questions about the activity, you can enter the activity page to know more, or contact the online customer service staff of XTrend Speed who will answer your questions 24/7.
Enjoy your trading!