The Most Well-Known Skate Brands In The Skateboarding Industry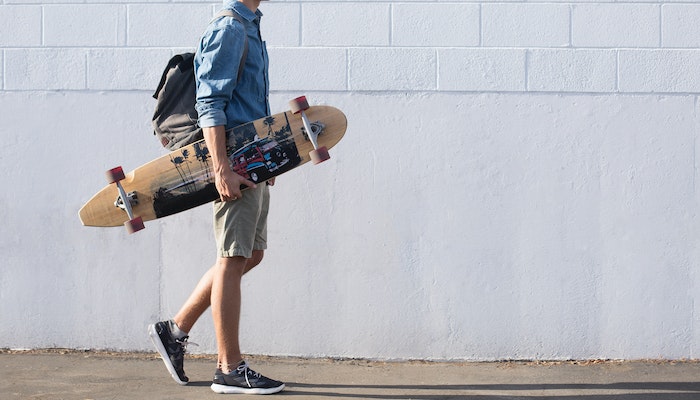 Skate culture has changed in recent years, especially with the media now embracing the sport. For a long time, games like Tony Hawk's Pro Skater have been played by people all over the world. Despite the original being released in 1999, new versions continue to be made, with the latest one unveiled last year. It has also grown as a real-life sport, especially since its inclusion at the 2020 Tokyo Olympics.
In recent years, the fashion industry too has been heavily impacted by skateboarding and has embraced what is sometimes referred to as 'skatewear'. The sport is even being brought into local communities with more and more skateparks being built. So, which skate brands have stood out in the skateboarding industry over the years when it comes down to where you should get your newest gear from? Read on to find out more.
Best skate brands for decks & skate accessories
Santa Cruz
As one of the oldest skate brands to have been continuously in business, Santa Cruz is still a prominent brand in the skateboarding world. Originally a surfboarding company, their first skateboard was produced in 1973 and was an instant hit. They are also known for the innovation and development within skateboarding, even creating their own version of skateboard wheels, improving on the loose ball bearings being used at the time.
Spitfire Wheels
Spitfire Wheels are another iconic skate brand which has an incredible history. They are commonly seen amongst high-profile athletes and have continued to develop since the company's creation in 1987. Known for their increased durability and ever-improving revisions, Spitfire Wheels have developed options for skateboarders all the way from beginners to pros, with quality skate equipment for all. As such, this skate brand has earned their place as one of the skateboarding greats in the industry.
Most iconic skate brands for clothing & footwear
Vans
Vans have become synonymous with skateboarding after being founded simply as a shoe shop. Due to cofounder James Van Doren's son's interest in skating, the company moved towards this niche. Supported by the durability and high levels of grip necessary for skateboarding, the popularity of Vans' shoes grew and have remained in demand amongst the community.
Converse
The shoe, clothing and accessory company, Converse, has become inextricably linked to skateboarding and even boasts its own dedicated line of skateboarding shoes, designed especially for the activity. While their shoes are worn in all walks of life today, they are still fairly popular amongst skaters and is one of the most well-known shoe brands in the world. Over the brand's history, there have been many collaborations with Converse to bring iconic and creative designs to the footwear industry.
Etnies
Still owned by the original founder, Pierre André Sénizergues, Etnies is a shoe company that revolutionised footwear in skateboarding. The skate brand introduced the concept of pro skate shoes which are now a key item for any skateboarder who wants to be taken seriously. With the brand being owned by skaters, this has helped the company grow a reputation for creating durable products. They are also renowned for their good deeds, having given away tens of thousands of shoes as well as participating in other environmental and local community-based campaigns.
Top skate brands which professional skaters use
Sky Brown
Companies such as Nike are not just known for releasing innovative new footwear, but they are also known for sponsoring some of the biggest names in the sporting industry too. In the skateboarding industry alone, Nike has sponsored professional skaters like Nyjah Huston, Leticia Bufoni, and many more. Sky brown is also sponsored by Nike and the move makes her the youngest Nike-sponsored athlete in the world. Team GB's youngest Olympian and bronze medal winner at just 13, Sky Brown has really broken onto the skateboarding scene in recent years. She is also supported by Almost Skateboards, a high-end American-based skateboard company.
Tony Hawk
Earning his first sponsor at the age of 12, Tony Hawk has gone on to become one of the most successful and influential skaters in the industry. He is currently sponsored by great skate brands such as Independent Truck Co, which was formed after years of development when Ermico Enterprise and NHS, Inc. joined forces. Despite so many significant changes, some skaters firmly stick to equipment from a certain time period of Independent Truck Co's production. Tony Hawk also co-founded the skateboarding deck and clothing company Birdhouse, and creates many great skateboard equipment, apparel, and accessories. The brand is also heavily featured in his series of skateboarding video games.