The Gear You Need if You Want to Be a DJ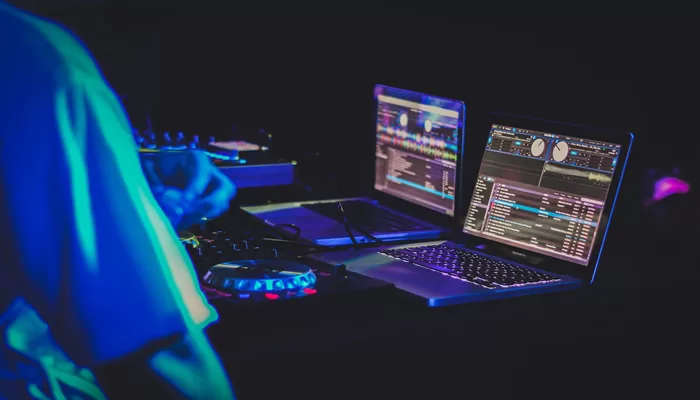 Setting up as a DJ for the first time can be a pricey affair. Set your sights on the highest-grade gear the market has to offer and things can quickly become expensive.
But in terms of the bare-bones basics, what do you actually need to get started as a DJ? Leaving all the superfluous extras out of the equation, what can you get away with as introductory setup?
Personal preference plays a role, as does the type of DJ you want to be. Though in the most instances, the following will form the backbone of your DJ business as a newcomer:
A DJ Controller
A DJ controller combined with a laptop is basically all you need to get things up and running. Popular examples of which include the Pioneer DJ DDJ-REV1 and Numark Mixtrack Platinum FX, which can be just the thing to get a new DJ business off the ground.
These things are as close as it gets to an all-in-one solution, providing the features and interface needed to interact with your digital music library. They comprise physical deck sections, and inbuilt mixer and a ton of effects. The only other thing you will need is a decent set of headphones or speakers – everything else is built into the unit.
DJ Software
Depending on the type of controller you pick up, you may or may not need to splash out on a DJ software package. Some come complete with the latest pro-level software, while others include a free introductory subscription only.
The most popular DJ software packages are as follows:
Rekordbox(PC/Mac)
Serato DJ Lite(PC/Mac)
Serato DJ Pro(PC/Mac)
Virtual DJ(PC/Mac)
Traktor(PC/Mac)
Algoriddim Djay(PC/Mac/iOS)
Make sure you check whether your controller comes with DJ software as part of the package, or you will need to add it on as an extra cost.
DJ Headphones or Speakers
A fantastic pair of DJ headphones can be picked up for next to nothing. When starting out as a newcomer, you may as well pick up something that is going to keep you going indefinitely.
Examples of which include the Pioneer DJ CUE1 and the legendary Sennheiser HD25 – neither of which is particularly expensive, yet delivers everything an ambitious DJ could ask for.
Speakers on the other hand are technically optional. Most of the venues you will be playing will have their own PAs and speaker systems for you to use. If you want to pick up your own monitors to use at home, Pioneer's DJ VM50 is just about as good as it gets for the aspiring DJ.
Turntables
Anyone looking to take things in a more old-school direction will also need to set themselves up with a pair of turntables. Negotiating what appears to be a minefield can seem daunting at first but can be narrowed down by setting your sights on something tried, tested and trusted.
For example, the Reloop RP2000 MK2 is a fantastic direct drive option for a ridiculously low price, while the Audio Technica AT-LP120XUSB with its USB port paves the way for even greater flexibility. Decks are technically optional, particularly if picking up a DJ controller that features digital deck, but they are always fun to play with.
DJ Lessons
It is worth considering setting at least a bit of your budget to one side for tuition, if not on a one-to-one basis, then perhaps in the form of an online course.
There are some fantastic virtual training programs available right now for aspiring DJs which can be taken 24/7 from anywhere in the world. Particularly when it comes to negotiating that rather steep initial learning curve, a few words of wisdom from those in the know can make all the difference.