The oven is the centerpiece of many kitchens around the world, but more so in the West and less so in Asia. A good oven is an investment and it is worth doing your research and deciding what you want before making a purchase.
You can choose from freestanding ovens, built-in microwaves, and combination microwave/oven appliances. The two most popular types of electric ovens in the UK (and the rest of Western Europe) are:
Conventional oven – an electric version of a gas or coal-fired oven.
Fan-assisted oven – these use fans and microwaves to distribute the heat more evenly than conventional electric or gas/coal-fired models. You can also cook several dishes at once, as they have two fan speeds to help you cook different dishes at the same time.
If you are buying a new oven, make sure it's easy to clean and has an interior light so you can see what is cooking inside. Be careful not to buy an oversized oven; if your range hood or extractor fan doesn't remove all the steam and smoke, the oven will take longer to cook food.
You can also upgrade your existing electric oven by installing a convection fan. This is like an extractor fan that circulates hot air around the food as it cooks – useful if you are cooking for many people at once or if you love to bake.
Here are the best brands of the oven out there:
5. NEFF N 70 B57CR22N0B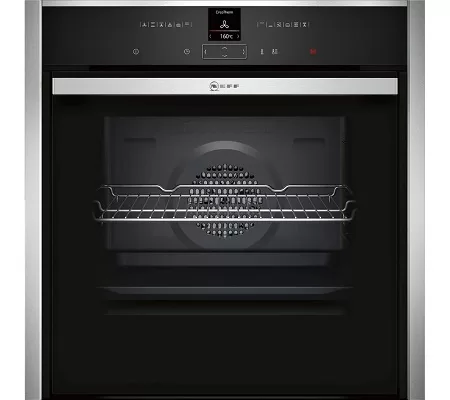 This oven has a wide range of settings, including flexible programs for baking cakes and pies, grilling fish or chicken fillets, slow-cooking meat at low temperatures for several hours, and more. The timer can be set to count up or count down so you know exactly how long your food will take to cook without having to check.
The large window makes it easy to check on your food when you are cooking, and the interior light is handy too. This oven is very simple to use, with buttons clearly labeled so less experienced cooks won't have any problems following recipes.
4. Frigidaire GCRE3060AF1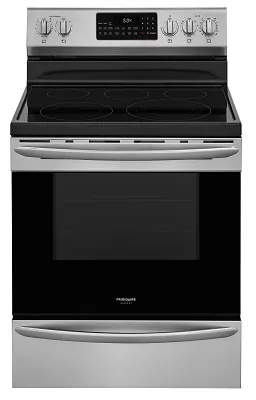 This is a good budget option if you are looking for an electric oven. The Frigidaire GCRE3060AF1 has two heating elements, one on the top and the other at the bottom of the oven, which makes it easy to cook different dishes at once. It's also easy to clean as you can remove the crumb tray from the bottom of the oven.
However, it has a shorter cooking time than most other electric ovens (1 hour 30 minutes for baking pizza or 3 hours 20 minutes for roasting). The Frigidaire GCRE3060AF1 is a good choice if you are buying a new oven or upgrading your existing one.
3. Samsung NE58F9710WS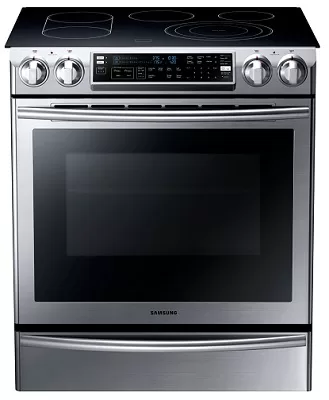 This is Samsung's top-of-the-range range oven. It has a large 58L capacity, with four gas burners and two additional cooking zones that can be used as either grill or roasting racks. The touch controls are easy to use and the LED display shows how long it will take to cook your food.
The oven features the 'True European Convection' system that provides even heat distribution, as well as a multi-function steam cleaning system for easy washing. There are three different functions – normal wash, intensive clean, and anti-bacterial treatment – which you can use, depending on how dirty and grease-encrusted your oven is.
You can also easily control the temperature of your food, thanks to the three cooking functions: slow cook, conventional bake, and quick broil. It has a large 190mm fan for better circulation during baking and roasting. And there's a baking tray included too.
2. Electrolux E130EF45QS Electric Range
If you're looking for a kitchen item that will give you more space, less work, and save time then the Electrolux E130EF45QS is exactly what you need. This oven is one of those appliances that allow cooking as many as six dishes at once. It also has two speeds to allow you to cook different meals at the same time.
It also has separate timers for each dish, making it easy to know when your food is done without having to open the door and check on them frequently. The Electrolux E130EF45QS features a fan that uses air convection technology to cook your food faster and more evenly.
The Electrolux E130EF45QS features an energy-saving mode, which reduces the power consumption to only 80% of its original level. This makes it environmentally friendly and more efficient than other electric ovens. The Electrolux E130EF45QS has a very stylish design that will look great in any kitchen. It's available in black or white and comes with a full three-year warranty.
1. GE JB655YKFS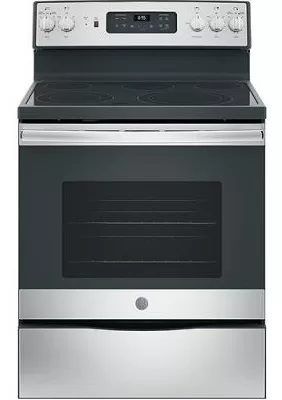 This is a top-of-the-range conventional oven from General Electric. It has four cooking modes – bake, broil, roast, and toast – as well as a convection mode that uses hot air to circulate around the food as it cooks. It has a high power mode for deep frying and baking, and an energy-saving mode that uses less electricity to cook your food at lower temperatures.
With seven cooking modes, this oven from Bosch is ideal if you like to bake as well as heat up a frozen pizza or cook a roast chicken. It has an auto shut-off function that will turn the oven off if it is not used for over ten minutes, which saves you money on your electricity bill.
This combined microwave/oven from Bosch is ideal if you want to cook frozen pizzas and other ready meals as well as a roast chicken or chips. It has several cooking modes, including one for defrosting and reheating food, as well as an auto shut-off function to save you money on your electricity bill.
This is a powerful convection oven from Bosch that comes with five cooking modes – bake, broil, roast, toast, and convection. It has an auto shut-off function that will turn the oven off if it is not used for over ten minutes, which saves you money on your electricity bill.
So there you have it, our top picks for best brands of ovens. The choice is yours; we hope this guide has helped you make an informed decision and that you enjoy making lots of delicious meals using your new hot-air cooker.
We'd love to hear from you! If you have any questions, comments, or feedback on our choices, please leave us a comment below.