The 2015 Cadillac Escalade – Redefining standards in Luxury, Technology and Safety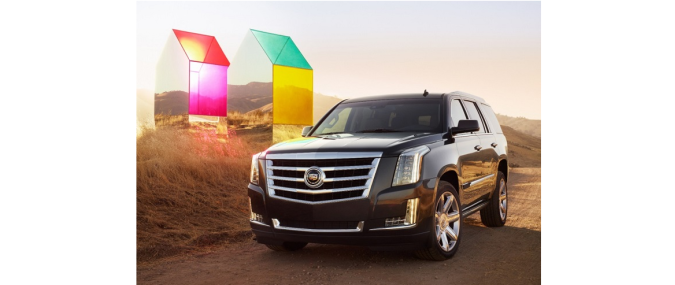 The 2015 Cadillac Escalade will take luxury to an all new high in every single aspect with precisely crafted interiors and sophisticated technology.
The all-new interiors of the Cadillac are a combination of advanced technology and handcrafted luxury elements. The cut and sew interiors are a result of a combination of expert craftsmanship and advanced technique and enable an elegant and precise surfacing of the instrument panel and door areas. The seats have been engineered to provide better comfort and sculpted appearance and the design also incorporates dual firmness-foam for comfort during long trips.
While the new body structure, enhanced acoustic material and Noise cancellation technology from Bose offer quietness to the interiors, the exteriors have new and sophisticated features that have been accented by a dramatic LED lighting. Real wood trim accents and triple sealed doors have been designed to give the appearance and feel of ultimate lavishness.
Offering connectivity, luxury and safety for up to eight occupants, the technical features and controls have been desined to provide a bold and modern element to the design.
Arriving for sale from next spring, the 2015 Escalade will be available in standard length and ESV. It will also be available in both rear and all wheel drive. Its 6.2 liter V8 engine boasts of 420 horsepower and 460 lb-ft of torque. The direct fuel injection and cylinder displacement system offers improves fuel efficiency.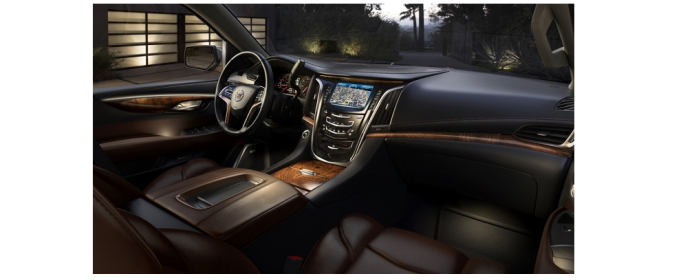 The Escalade also offers CUE infotainment system with an additional screen which serves as a reconfigurable instrument cluster. In addition to this, Cadillac will also offer an optional Blu-Ray/ DVD entertainment system.
The Escalade's all new technology has safety features to help the occupants before, during and after a collision has occurred. The front and rear automatic breaking that rely on radar technology and ultrasonic sensors help the driver avoid front and rear collisions at low speeds with progressing alerts that extend up to complete breaking if necessary. The front seat centre-mounted air bag has been engineered to provide increased protection to drivers and front passengers. The Driver safety awareness package includes Forward collision alert, Warning system for Lane Departure and the safety alert seat that suggests directional vibrations and alert the driver about a potential crash. The package also offers Adaptive Cruise control, Automatic breaking, Automatic seat belt tightening and Automatic collision preparation.
Along with all the luxury features, the Escalade also comes with greater security features to prevent thefts. It includes inclination, intrusion and glass break sensors. Apart from triggering the vehicle's alarm system, the features also shut down the key control system and make it almost impossible to start or move the vehicle. The features also include OnStar Stolen Vehicle Assistance which will help the police locate the vehicle, if the attempt to move the car does prove successful.