Thankful For 2022: RLC Residences Celebrates Steady Growth, Award-Winning Projects, and Multiple Brand Accolades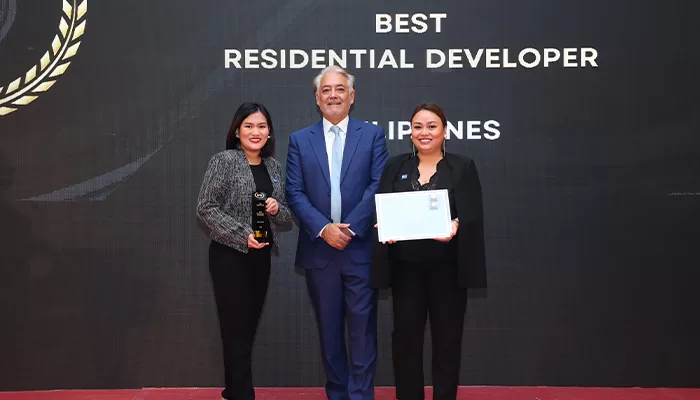 RLC Residences is closing the year with immense gratitude as it ends on a high note, with steady growth and numerous recognitions from various award-giving bodies.
Officially marking 2022 as its record-breaking year, the residential arm of real estate company Robinsons Land received a total of 22 local and international commendations from DOT Property Awards, Asia Pacific Property Awards, The Outlook 2022: Philippine Real Estate Awards, Global Brands Magazine Awards, and Marketing Excellence Awards Philippines.
"We are extremely honored and grateful to receive all these recognitions. Winning these awards would not have been possible without the inspiration we have received from our customers, for whom we have strived to raise our game and challenge ourselves to perform better. We promise to continue building our dream to provide the most delightful experiences for every RLC Residences customer," says Chad Sotelo, RLC Residences Senior Vice President and Business Unit General Manager.
Raising the game of residential real estate
The brand's quest to continuously elevate the standards of living is influenced by its customers' dream to live in a place that they can proudly call theirs. And the brand's efforts to incorporate the tasteful and elegant design and architecture plus innovative and sustainable features in all of its properties paid off, as numerous projects received major recognitions in 2022.
At the DOT Property Philippines Awards held last September, The Sapphire Bloc in Ortigas won the Best Condominium Architectural Design trophy, while Sierra Valley Gardens in Cainta, Rizal and Woodsville Crest in Merville, Paranaque received the Best Sustainable Residential Development and Best Low Rise Condominium recognitions. On the other hand, AmiSa Private Residences in Mactan, Cebu garnered the Best Beachfront Development award and has been name People's Choice Project of the Year.
The same property also got the Best Premium Condo of the Year (Visayas and Mindanao) award, this time at The Outlook 2022: Philippine Real Estate Awards held at the same month.
With Sierra Valley Gardens' win in the local scene, the property also took home the Best Sustainable Residential Development accolade – this time from the DOT Property Southeast Asia Awards held in Bangkok, Thailand.
"All these home features are nothing without the insight and feedback our customers have been sharing with us. And with all these achievements, we take this as a reminder of our commitment to continue to listen and incorporate home features to help them live their best lives," shared Sotelo.
With all these project awards, RLC Residences as a whole received the Best Sustainable Living Developer, Special Recognition Award for Community Building, and Best Developer Metro Manila recognition from DOT Property Philippines Awards. On the international level, Global Brands Magazine awarded RLC Residences Best Residential Developer commendation in the Philippines.
Living smart and productive
Apart from design and architecture, RLC Residences also put an effort in improving the living experience of its residents through various home innovations and solutions – especially at the height of the pandemic where limitations are imposed.
"Times are changing, and the pandemic simply taught us that. And as a developer, it is our responsibility to provide our homeowners and even our own team with solutions that could make life easier for them," shared RLC Residences Marketing Head and Chief Integration Officer Karen Cesario.
From developing myRLC Homeowners Portal that allows residents to easily access their account and settle monthly dues online, improvement of RingRob Concierge, to creation of other online portals and virtual tours for RLC Residences' sellers and homebuyers, the developer went all out to aid everyone in need. No wonder, they received the Best Pandemic Pivot recognition from The Outlook 2022: Philippine Real Estate Awards.
Aside from these, RLC Residences' efforts to incorporate smart home features in its developments earned accolades from the same award-giving body. Woodsville Crest garnered the Best Smart Development trophy, while Sierra Valley Gardens took home the Highly Commended certificate in the similar category.
Its official website, on the other hand, got recognized at the Asia Pacific Property Awards in London as the Developer Website of the Year.
Connecting the brand to more homeowners
Still considered as a new developer brand in the industry, RLC Residences took the challenge of connecting to people through an intensive campaign formally introducing the new singular brand and its simplified brand commitment to the public. Titled Raise, Live, Connect, this brand awareness campaign as well as its different executions on multiple platforms received a total of 7 awards at the recently held Marketing Excellence Awards Philippines 2022.
Two Gold trophies were awarded to the brand under the Excellence in Launch/Relaunch Campaign and Marketing Transformation groups. In addition, RLC Residences won the Bronze trophy for its large-scale Out-Of-Home efforts in form of static and LED billboard initiatives featuring its brand ambassador Heart Evangelista. The campaign also scored Bronze under the Excellence in Brand Awareness category, while its Living my Best Life and #MyBestLifeAtRLCResidences digital videos earned the same trophy under the Excellence in TV/Video Advertising.
The team behind the campaign also received recognitions: RLC Residences Marketing Head and
"We are truly honored to win these awards and I'm equally proud of Karen and the whole team for rising to the challenge and executing all these ideas to life. We have achieved great results over the years, thanks to their dedication and passion to introduce the brand to the public and share what our projects can offer to its future residents," says Sotelo.
For more info on RLC Residences, check out the brand's website rlcresidences.com, and follow their official Facebook and Instagram accounts.
About RLC Residences
RAISE, LIVE, CONNECT
Embracing the future with the RLC Residences Brand
For three decades, Robinsons Land Corporation's Residential Division has been committed to improving the lives of Filipinos. Vital to its success is its understanding of and responsiveness to emerging residential trends like urbanisation, digital lifestyles and work-life imbalance.
RLC presents RLC Residences, a new brand that every modern family and young urban professional will be proud of. This brand integrates Robinsons Luxuria, Robinsons Residences and Robinsons Communities into a singular brand. With the merging of resources and a simplified structure in place, RLC Residences is more empowered to deliver a seamless customer journey for its clients. Equally, RLC Residences has redefined its core product offering encapsulated into its tagline 'Raise, Live, Connect'.
'Raise' is about 'raising the game' by elevating the design and quality standards of new residential developments by RLC Residences, with the engagement of globally recognized firms in the design and property sector resulting in standout developments that every homeowner would be proud to showcase and own. Embracing the future with the RLC Residences brand
'Live' stands for smart and productive living. It promises to deliver innovation with the provision of smart home features and storage solutions to address the lifestyle needs of start- up to growing families as well as the highly driven and career-oriented young professionals. It also provides venues for day-care centres or study halls and incorporates work-from- home spaces in the developments making work-life integration possible.
'Connect' is all about allowing homeowners to connect with their loved ones in a convenient manner. RLC Residences projects are smartly placed in destination estates or the bustling or emerging CBDs. Developments are also transit-oriented and boast of rest and recreational amenities suited for bonding and relaxation. These elements combined provide time and energy savings for homeowners so that they can swiftly be in places and with people that matter to them most.
RLC Residences embraces the future with much optimism. It brings with it experience and credibility in delivering an impressive and growing portfolio of projects over the last 30 years and its redefined purpose of building beautiful and well-designed residential projects that all of its stakeholders will be proud of.