Tamkeen Bags an International Award at The 10th Edition of Global Brands Magazine Awards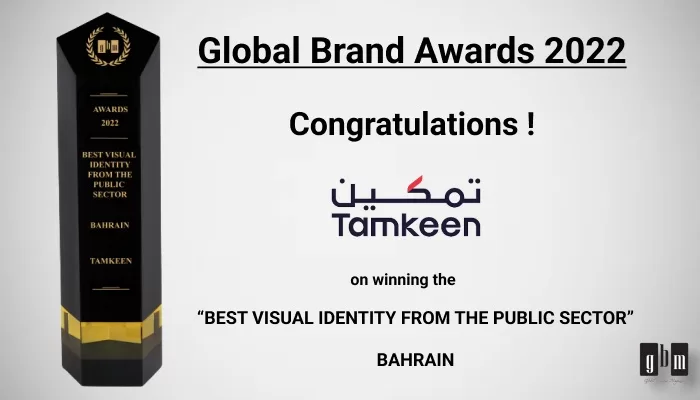 Tamkeen won the "Best Visual Identity from The Public Sector – Bahrain" award for 2022. The felicitation ceremony will be held at the Palm Jumeirah – Waldorf Astoria, Dubai, on the 1st of December 2022.
The Global Brand Awards is an annual event held by Global Brands Magazine (GBM), an international publication headquartered in the UK. The award aims to recognise global brands achieving excellence in performance across a broad range of sectors while keeping their readers updated on key trends surrounding the branding world. Tamkeen was evaluated based on its vision for sustainable growth, corporate social responsibility, innovation, strategic relationships, and new business development.
Commenting on Tamkeen winning the award, ShivKumar (CEO) of Global Brands Magazine said, "Tamkeen has been performing consistently well since its inception in 2006. They have worked hard to develop Bahrain's national economy by providing funding opportunities to the private sector, including small and medium businesses. We appreciate Tamkeen's commitment to equipping and supporting Bahrain's enterprises, individuals, and businesses with the tools and resources they need to succeed and contribute to the country's economic development. We wish the team at Tamkeen all the best and hope they continue down the path of success."
Commenting on winning the award, Esam Hammad Executive Director, Marketing & Customer Experience of Tamkeen said "We are proud of this global recognition of our efforts and celebrate this achievement with everyone in Tamkeen. Tamkeen's transformation is aimed at driving greater economic impact for Bahrain, and to achieve this goal we had to transform across all facets. The rebranding is a physical demonstration of this transformation and communicates externally our new strategy, the values we stand for, and where we are headed."
About Tamkeen
Tamkeen is the Kingdom of Bahrain's Labour Fund, established in 2006 and tasked with the responsibility of empowering Bahrainis to become employee of choice and enabling the private sector to become the key engine of economic growth, to serve the purpose of achieving sustainable economic development in Bahrain. Tamkeen works with committed enterprises to build their capabilities and allow them to innovate, grow, transform, digitalize, become more productive and potentially internationalize. Tamkeen also works with committed Bahraini talent to help them upskill and re-skill, ensuring that they are competitive both locally and internationally.
Tamkeen works with other key government players as part of Team Bahrain to drive the government's vision for the Kingdom across various economic initiatives, including the national economic recovery plan. For more information about Tamkeen, visit: www.tamkeen.bh 
About Global Brands Magazine
Global Brands Magazine (GBM) has been at the forefront, bringing news, views, and opinions on brands shaping the future of their industry. The UK-based magazine provides its readers with the latest news and information on 'best-in-class brands across the globe. Each year, GBM develops a series of awards for companies that stand out, having a unique vision, exceptional service, innovative solutions, and consumer-centric products among their industry leaders.
About Global Brand Awards
Global Brand Awards honours brands for their excellence in performance and rewards companies across different sectors for the quality of their services. The Brand Awards highlight the accomplishments of organisations that have performed remarkably well in finance, education, hospitality, automotive, lifestyle, education, real estate, technology, and more. Global Brand Awards recognise vital players who progress towards excellence by providing a platform to acknowledge their efforts. In addition, GBM strives to create awareness concerning the significance of such organisations and rewards them for their notable efforts with the ultimate global recognition.