Taking The Fight to Big Dairy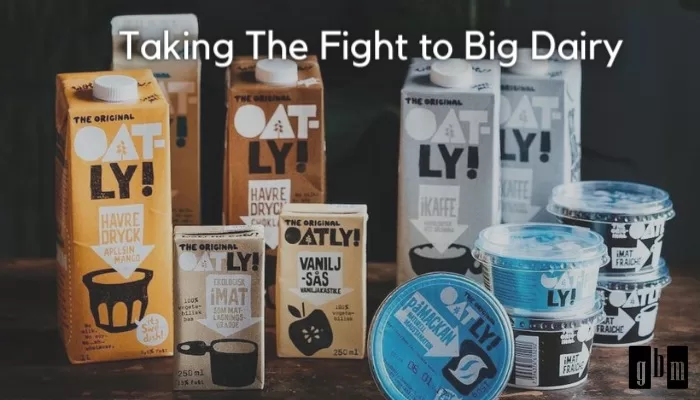 GBM Insights
Oatly has launched a new sustainability campaign to challenge Big Dairy. The campaign urges Big Dairy to disclose their climate footprint in exchange for free advertising space provided by Oatly.
As part of the campaign, Oatly has published a two-page advertisement in The New York Times, Los Angeles Times and Washington Post on May 7. One page shows the brand's own climate footprint statistics, while the other page is left "reserved" for other companies who are willing to share similar information via a designated microsite.
Additionally, Oatly is also displaying the same advertisements on billboards in Hollywood and Times Square on May 8. This campaign is in line with Oatly's recent decision to include its climate footprint on its products, and it aligns with the growing trend among consumers, especially Gen Z, who prioritize environmentalism.
The shift in customer demand
As the demand for plant-based milk alternatives is on the rise, Oatly is making strategic moves to increase its market share, especially among environmentally conscious younger consumers, who are the driving force behind this industry, according to research conducted by the brand with Researchscape International, which found that more than half of Gen Z (54%) and almost half of millennials (49%) prefer plant-based milk.
In a playful yet effective move, Oatly is taking on Big Dairy by promoting environmental transparency in a very public manner through print ads and billboards that showcase its carbon footprint, while encouraging other milk-sellers to do the same. To avail of the free advertising offer, interested companies must visit a designated microsite and respond to 68 questions that are the same ones Oatly answered to obtain its climate certification, according to release details. In exchange, Oatly will pay for one free out-of-home or print ad with a maximum value of $50,000.
This move is part of Oatly's larger strategy to print its climate footprint on product labels, which it announced earlier this year to make sustainability information more accessible. The company has also set a goal to reduce its climate footprint per liter of Oatly by 70% and ensure that all of its product facilities meet "future factory" criteria by 2029.
Oatly has a history of introducing innovative and quirky marketing campaigns, such as the hate-fueled website fckoatly.com, which addresses criticisms and questionable past efforts and features the latest boycotts and criticisms, and a Super Bowl commercial in 2021 featuring its CEO Toni Petersson singing off-pitch about the milk-alternative with lyrics like, "Wow, no cow."
Other brands have also introduced attention-grabbing campaigns to promote plant-based options. For instance, Greek yogurt brand Chobani launched a Roblox experience, named the "Chobani Oatmilk Cosmic Race," to promote its dairy-free products last year. Silk, a plant-based beverage brand, teamed up with a few influencers, all with famous parents, in February to promote its Nextmilk product, in a nod to the next generation of milk drinkers.