Supercharge Your Retirement Plan with Tokio Marine's Powered-up ILP Suite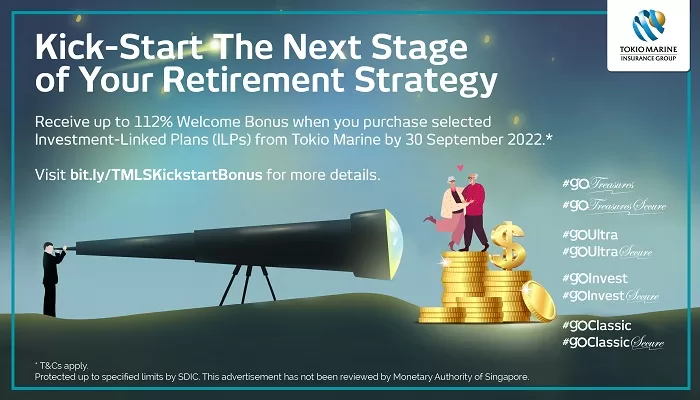 Retirement is the beginning of an adventure where you rediscover what you truly seek in life and do the things you have always dreamt of doing. A time, where you redefine your purpose and rejuvenate your passions. It is in fact, not defined by age, but rather, the retirement income that you have set for your desired lifestyle during your golden years.
The impact brought about the pandemic has propelled people around the world to rethink and restructure their retirement plans. The truth is that there is no time like the present to start planning for the future, especially when there is a need to accumulate wealth for a time in life when you are no longer earning an active income.
The necessity of doing so is indisputable – a 2021 study by the Lee Kuan Yew School of Public Policy study revealed a single elderly person needed $1,421 a month for basic needs alone,* and this will only increase over time with inflation. The same study also noted that some of Singapore's older population who are in work would have just enough to meet basic needs. Even for those depending on their payouts from the Central Provident Fund(a mandatory social security savings scheme) to sustain their retirement years, there is a very real possibility that they may experience a shortfall in funds.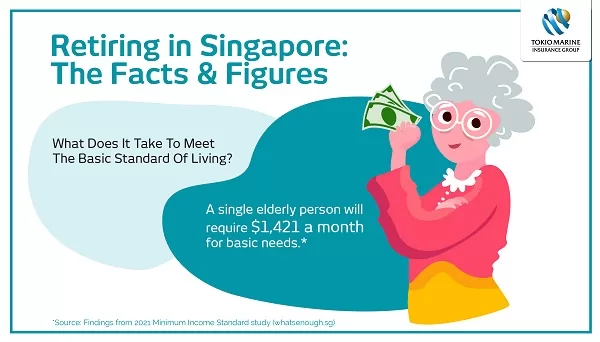 There is a pressing need to address the gap between expectation and reality. Yet, when one is faced with multiple financial responsibilities, planning for the long term often gets relegated to "later". Soon, it becomes "too late" to achieve one's desired goals. There is also the question of how much income can be set aside for retirement planning while juggling these various demands.
Hence, it is imperative to ensure that you have alternative passive income sources which can help to furnish your desired lifestyle. In short, you have to utilise solutions that make your hard-earned money work harder for you – and the answer is through investing. An option to seriously consider is an Investment-Linked Plan (ILP), since it offers you the multiple benefits of Wealth Accumulation, Protection and Financial Flexibility.
Here are three reasons why you should consider purchasing an Investment-Linked Plan (ILP):
It can generate a stable stream of passive income: Tokio Marine's ILP solutions are designed to help create new income-building opportunities through dividend-paying funds.
It helps to provide a hedge against inflation and market volatility: Through Tokio Marine's ILPs, you can capitalise on a suite of best-in-class funds to grow your investments.
It offers a safe harbour from shifting tides: Enjoy the option to safeguard your investments against market downturns.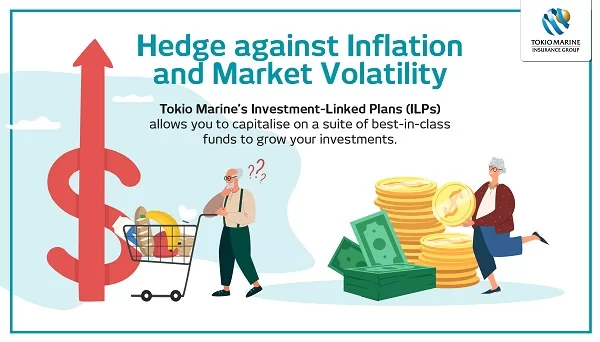 The Solution You Seek: Create A Golden Goose That Lays Eggs
Remember: You can live off the goose but never off your eggs. With holistic planning advice and innovative wealth solutions, you can look forward to a rewarding life of financial freedom when you retire. Allow us to empower you with the ability to dream bigger and live bolder, on your own terms.
At Tokio Marine Life Insurance Singapore, we strive to be the trusted #GoToPartner for all financial planning needs by offering innovative and meaningful solutions for our customers, Through It All.
Make your selection from eligible ILPs before 30 September 2022 and receive up to 112% Welcome Bonus to kick-start the next stage of your retirement strategy.[1]
Protected up to specified limits by SDIC. This advertisement has not been reviewed by Monetary Authority of Singapore.
[1]Terms and conditions apply. For more details, please visit http://bit.ly/TMLSKickstartBonus.