Spring into Easter with Divine Chocolate's Delectable Range of Easter Eggs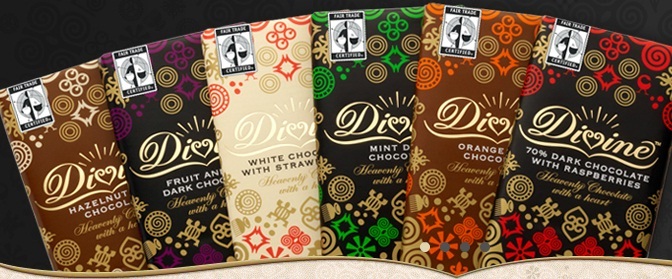 Spring is on its way and Easter is just around the corner. This year, treat your family and friends by giving them something special from Divine Chocolate's range of stylish and delicious Fairtrade chocolate eggs, with new flavours and old favourites to tickle the taste-buds. As well as combining high quality, Fairtrade ingredients and delectable flavours, Divine is also 44% owned by the Ghanaian farmers who grow the cocoa beans, sharing the profits while you share the pleasure.
Spring into Easter with Divine Chocolate's delectable range of Easter Eggs
Divine's luxury Easter range has brand new flavours for 2016 with the Divine Raspberry Dark Chocolate Egg (RRP £5, 100g), a thick, intensely rich chocolate shell made with velvety Divine dark chocolate, studded with tangy raspberries. For a modern flavour with a twist, Divine Toffee & Sea Salt Milk Chocolate Egg (RRP £5, 100g) is a smooth milk chocolate shell scattered with the sweet crunch of toffee pieces and the contrasting tang of sea salt flakes. Seriously sophisticated
For the discerning chocolate connoisseur, enjoy a real taste of luxury with new Divine Luxury Milk Chocolate Egg with Milk Praline Eggs (RRP £10, 260g). This thick chocolate shell is made from smooth and creamy Divine milk chocolate, and comes with a clutch of praline mini eggs for extra indulgence. For those who prefer something a little richer, try the Divine Luxury 70% Dark Chocolate Egg with Dark Chocolate Mini Eggs (RRP £10, 260g) made from velvety rich Divine dark chocolate, accompanied by silky smooth mini chocolate eggs.
Perfect for gifts, Divine's smaller hollow eggs come in rich dark, smooth milk or gloriously creamy white chocolate varieties and are made from the "best of the best" cocoa from Kuapa Kokoo, the cocoa growers co-operative in Ghana that produces Divine's delicious beans and co-own the company itself (RRP £3, 55g).
A must for Easter egg hunts, sharing with friends (or just as a treat for one!) the popular bags of miniature eggs include solid 70% Dark and Milk Chocolate Eggs, Milk Chocolate Praline Eggs and the colourful Speckled Eggs (RRP £4.25, weights vary), perfect for topping a homemade Easter cake or chocolate nests.
With Divine's range of chocolate Easter eggs, you'll know that you're getting the very finest ingredients, quality and taste whoever you're buying for while also supporting Fairtrade farmers. All Divine's Easter eggs are free from artificial flavourings, colourings and preservatives, are suitable for vegetarians and are also palm oil free.
Reducing the environmental impact of our packaging is important to Divine. The small and luxury eggs are all made with recycled cardboard which is suitable for recycling and do not include plastic packaging.