SmartFX Clients Can Now Carry Out Multi-Asset Investing Plans With Over 1,600+ Instruments To Choose From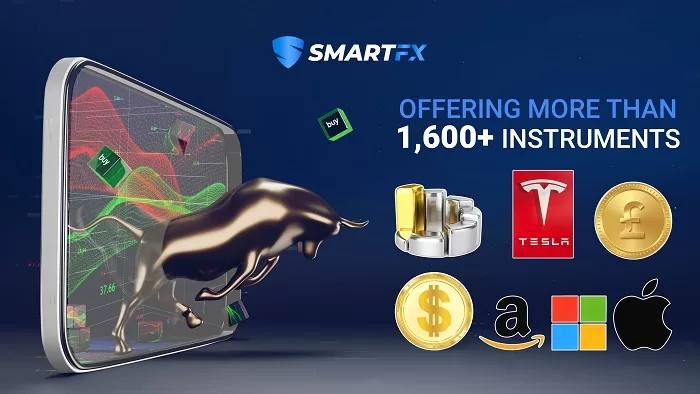 SmartFX is elated to announce that it has expanded its bouquet of products by adding a wider range of asset classes which encompasses forex, commodities, indices, and stocks. These new additions will allow SmartFX greater flexibility in providing its clients with diverse trading strategies; while also continuing its efforts towards improving its products and services for a superlative customer experience.
The multi-asset broker's clients can now trade over 1,600 instruments through its trading platform MetaTrader 5 (MT5), which gives the client full access to MT5's powerful charting tools, at the competitive pricing that SmartFX offers; allowing its traders the opportunity for greater diversification for their trading portfolios.
Over the past year, SmartFX has seen increased client interest and activity across all its segments driven by SmartFX's commitment to better support its clients by offering them a plethora of choices when it comes to trading and investment. The smart broker is now offering a total of 43 currency pairs, 12 global indices, 9 futures including gold and crude oil, 1,628 US and UK stocks such as Tesla, Netflix, Amazon, Airbnb, Walt Disney, Moderna, Target, Walmart and many more.
SmartFX is also proud to announce that it has recently added the ADR' s (American Depositary Receipt) of Indian companies such as HDFC Bank, Infosys, ICICI Bank, Tata Motors, Wipro, and many more. So, now investors can have a truly global investing experience and take advantage of this glorious opportunity to invest in their favorite Indian stocks.
"That's a lot of new trading options for you to explore! Whether you are looking for new opportunities in forex, indices, commodities or stocks, we have the perfect instrument for your trading style." – said Arun Kumar, executive director at SmartFX
"The company has been expanding its products and services, coupled with its powerful trading system MT5, which is a reliable and user-friendly platform. Our team of experts is on hand to answer any questions you may have and help get you started on your trading journey." – Asha Rathore added, managing director at SmartFX.
The company has been robustly expanding its product and service offerings, coupled with its powerful trading system MT5, which is reliable and user-friendly. To learn more about them, head on over to their website: www.smartfx.com