Schools Choose Dell to Personalize Learning and Innovate Student Engagement
Round Rock, Texas
Dell recommends five-step process to help schools implement personalized learning 
More than 12 school districts in just the past two months choose Dell to transform learning
Educators and IT administrators prefer Dell solutions for their manageability, affordability and scalability
Personalized learning approach is gaining momentum as more than 12 school districts in just the past two months chose Dell solutions and services to transform learning and innovate student engagement. Dell also announced today a five-step process to help schools create a pathway to personalize learning -– where students' needs and interests are guided by teachers to content mastery. The personalized learning framework is built on input from students, teachers and administrators around the world and findings from Dell's Innovation in Education Think Tanks.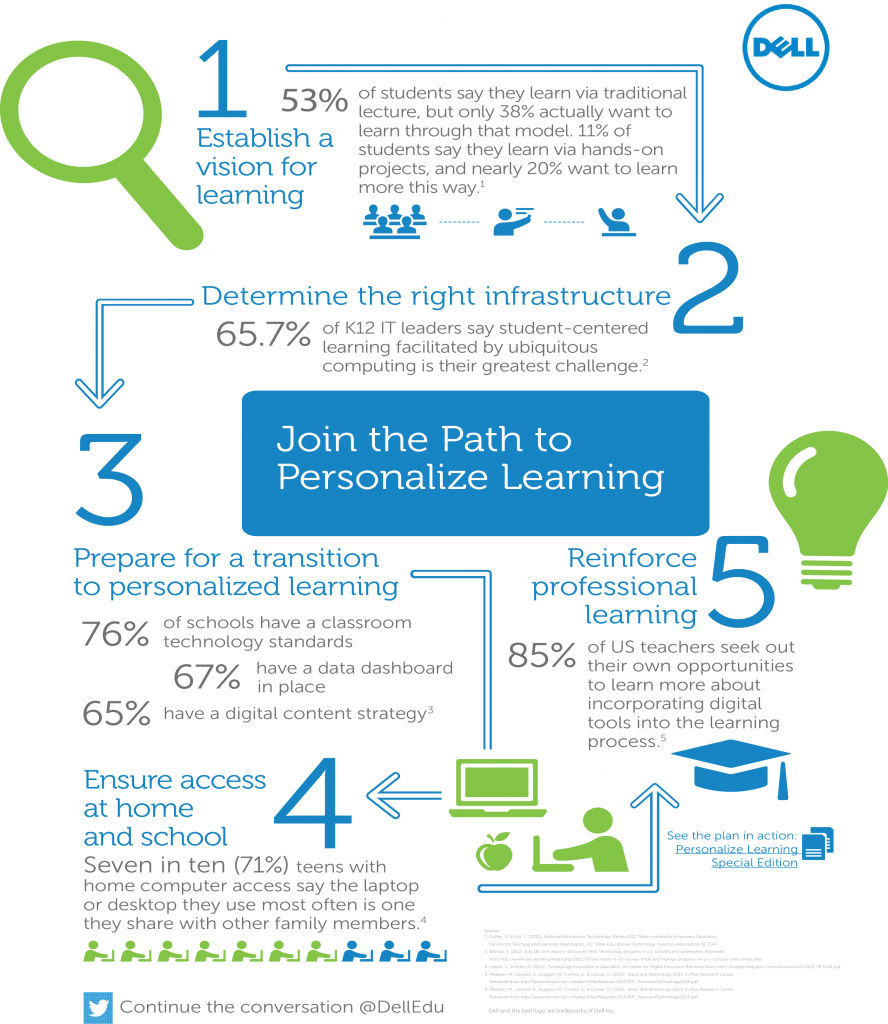 "Personalized learning is more than a buzzword and it's certainly more than providing students increased access to computers or implementing one-to-one computer programs," said Jon Phillips, worldwide education director, Dell. "In a personalized approach, students invest in how they learn and how they show their learning through an on-going process of inquiry. Teachers have ready access to an array of personalization tools to meet student needs. And technology combines access to digital content for blended or collaborative learning with access to real-time data that helps teachers intercede when a student is struggling and helps students explore potential areas of interest more deeply."

Five Steps to Personalize Learning 
Dell believes that personalized learning should be teacher-guided so that teachers use their knowledge of each student to individualize curriculum. It should be student-invested where students take advantage of a range of learning resources and tools to develop and apply content mastery. And, it should be technology-enriched to improve access to digital resources and performance data to improve student and teacher interaction and collaboration. Dell's suggested five-step process to personalize learning includes:
establishing a vision for learning;
determining the right IT infrastructure;
preparing for a transition to student-centered learning;
ensuring access to technology at home and school; and
reinforcing professional learning.

Educators Prefer Dell solutions 
Just in the past two months, these schools and several others have chosen Dell to help meet their district initiatives and address students' learning needs:
Cabarrus County Schools in North Carolina
"Dell's Latitude 3330 helps our students become ready for the challenges they will face in college and career and encourages them to pursue learning outside of the walls of a classroom," says Katherine Propst, Cabarrus County Schools. "We have been successful with implementing Windows devices due to their advantages in manageability and affordability. The Latitude 3330 delivers the high performance and reliability our schools expect with a Windows PC and is sleek and lightweight for students to use throughout the day."
Christian Brothers High School in Tennessee
"We are very pleased with the products and services provided by Dell and we look forward to partnering with them as we continue to make the shift to an all-digital curriculum," said Chris Fay, Principal of Christian Brothers High School. "Also, we will look to them as we phase in our comprehensive STEM curriculum. Our goal is to make science, technology, engineering, and math courses more accessible and approachable for our students. Our relationship with Dell is an integral part of our plan for a top-notch STEM experience."
Clear Creek Independent School District in Texas
"The first building block to personalized learning is access to technology and the Internet," said Kevin Schwartz, Chief Technology Officer, Clear Creek Independent School District. "You can get access with most any tablet, but to fully deliver personalized learning requires a device that works seamlessly with all systems. The Dell Latitude 10 provides all of those features at a price that allows us to extend the initiative to more students."
Duncanville Independent School District in Texas
"The Dell Latitude 10 essentials configuration is a win-win solution for our district," said Dr. Larry McHaney, Deputy Superintendent for Learning Services at Duncanville ISD. "Most important, Dell's tablet helps our students and teachers get way beyond the printed pages of a textbook to meaningfully engage in learning while also providing an efficient solution for our technology division."
Fargo Public Schools in North Dakota
"We want our students to learn the needed skills to be successful in the 21st century and we believe they must have the right devices at the ready that will help them not only consume information but also produce new projects and content," said Bill Westrick, IT Director, Fargo Public Schools. "We chose Dell Windows 8 devices because teachers can integrate them into their existing curriculum; students can now produce information as easily as they can consume it and the Dell Latitude 10 tablets are easy for us to manage within our existing IT infrastructure."
Riverhead Central School District in New York
"If a teacher requests a specific piece of software for a class, such as Adobe Acrobat, we simply reconfigure the machine pool for that lab and deliver that software directly from the Dell Virtual Desktop Infrastructure," said Robert Hines, Technology Coordinator at Riverhead Central School District. "This is a huge improvement compared with sending all the students to a different lab where the software is physically installed on machines, which is what we did before."
San Antonio Independent School District in Texas
"The Dell Latitude 10 tablets give our students a device for self-directed learning and literacy that enables them to go beyond the text and pursue their own interests and intellectual curiosities," said Marcos Zorola, Chief Information Officer, San Antonio Independent School District. "Dell's solution is the best for our school district's libraries because they not only deliver a great user experience, but the tablets are compatible with the library infrastructure simplifying their deployment and management."
Somers Central School District in New York
"With the Dell Latitude 10, students can be consumers and producers of content and prepare for success in a demanding high tech world. For example, for our students' social action video project, students can not only write a script, but they design the storyboard, shoot the video, and edit it all in the same place," said Chris White, Director of IT for Somers Central School District. "Dell with Windows 8 also plays a critical in empowering students. In our personalized learning environment, students are able to instantly make their learning visible. As a result, teachers can gauge in real-time whether their students are understanding concepts and individualize their teaching techniques within a single 40 minute class."
Spartanburg School District 3 in South Carolina
"Ultimately, it's all about the learning experience," said Eric Levitt, Assistant Superintendent for Instruction, Spartanburg School District 3. "Dell Windows 8 devices deliver our teachers and students an intuitive device for self-directed learning that delivers a personalized approach to education."
Spring Branch Independent School District in Texas
"Over time our students and teachers struggled to leverage current education software and apps on their netbooks because the netbooks were intended for lighter workloads," said Wes Hargrove, Director of Technology at Spring Branch Independent School District. "Dell addressed the need of increased use by providing a reliable, cost-effective data center solution that makes all the great online learning and education applications easier to access and use well. Our district now has the building blocks in place to continue to leverage technology in our schools' curriculum for years to come."
Troup County School System in Georgia
"Windows PCs have always been the most affordable, manageable and productive tools for our students to use," said Josh Moneypenny, Technology Director of Troup County School System. "Dell's combination of high-performance computers at an affordable price helps us provide more of our students and teachers the tools they need to make teaching and learning more interactive and engaging."
Westwood Independent School District in Texas
"We were seeking solutions that would bring technology into the classroom, sparking "We were seeking solutions that would bring technology into the classroom, sparking students' desire to learn, and also expanding our district's educational opportunities beyond the classroom," explains Dr. Clint McLain, Assistant Superintendent and High School Principal, Westwood Independent School District. "Additionally, Dell's tablets provided the best way to address our online student assessment needs here in the State of Texas. These devices are innovative and will be enjoyable for our students to use."

Dell's Next Generation Learning offerings provide a range of flexible education solutions and services including the Dell Learning Platform designed to help schools launch their path to personalize learning. The Optiplex 3011 All-in-One,Latitude 3330 laptop and Latitude 10 essentials configuration tablet are recent additions to Dell's solutions that schools are finding helpful to meet their teaching and learning needs. The Dell Common Core Technology Readiness Assessmentis also proving helpful to provide an analysis of a district's readiness to launch, support and sustain an effective online testing environment and to scale it based on student enrollment.

About Dell
Dell Inc. (NASDAQ: DELL) is committed to helping students develop the knowledge and skills they need to learn and succeed in an increasingly digital world and a globally competitive workforce. As a top provider of technology and services to schools, Dell listens to and works with students, educators, administrators, parents and community members around the world to deliver innovative technology and services that give them the power to do more in and out of the classroom. Learn more about Dell in Education at www.dell.com. Follow us on Twitter @DellEDU. 

Dell, Dell Wyse, Latitude, OptiPlex and DVS Enterprise are trademarks of Dell Inc. Dell disclaims any proprietary interest in the marks and names of others.
Source: http://www.dell.com
Media Contacts
Kari Sherrodd
Dell Inc.
Round Rock, Texas
(512) 728-2835
Kari_Sherrodd@dell.com