Go Green to Make Green: New IIT Study Shows Investing in Environmentally Friendly Companies Pays Off
Chicago, March 28, 2013 — Going green is as good for your investments as it is for the Earth, suggests new research from Illinois Institute of Technology (IIT). Stock portfolios representing environmentally friendly companies significantly outperform those that are not environmentally friendly, regardless of the overall m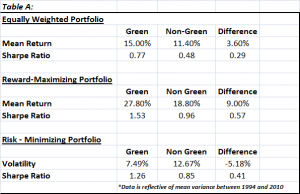 arket condition, according to the study published in the current issue of Journal of Environmental Investing.
The study – one of the most rigorous and thorough analyses ever done – found that a return-maximizing green portfolio averaged a 9 percent greater return than a similarly balanced non-green portfolio. In addition, a green portfolio that was weighted to minimize risk had an average of 5.18 percent less volatility than its non-green counterpart.
"Our findings suggest choosing investments in companies that have a positive environmental record should be a preferred strategy for all investors in the medium- to long-term, not just for the environmentally conscious," said Li Cai, PhD, the study's author and assistant professor of finance at IIT's Stuart School of Business. "Essentially, when it comes to investing, green is good."
In the study, IIT researchers assessed the environmental practices of companies as related to stock performance in subsequent years. The researchers assembled two portfolios – one comprising green stocks and the other non-green – selecting individual stocks based on their Kinder, Lydenberg, Domini Research & Analytics (KLD) environmental ratings over a three-year screening period. They then compared the performance of these two portfolios in 13 different five-year rolling intervals from 1994 to 2010. The results indicate that the green portfolio offered a significantly higher expected return, even after adjusting for risk (see Table A).
The study based portfolio performance on two measures: expected return, the average of daily (portfolio) returns over a five-year performance period; and the Sharpe ratio as a risk-adjusted measure in order to avoid misleading comparisons of higher returns gained by taking on excess risk.
Researchers used the KLD ratings as a qualitative measure of corporate environmental performance – assessing a company's beneficial products and services in pollution prevention, recycling, clean energy, communications, property, plant and equipment (PPE) or other related areas. A green stock was defined as a stock with one or more KLD environmental strengths, indicating a positive environmental record, whereas a non-green stock was one with no KLD environmental strengths. Both research portfolios were rebalanced annually based on updated KLD ratings, and only the stocks performing consistently to type (green or non-green) over a three year screening period were then examined during the 13 five-year performance periods. (Examples of consistently green stocks include Calgon Carbon Corporation; Church & Dwight Co., Inc.; Dionex Corporation; Miller Herman, Inc.; and Whole Foods Market, Inc.)
"This is one of the most comprehensive studies of green stock performance to date," said Cai. "We're not simply looking at whether a company is green at the time of stock measurement, but whether it has a track record of environment-friendly activity. It's that track record that really classifies it as truly green."
The IIT study is pioneering in its rigorous focus, analyzing only the environmental practices of a company. According to Cai, previous studies focused more on socially responsible investing, which takes into account a wide array of company activities, including employee satisfaction, consumer protection, human rights, and ethical and health concerns.
Cai adds that, when considering a green portfolio, it is important for investors to look beyond the short term and have patience. In the medium to long term, green stocks come out on top and investors are rewarded for their support, she said.
Cai and her team speculate that green portfolios may perform well because investors are becoming increasingly environment-conscious and therefore invest in green companies. Going green also likely helps companies build a good public image, which attracts new customers. Further, green companies may be offered more profitable investment prospects, such as opportunities in solar power.
"For investors, investing in green companies holds a dual benefit: not only are you making money at higher returns, but there is also the feel-good factor – knowing that you are investing in something that is good for the Earth," she said.
––––––––––––––––––––––––––––––––––––––––––––––––––––––––––––––––––––––––––––––––––––––––––––––––––––––
Founded in 1890, IIT is a Ph.D.-granting university with more than 7,700 students in engineering, sciences, architecture, psychology, design, humanities, business and law. IIT's interprofessional, technology-focused curriculum is designed to advance knowledge through research and scholarship, to cultivate invention improving the human condition, and to prepare students from throughout the world for a life of professional achievement, service to society, and individual fulfillment. Visit www.iit.edu.
Source: http://www.iit.edu/departments/pr/mediaroom